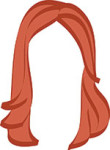 When we first moved to London, people warned us that once we settled in, it wouldn't be long before we were stuck in our neighborhood bubble. We're more than familiar with this phenomenon. You fall into a rut, with the ease of your local bars & restaurants beating out any interest in leaving. If you live in West London, which we do, then forget exploring East London. Or really, any new neighborhoods.
True to form, it happened pretty instantly. Each weekend rolled around, and we didn't venture too far out of the way. We happily dedicated weekends to exploring our new 'hood. Now, 15 months later, we're ready to see what else London has to offer. So, when a good friend from our New York days, Drea, decided to come visit for her first time in London, I started brainstorming. What could I show her that wasn't just my local grocery store? Or the walk through Hyde Park from our flat to the hubs's office? Though she got to see all that, too, because I'm just the most exciting hostess.
At the very top of the list was the East London Tour, offered through Eating London Tours. We met our guide, Harry, at Old Spitalfields Market — which you may remember from #LTlondontown. As soon as we walked in, I knew we'd have to bring everyone back again the following week. This time, however, we weren't staying in the market long. We had tastes to test!
St. John Bread and Wine // Our first stop was just across the street from the market, and is said to be Anthony Bourdain's London favorite. Though the restaurant's name implies pretty straightforward fare, they're actually famous for their offal-centric menu. Yep, they serve up every part of the pig… from nose-to-tail. Thanks to our early morning start, however, we'd be skipping the heart, kidney and bone marrow dishes. Instead, we were going for something a little more safe: bacon sandwiches.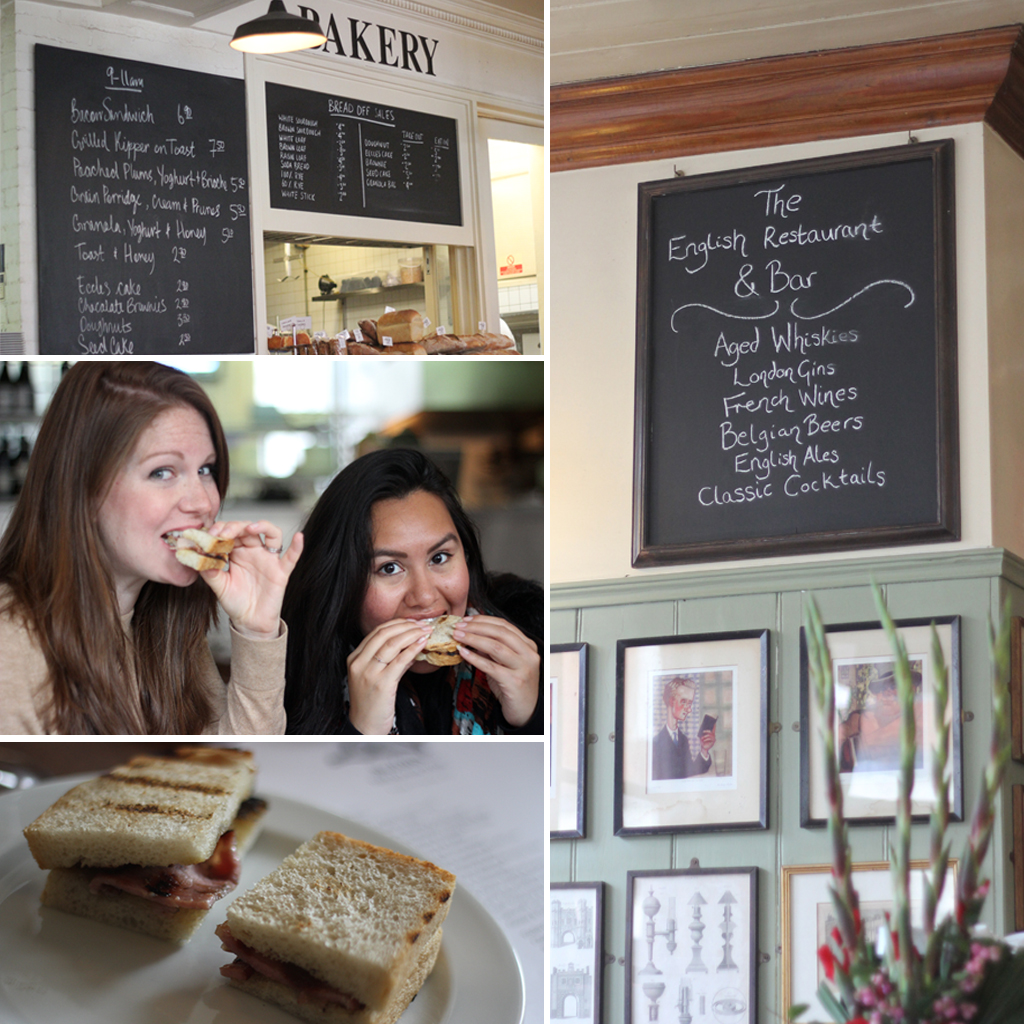 I'm not personally a big bacon eater (I don't really eat pork in general… blasphemy in Britain), but I had a mini bite and could see the appeal. The rest of our 12-person group was quick to declare these the best bacon sandwiches they've ever had.
The English Restaurant // Though we were off to a savory start, stop #2 was going to sweeten things up a bit with some bread and butter pudding.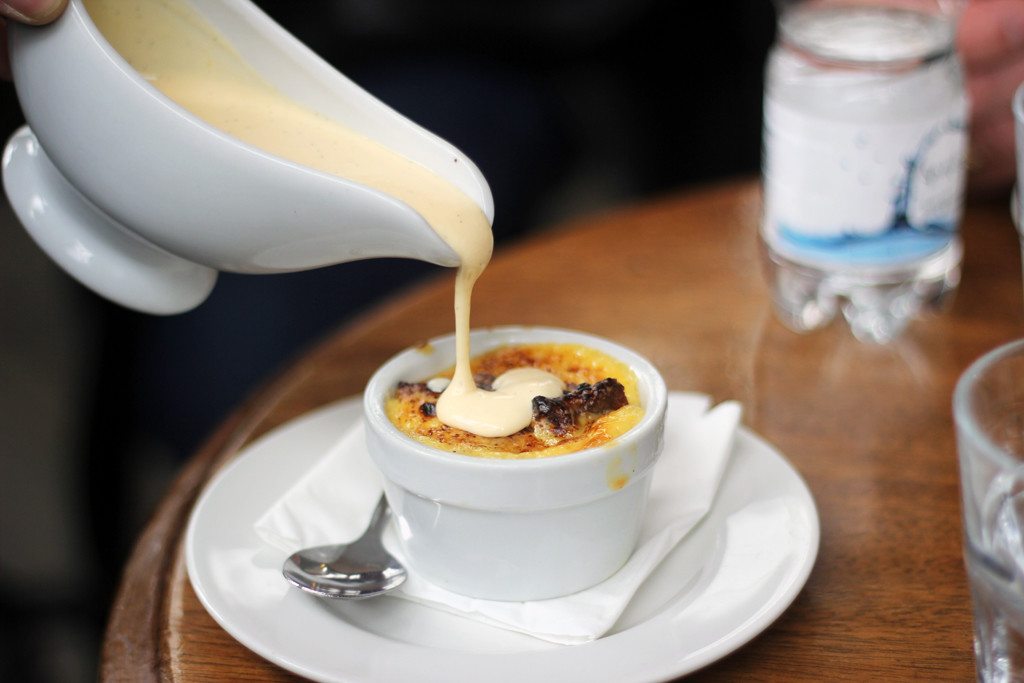 The restaurant itself was adorable, and spoiler alert: this dessert ended up being my favorite find of the trip. Served with custard, it was decadent and delicious, and perfectly wintery.
We wound around the little streets of Old Spitalfields before our next stop. On our way, we learned about some of the legends and lore that still haunt the streets. I don't want to spoil too much of Harry's history! But my favorite tidbit had to do with the theory that Jack the Ripper was actually Jill the Ripper. Instead of a perverted creep, she was a tortured midwife. Apparently, she had expansive medical knowledge that matched some of the most grisly murders.
Androuet // We paused our history lesson for this gourmet shop. Here, the French cheesemongers talked us through a few of their favorites.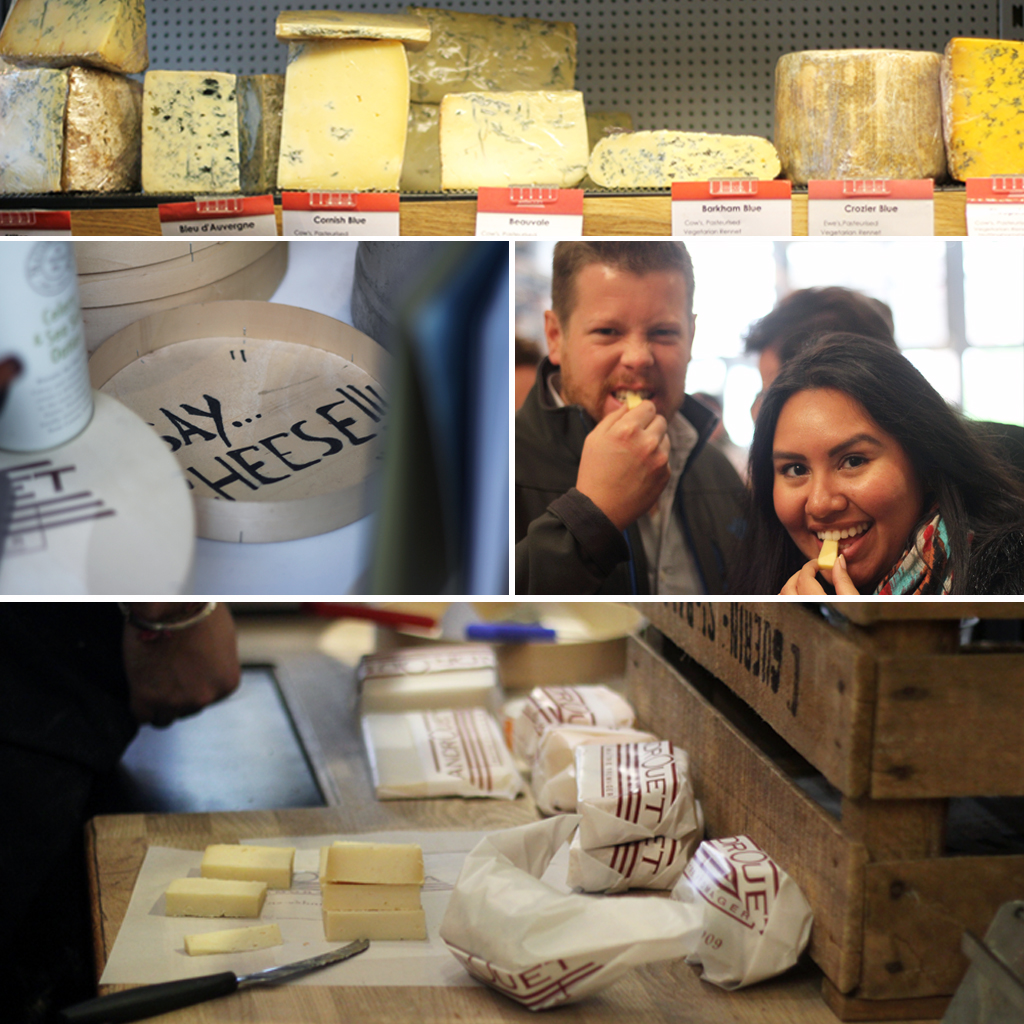 Best of all, they had a few pasteurized options waiting in the wings for me, since most of their best sellers aren't particularly pregnancy friendly. It might need to be one of my first post-baby stops, though, because everything looked — and smelled — aaaaamazing.
Poppies Fish & Chips // You can't get a taste of London without some proper fish & chips! Harry took us to this extremely popular and authentic shop. They still serve the British favorite in cone-shaped newspaper with a side of mushy peas, natch.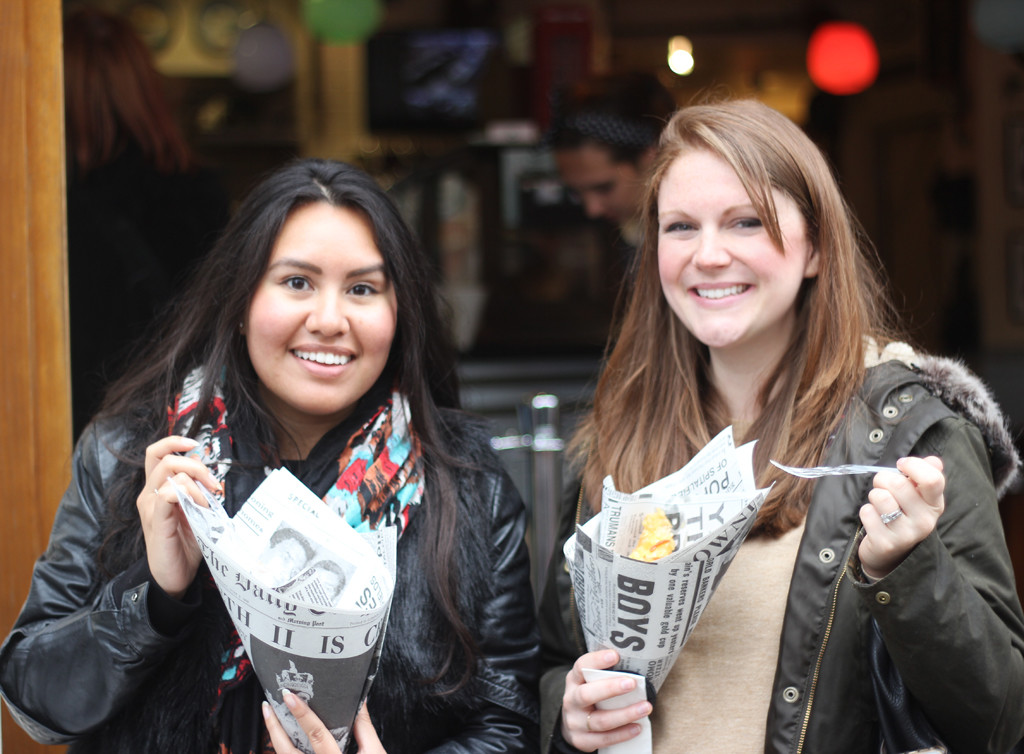 Pride of Spitalfields // Next, we made our way deeper into Shoreditch in search of a local pub for beer, cider & a local celebrity: Lenny the pub cat. We took in a few cobbled streets where they've filmed a ton of London-based movies. My love for the neighborhood was official. I have a thing for cobblestones and faded historical signs, what can I say??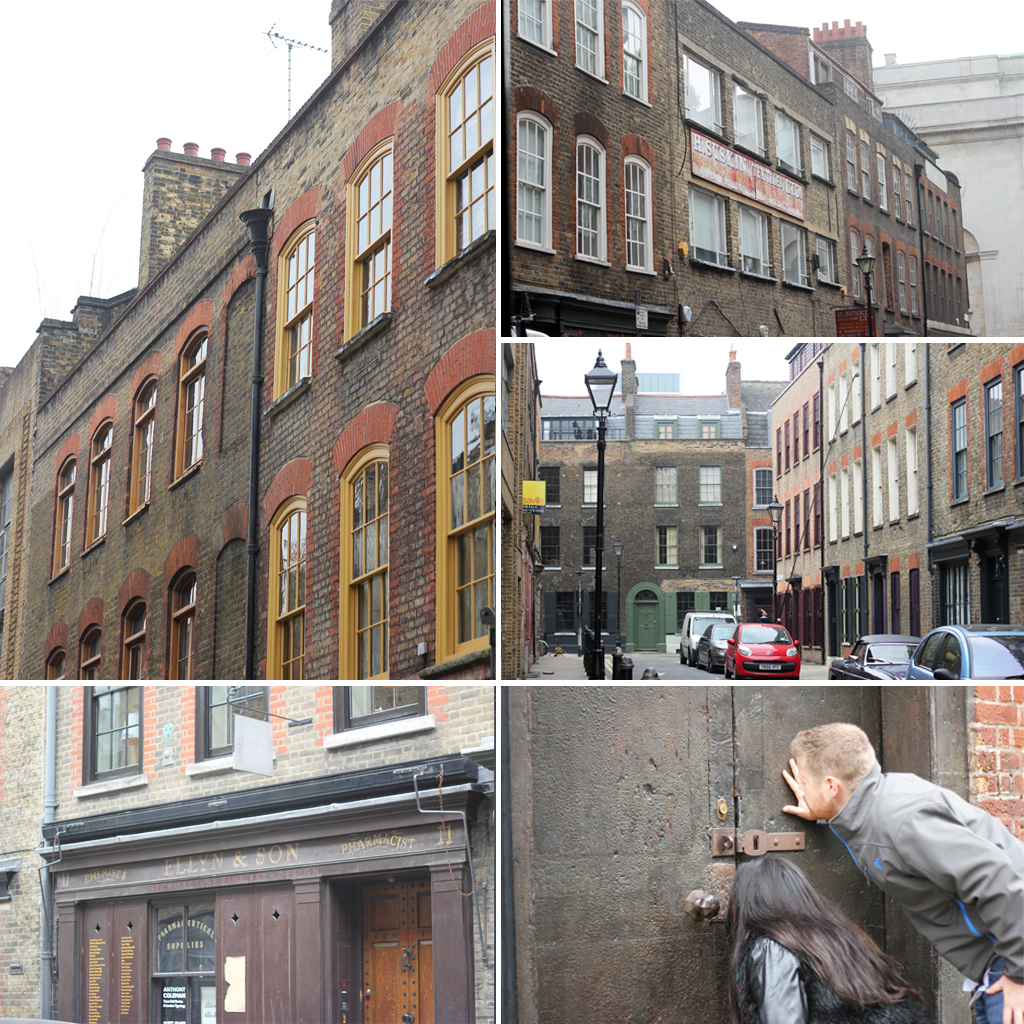 We kept strolling at a leisurely pace before we made it to the pub, where Lenny was ready and waiting.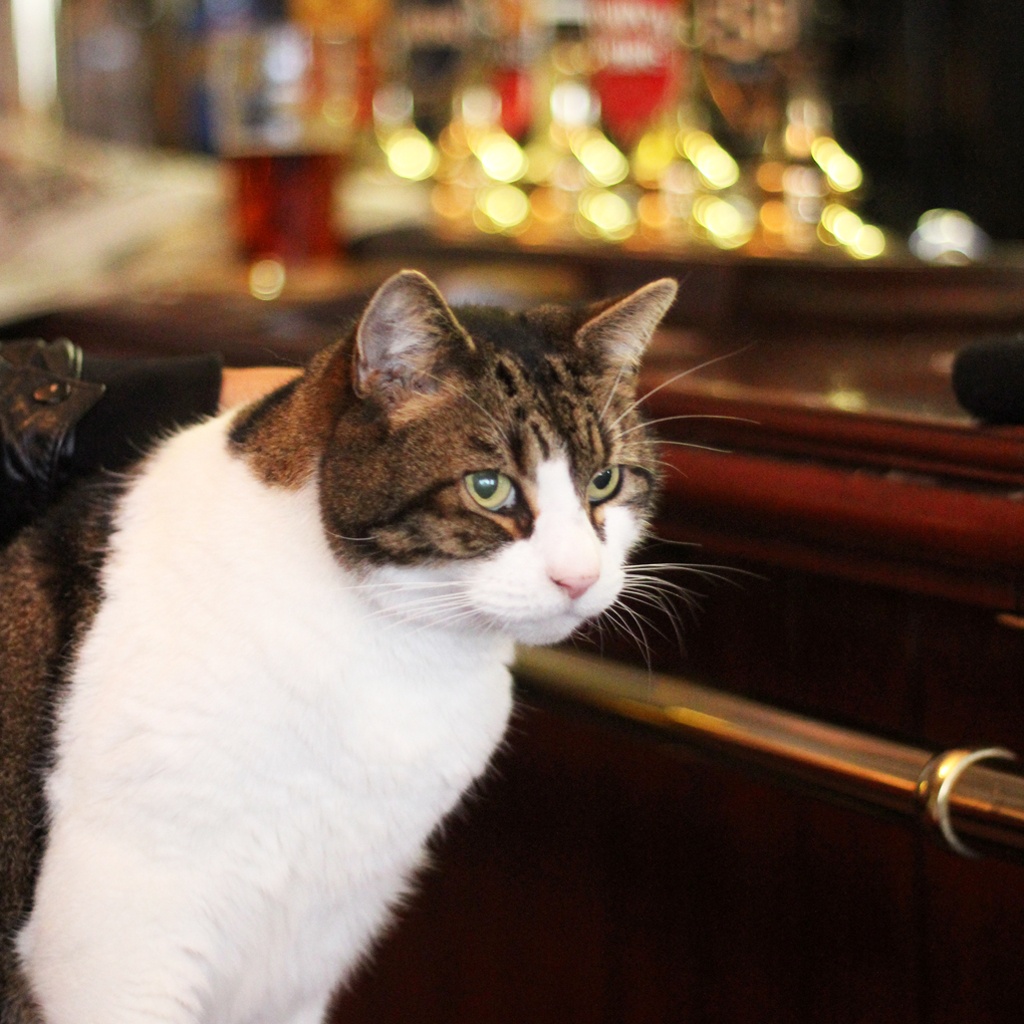 Aladin // After everyone was properly boozed up, we made off for our next stop: Brick Lane! We've long been putting off a visit here. I'm almost glad we did. Now when we inevitably return, we know that there's only one place to stop for a traditional Brick Lane curry! Aladin, one of the top 10 Indian restaurants in London.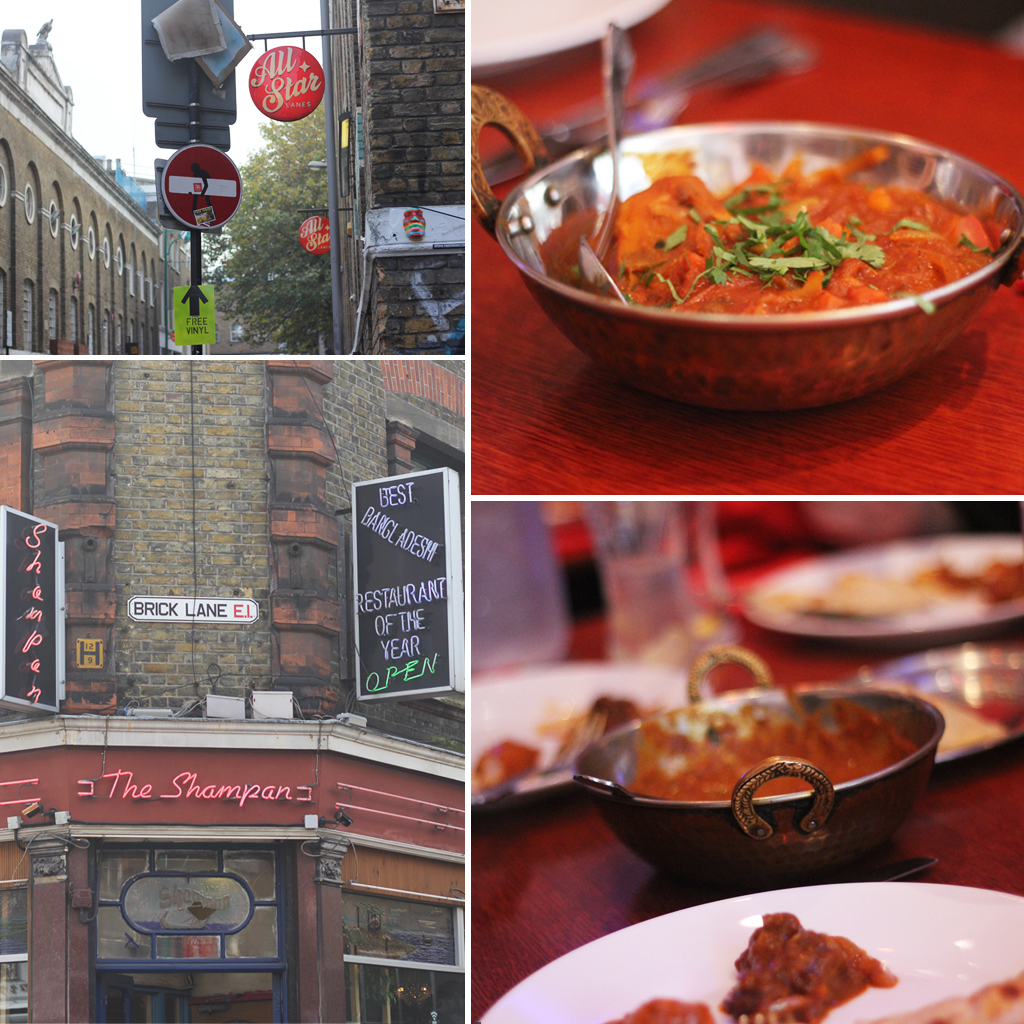 Each curry we tried was more delicious than the last, and it's officially set us off on an Indian food kick for the ages. Pretty sure this baby and I could live off chicken tikka masala and garlic naan from now until due date.
Beigel Bake // Our next stop was the one I was most anticipating: bagels. When you tell a Londoner that you miss NYC bagels, they have one question. "Have you gone to Beigel Bake yet?!" I assumed they wouldn't stand up to the one food I miss the most from back home. I was right. Though, to be fair, they're totally different all together. Appreciate them as such.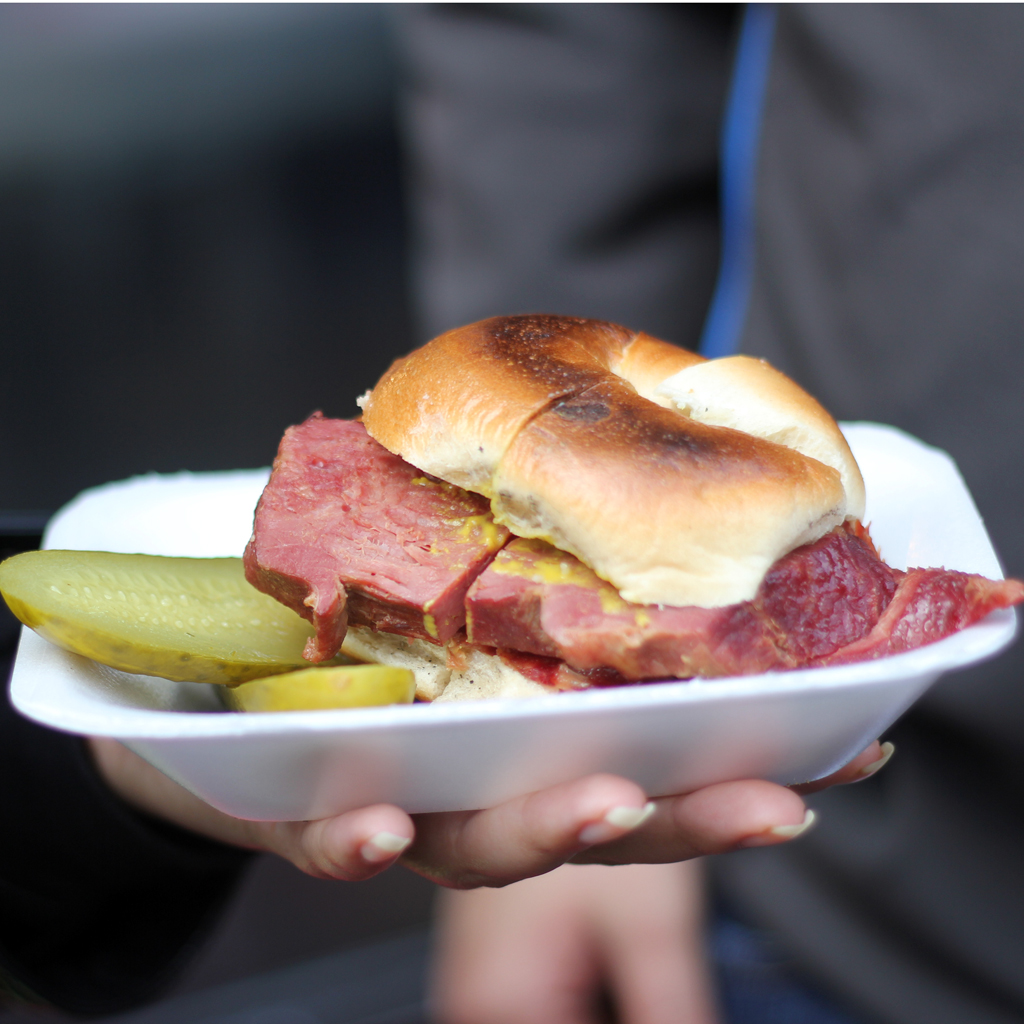 Traditionally filled with salt beef, sweet gherkin & English mustard (as above), I opted to just have mine with plain cream cheese, because I wanted the full comparison. The group had mixed reviews. I will admit: it's a worthy stand-in when my bagel craving inevitably kicks in again.
Pizza East // After we walked off the bagels and curry down Brick Lane, we made our way to our final stop: a trendy pizza shop! Pizza could not have sounded less appealing, but Harry assured us we weren't going to top off the trip with anything doughy and covered with cheese. Instead, we were having something far more decadent: a salted caramel tart. Naturally, at this point, we were all in a major food coma… so I'm sure you can forgive the lack of photo. Trust that this was a delicious cap to an incredibly delicious day, even if most of our group could barely finish their petite slice.
So! If there's one lesson here, it's this: try to not eat for ABOUT a week before the tour. Whether you're a visitor, a local, or a curious expat looking to learn just a bit more about English cuisine, I cannot recommend Eating London enough. It's well-documented that we adore food tours around here (ahem, cough, hello, yep, and duh), but I have to say… this might, honestly, have been the best one I've been on yet?!
Definitely add this to your own London list for your next visit! Or, if you're a local, your next free weekend!
xo,
the romantic
– Thank you to Eating London Tours for having us! If you're interested in booking your own tour, tickets are £65/person. You definitely get your money's worth. All opinions are, as always, my own.