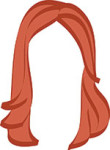 Next month, the hubs and I will mark a year and a half of living in London. This by no means makes us an expert in… well, anything… but we have spent a fair amount of our time here eating… and eating and eating. And considering the fact that pregnancy kept me from drinking for about 50% of our UK expat life, trying new restaurants, especially for brunch and lunch, has become one of our favorite weekend date activities.

Our first home was right on the line between Bayswater and Notting Hill — an area that is very fairly brushed off as being all families and expats. This, combined with the touristy allure of Portobello Road, means that our quiet little enclave would see sudden and insane surges of people during prime meal times.
The issue with this little phenomenon? Most restaurants in London inexplicably don't take reservations, and instead encourage people to stand outside and queue — usually in the rain, because London. It doesn't seem to bother Brits in the slightest, and it will always baffle me. Just after New Year's, we decided to head to a trendy brunch spot in Soho super early, thinking we'd beat the hangover crowd. When we got there, there was a 2 hour wait. On a Sunday. In the rain. FOR EGGS.
Nonsensical.
So! It's always best to have a back-up plan, and a back-up for your back-up. Some of these might take reservations, I've honestly stopped even looking. Our general rule is if the wait is under 30 minutes, we do it, if not, we move along or go to a pub or get cookies from Gail's or go home and weep.
Without further ado!
The Great Notting Hill Restaurant Round-Up!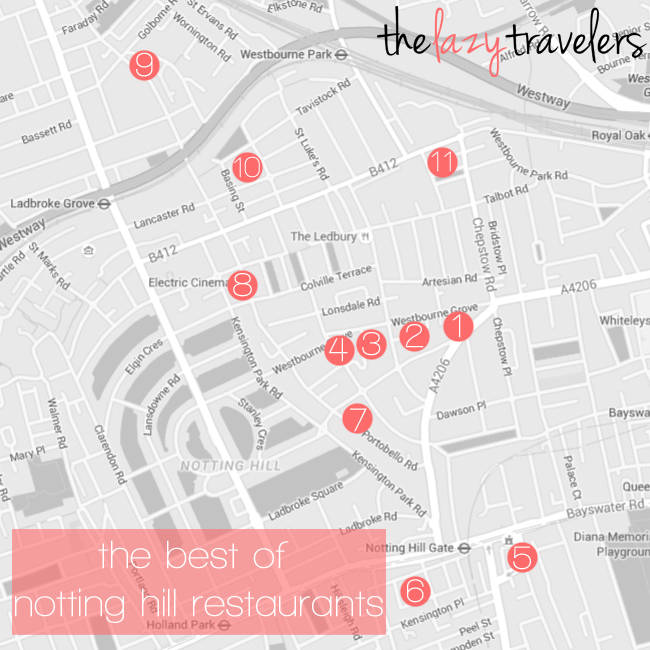 ** A note: I know the numbers look wonky on the map, but to be totally honest, I wrote the post before I made the map, and because we lived east of Notting Hill, I started from that direction. Re-ordering everything just so it would make slightly more sense numerically seemed silly, sooo think of it as a scavenger hunt!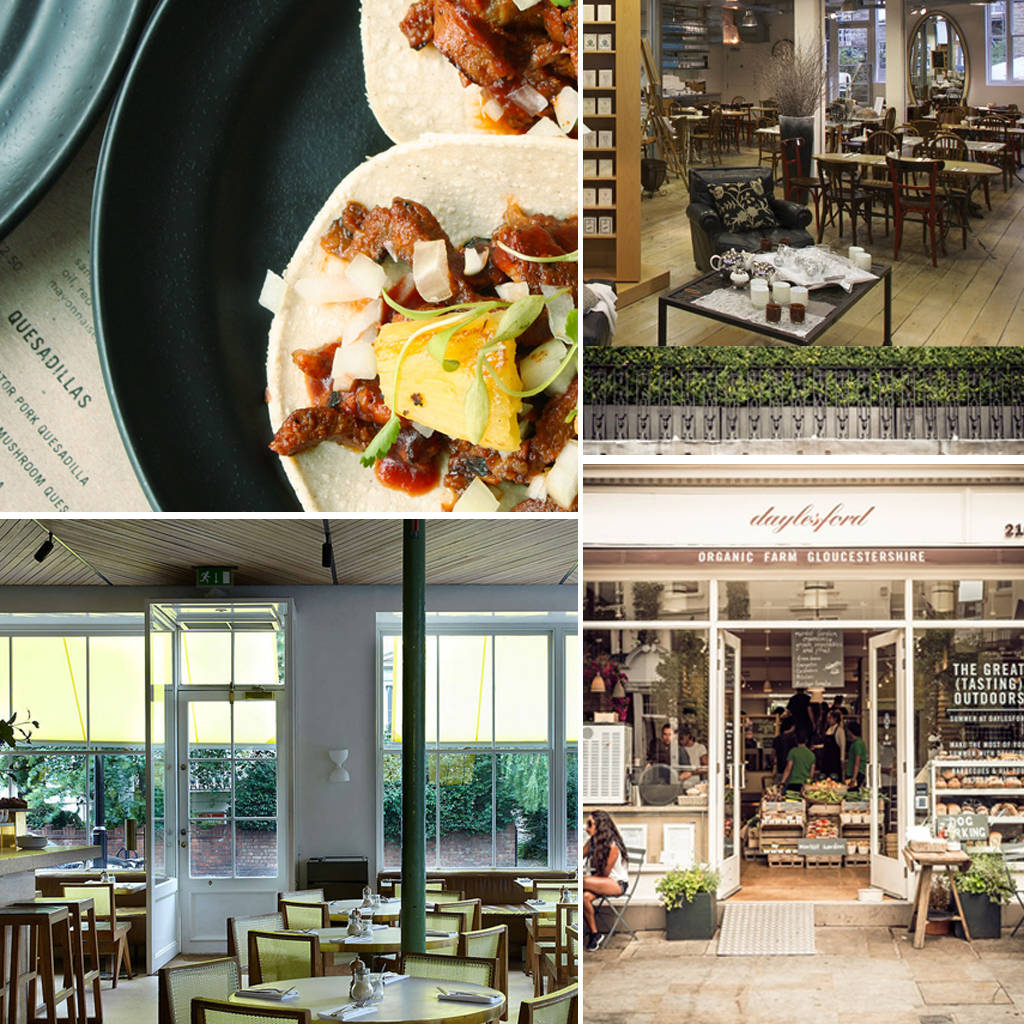 photos clockwise from top left via their websites:
taqueria, 202, daylesford, granger & co.
1. Taqueria, 141-145 Westbourne Grove, London W11 2RS // Ok, you can't expect to find amazing Mexican in London, but this is close enough. I know, starting off with a rave review. But it's important to manage expectations about these things! I'm an East Coaster, so I can't claim to know anything about good Mexican food (so the Californians and the Texans tell me), but I've never had a bad meal here. The ingredients are fresh, and it's cured my Mexican cravings on a few occasions, so it's become a staple.
go for: lunch or dinner
order: the plantain tacos, all day, everyday
2. Granger & Co, 175 Westbourne Grove, Notting Hill, London W11 2SB // Ah yes, the spot most likely to have an insane line. On weekends, don't even bother, but on a weekday, you shouldn't have to queue. Don't get me wrong, there's pretty much always a wait, but I've had a few mid-week meetings here and you can usually nab a spot and wait at the bar Monday-Friday, especially early. It's those post-yoga yummy mummies you need to watch out for, because they will definitely run you down to get their name in first.

go for: breakfast or brunch
order: the scrambled eggs on toast if you're craving savory, the ricotta hotcakes if you're feeling sweet
3. 202, 202 Westbourne Grove, London W11 2RH // 202 is like Granger & Co's cooler, trendier sibling, mainly thanks to the lofty space and high-fashion boutique downstairs. It can have that great affect of making you feel both fat and poor, but the food is delish and the people watching is generally killer. Lots of trophy wives, and the tables are super close which makes it perfect for eavesdropping.
go for: brunch, lunch and browsing clothes you can never afford/would never wear anyway
order: the salads are so good, but if you're looking to indulge, the French toast isn't too shabby
4. Daylesford, 208-212 Westbourne Grove, London W11 2RH // Basically, everywhere on Westbourne Grove has the same type of fare — organic, farm-fresh, slightly pretentious. I like the atmosphere of Daylesford most of all, and their home goods shop downstairs is the best. Fun fact! It's also one of the few places in the neighborhood where you can buy buttermilk! The staff at Waitrose and Tesco both were like … wtf is buttermilk? But Daylesford pulled through, and I was able to fulfill my own craving for these biscuits, so I will always love you, Daylesford.
go for: brunch, lunch & random, overpriced items you never knew you needed (the hubs found this under the tree this year thanks to a Daylesford find, though that link will take you to Barnes & Noble because I couldn't find it in their shop online.)
order: the quiche of the day, which comes with two side salads of your choice, all of which are amaze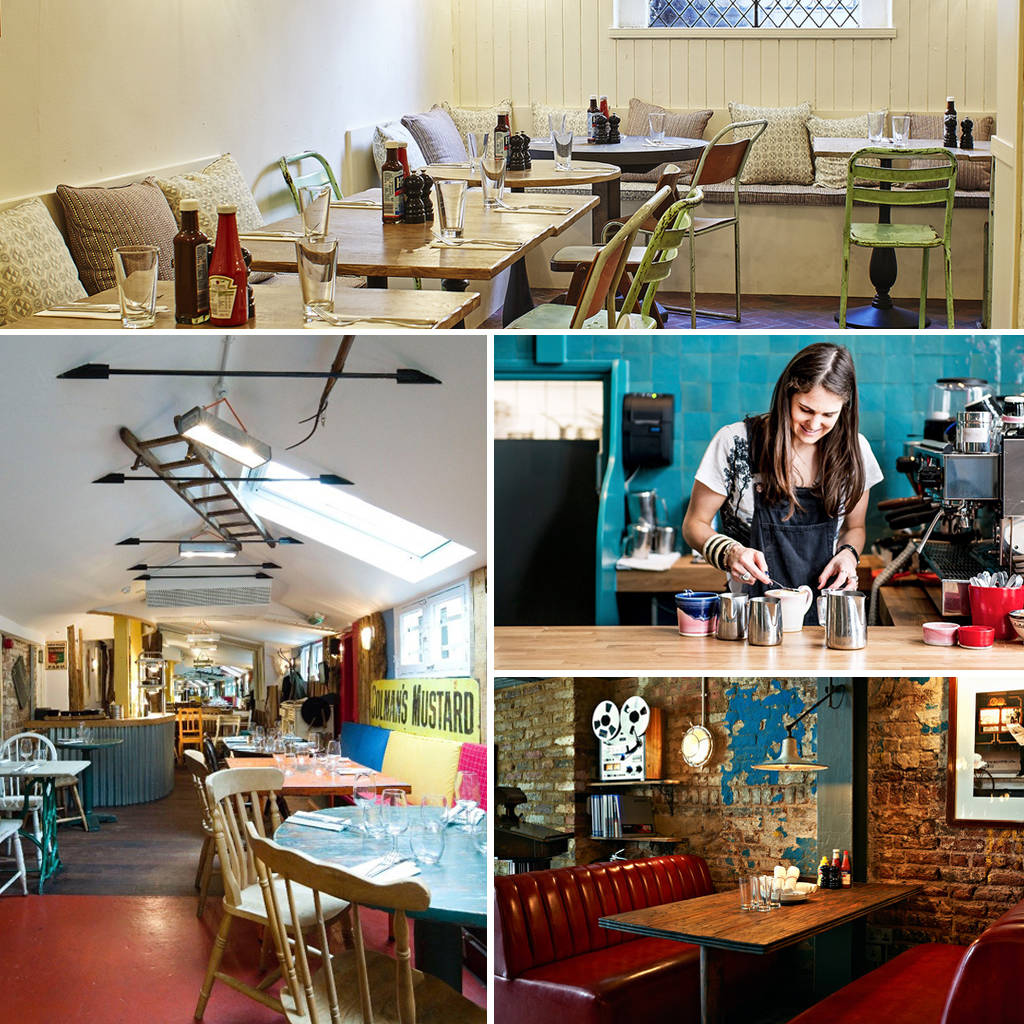 photos clockwise from top via their websites:
egg break, farm girl cafe, electric diner, the shed

5. The Shed //This was my go-to for awhile, because it's all small plates and perfect for group sharing. Then, one time we walked past and it was closed due to a police investigation… before it re-opened a few days later and everyone acted like things were totally fine. Turns out, it's owned by lunatics. BUT the food is never a disappointment and the decor is just stupid cute and I mean, if there's not a drunk guy sitting outside waving a shotgun at you, then I don't see any reason you shouldn't pop in for some light bites. And really, isn't that a good rule for all restaurants?

go for: lunch or dinner
order: basically the entire menu (which changes seasonally), but get extra of the pan fried goat's cheese with hazelnuts, honey and thyme
6. Egg Break, 30 Uxbridge St, Kensington, London W8 7TA // Owned by the Soho House team, Egg Break is off the beaten track and doesn't seem to have taken off like they'd hoped. The hours keep changing, and now, per their website, it looks like they're closed until February? I'm keeping it on the list, though, because my few meals here have been delish and a friend declared her order the best eggs she's ever had… which honestly should be the case at a place with an all-egg menu, but you never know.
go for: brunch or lunch
order: the folded egg bun with corn salsa, red cabbage and sour cream (which sounds weird, I KNOW, but it works) or the broken eggs with chorizo, which is the best eggs ever dish mentioned above
7. Farm Girl Cafe, 59A Portobello Rd, London W11 3DB // Now we're getting into the nitty gritty of Portobello Road! This is situated just before things get completely manic, so it's a good pitstop to refuel before you dive into shopping the market. It is a bit overpriced, I'll admit, but so are most things on Portobello Road, and at least here you know you're somewhere good and not in a total tourist trap. I like that it's set back from the road, so even though it's always full, I've never had a problem getting a table. Oh, also, there's a French bulldog named Bronte who roams around and gives major sass and I love her.
go for: brunch or just coffee
order: the first time I went, I ordered my first-ever açai bowl and it was like eating ice cream for breakfast, except healthy, soooo… do that, you'll feel empowered
8. Electric Diner, 191 Portobello Rd, London W11 2ED // This is pretty much as IN Portobello Road as you can get, and the crowds show it. It's technically a part of the Electric Cinema, so lots of movie goers pop in here  pre & post-show, which means the bar is always packed, too. The good news? They definitely take reservations! I know this because I made one. They are a little weird about not overstaying your welcome, and weren't super nice about it when they called to confirm our reservation, but they didn't kick us out when we went over our allotted 90 minutes, either.
go for: a late-afternoon bar snack right as hanger is kicking in. oddly specific, i know, but just trust.
order: the honey-friend chicken with chili and sesame seeds is on point, but the real superstar is their bloody mary… which comes piled high with a stack of sweet & spicy pickles and will be one of the first cocktails I have when I'm allowed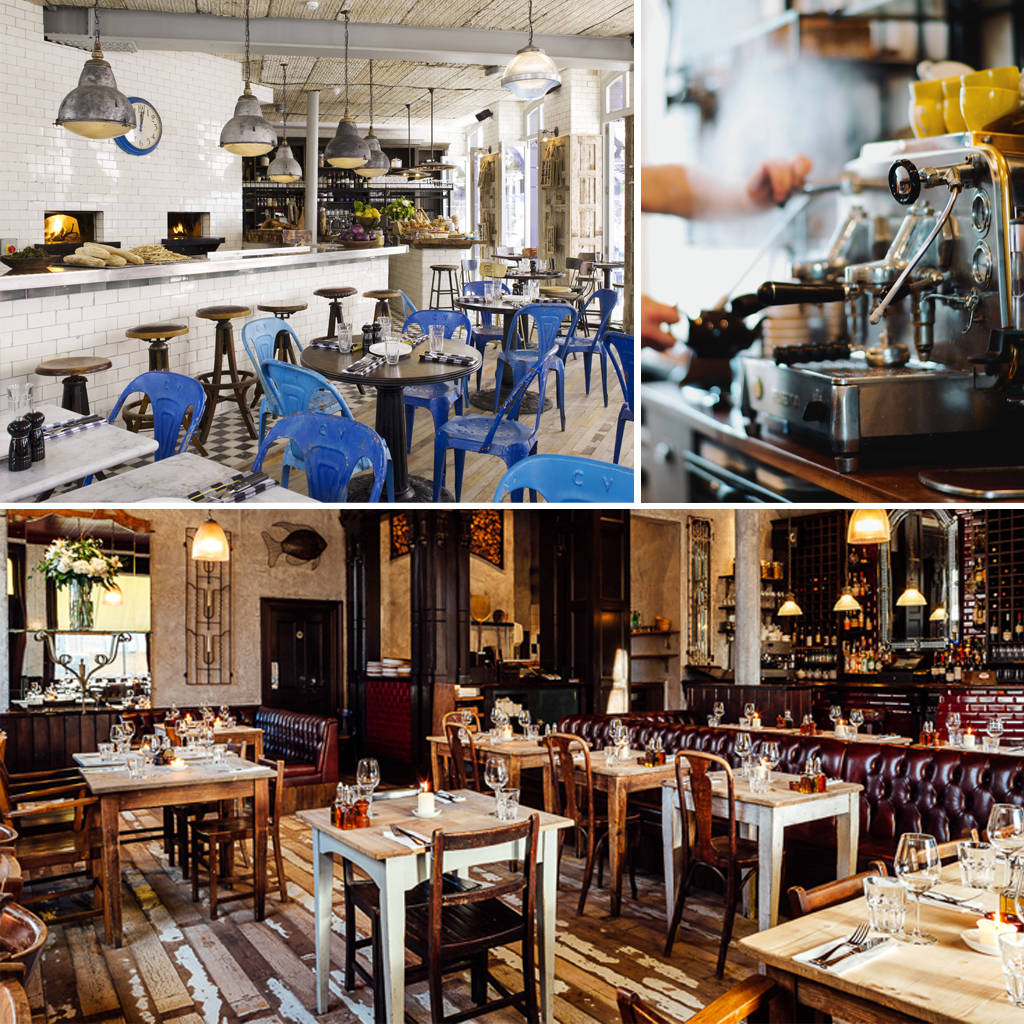 photos clockwise from top left via their websites:
pizza east portobello, the tin shed, the oak

9. Pizza East Portobello, 310 Portobello Rd, London W10 5TA // I first learned about Pizza East on our Eating London food tour, where we ended with dessert. I had no idea there was one so close to our apartment all this time! Recently, I had lunch here with fellow preggos from my NCT class annnnd now it's all I want all the time always. I'm a sucker for pizza, what can I say?
go for: lunch or dinner, and I believe they take reservations… but don't quote me on that
order: the burrata, tomato, aubergine & pesto pizza because hello, burrata, but the cavolo nero, brussel sprouts, pancetta and walnut salad was the surprise winner. i'm also realizing i'm recommending a lot of salads on this little list, and like, who even AM I?
10. The Tin Shed, 33 All Saints Rd, London W11 1HE // This was a totally random find on what is one of my favorite little sidestreets of Notting Hill. We found it because it's just around the corner from the "To Me, You're Perfect" Love Actually mews street, because sometimes I like to play tourist, ok?
go for: breakfast or brunch, and if you want a Virgin Mary, don't say "Virgin Bloody Mary" because I did and it confused our waitress beyond repair and she's never been the same since
order: so I got the avocado toast and had immediate order envy because Jeff got scrambled eggs and they looked way better, but mine was good, too, so I can't remember if it's because his actually were better, or I was just being pregnant. You're welcome.
11. The Oak // More pizza! This is one of the first restaurants we tried in our 'hood, when hosting one of our very first out-of-town visitors! We've since been back a million times, for date nights and birthday parties and basically we could live here. They don't take reservations BUT the bar upstairs almost makes you glad for a wait, it's that adorable.
go for: dinner, it's weirdly dead during the day and the bar just wouldn't be the same
order: the diavola pizza is my personal fave, though I've been skipping that one in favor of the basilico these days. the campagnola is also nom, though a bit rich
And that, my little loves, is le fin. Although I realize now that I'm def super heavy on the lunch/brunch spots since that's been our go-to for meal outings.  So if you're familiar with the 'hood, please DO share any I've missed! We have lots on our list to try, but can always add more, of course.
Also? While I was working on this post, I started to brainstorm all of the amazing places we've loved in London over the past 18 months, so I'm coming back soon with a monster of a restaurant guide encompassing this entire city.
Get. Excited.
xo!
the romantic