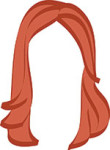 SO, now that I've told you all my fave London eats
around Notting Hill
(so far), I figure it's only fair that I widen the search a little bit. As expected, we've stayed in our little neighborhood bubble quite a bit over the past year and a half. But there's obviously tons more to see — and eat! — around this fine city.
Clearly, this is by no means a comprehensive list. This is basically just a random assortment of places we've liked. These are also places that, if you're exploring central London, are never too far away. As always, if you have additional recommendations, sharing is caring. I'm always on the look out for MORE FOOD. Bonus points if the restaurant is baby-friendly.
Let's get to it!
Battersea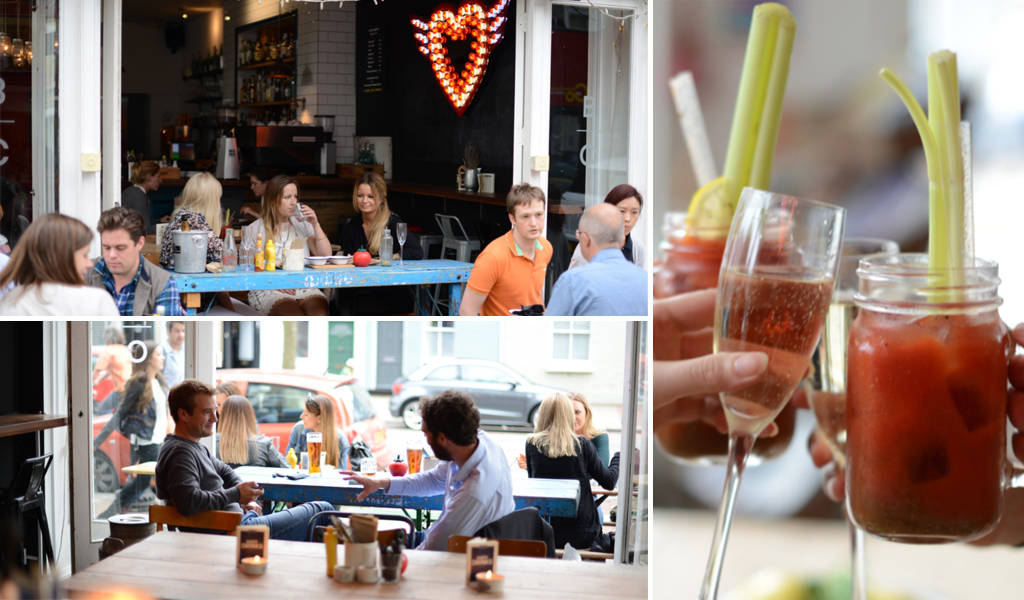 [ photos via ]
Ben's Canteen, 140 St John's Hill, London SW11 1SL // The only time I've actually been to Battersea was for brunch at Ben's Canteen, so maybe there are better options in the neighborhood? But based on the line out the door, I'd say this is a pretty good bet. The French toast was good enough, but I'm going back for the Eggs Pig Out.
Borough Market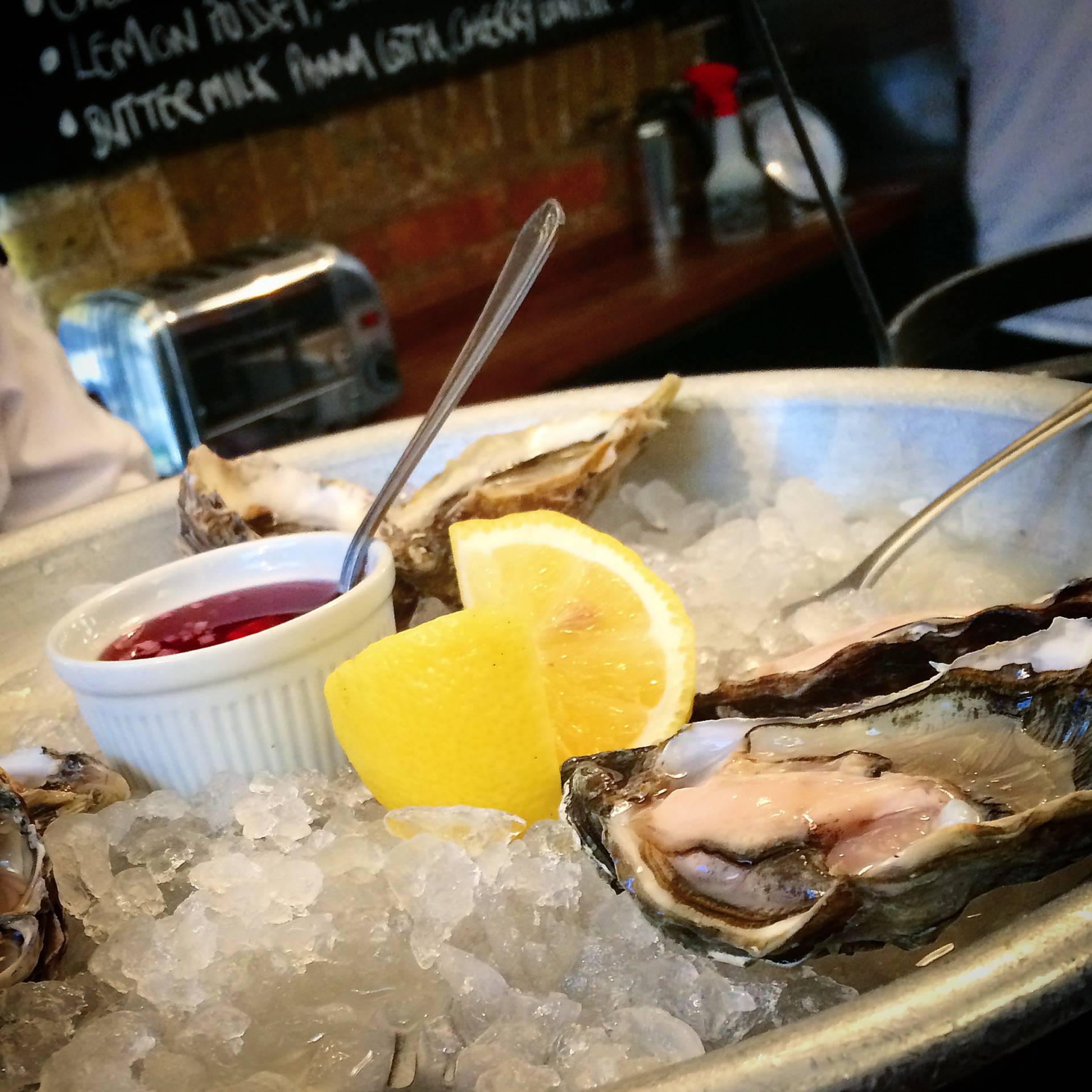 [photo via instagram ]
Wright Brothers Oyster & Porterhouse, 11 Stoney St, Greater London SE1 9AD // The perfect escape when strolling the market starts to feel way too overwhelming (so, like, five seconds after you arrive). Sit at the bar and order bubbles and whatever oysters are on special. If you're lucky, they'll talk you through each one. Then, it'll feel a bit more like a proper tasting than just a casual lunch.
Chelsea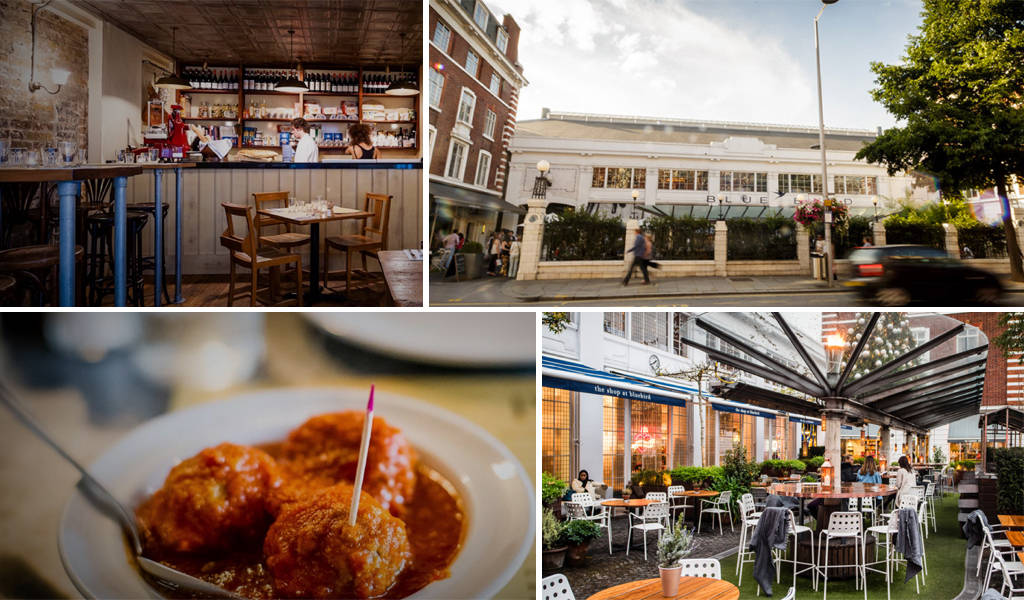 [ photos // left side via // right side via ]
Bluebird, 350 King's Rd, London SW3 5UU // You have a few options here, as Bluebird is more of a complex than a restaurant, and it pretty much takes up the entire block. There's a small market/bistro with food takeaway, a cafe with a huge terrace, or a full-scale restaurant. Oh, and there's a high-end shop. Basically, you could roam around Bluebird for like a year. We've only eaten at the cafe, but the food was fresh and simple, albeit a bit pricey. I would definitely go back for the main restaurant, though. Also, I like knowing of a convenient place to pop in down in Chelsea. I tend to get turned around easily because we never go down there.
Polpo, 81 Duke of York Square, London SW3 4LY // I've been to a few of Polpo's spots around London, but this one tucked back into Duke of York Square is my favorite — mainly for the outdoor space. It's especially perfect for groups because it's all small share plates. The portion sizes are ideal for ordering a huge variety, even if its just a few of you. Trying all of the meatballs is particularly key, obviously.
Fitzrovia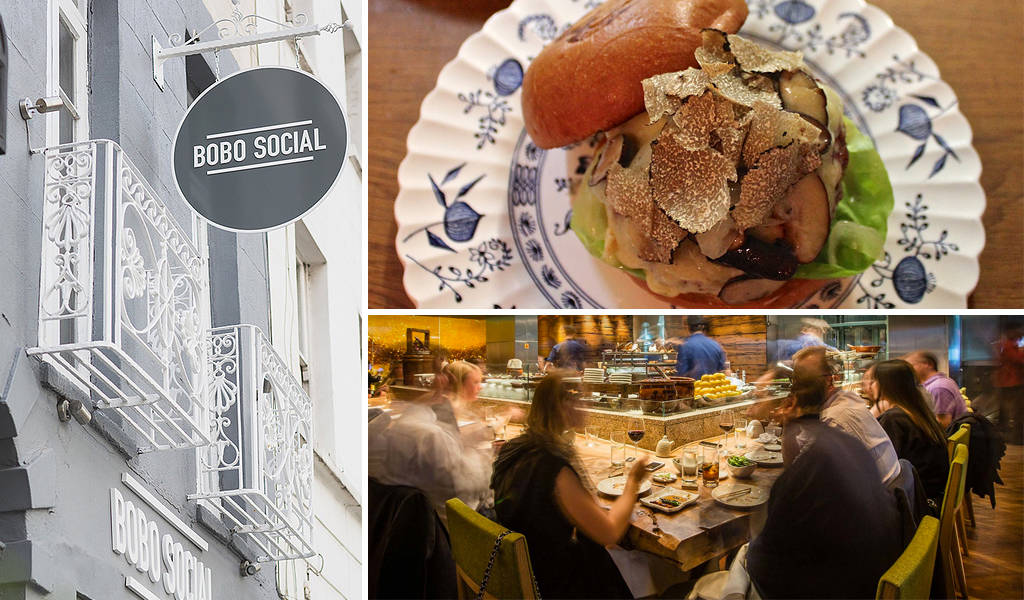 [ photos // left & top via // bottom right via ]
Bobo Social, 95 Charlotte St, London W1T 4PZ // Twice a week, Bobo hosts an Experimental Burger Society, and whatever the Monday night society creates becomes the burger of the week. We haven't been to the actual society, but just going for the burgers on any old night more than suffices. The Peanut Butter burger wins for weirdest but surprisingly delicious…est.
Roka, 37 Charlotte St, London W1T 1RR // My first foray back into sushi post-pregnancy! We popped in just before the lunch rush, and they were surprisingly baby-friendly. Most importantly, however, is that everything was delicious. I could live off the kampachi sashimi no salada  (yellowtail sashimi with yuzu truffle dressing).
Kensington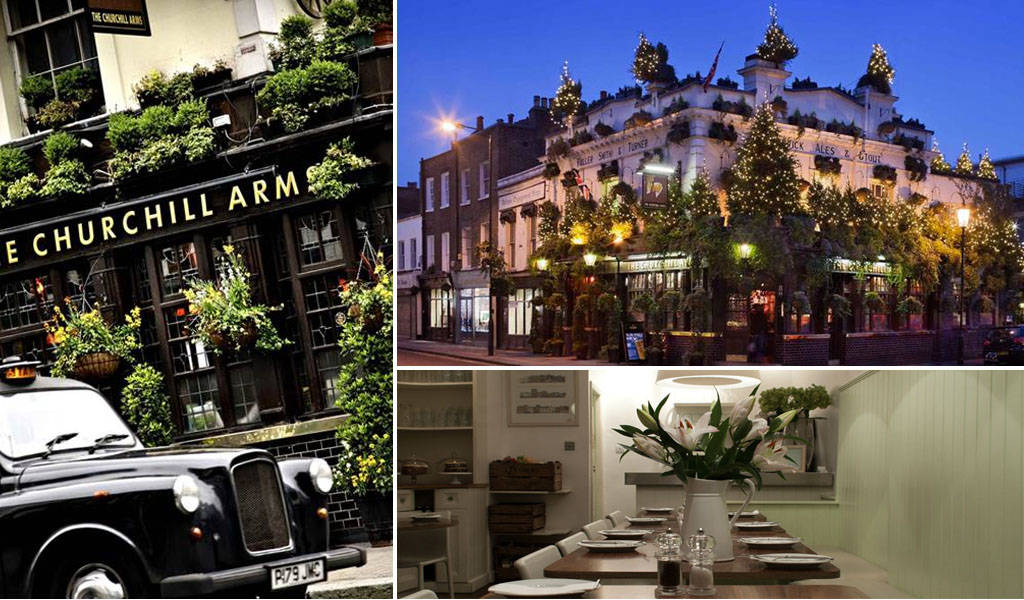 [ photos // left & top via // bottom right via ]
The Churchill Arms, 119 Kensington Church St, London W8 7LN // If you've been down Kensington Church Street, then you've seen this pub, which is always, always, always completely bedecked in foliage — flowers for most of the year, Christmas trees and fairy lights during the holidays. In the back sits London's worst-kept secret: an equally over-decorated Thai restaurant! We've eaten at the restaurant a few times, but appears to be in one of Rick Steves' round-ups. So… now we do mostly takeaway. Still, it's a London icon and worth a stop if you're craving low-key Thai.
Kensington Square Kitchen, 9 Kensington Square, London W8 5EP // Solid brunch spot just off High Street Ken, where finding an enjoyable, non-chain restaurant can be tricky. We've been a few times now, and though it fills up on a Saturday morning, they do take reservations! Also, the staff is insanely friendly.
Marylebone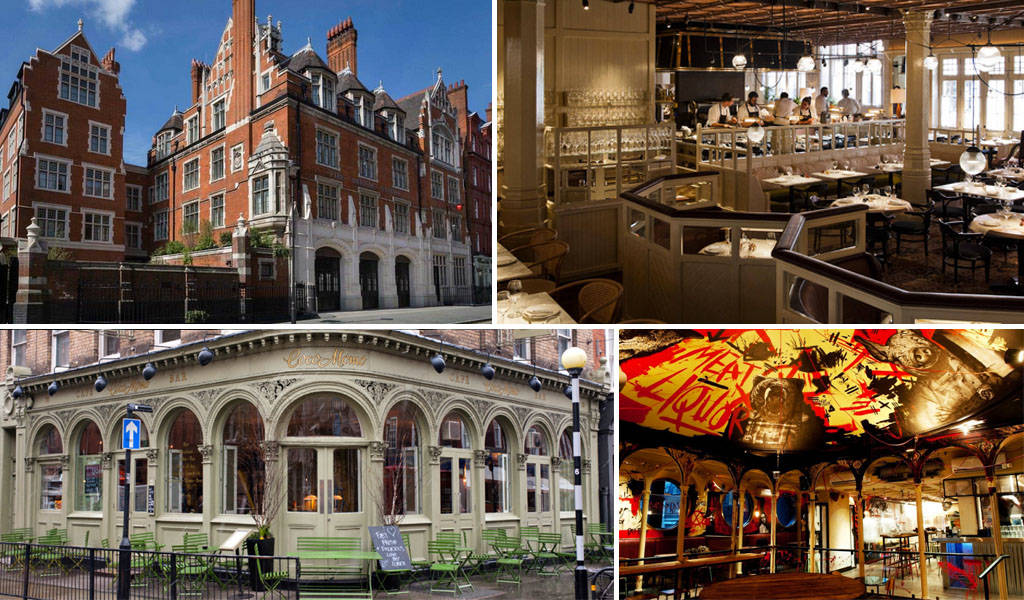 [ photos // top via // bottom left via // bottom right via ]
Chiltern Firehouse, 1 Chiltern St, Marleybone, London W1U 7PA // It's a little scene-y, but Marylebone is one of my favorite neighborhoods, and we had a really nice brunch here — though not your typical brunch fare, the menu skews way more savory. It was more about the ambiance and the people-watching. The space is lovely, and I'm excited for warmer weather when we can return and sit on the terrace.
Coco Momo,  79 Marylebone High Street, London W1U 5JZ // Another brunch spot! Can you tell that most of our restaurant outings have been during the day? That's because I spent the majority of 2015 needing a nap by 6 PM. We first went to Coco Momo for a boozy brunch with friends when we first moved here. The Bloody Marys immediately won me over. We've since been back a few times for more breakfast/brunch (sans all the vodka, of course). Don't worry, it holds up!
MEATLiquor, 74 Welbeck St, London W1G 0BA // One of my weirder pregnancy cravings has definitely been buffalo wings, because normally I have no interest in them whatsoever. But on a recent errand run near Oxford St, the hubs used MEATliquor as a successful method to keep me from punching tourists. It's dark and loud, but the wings are as close to home as we've had so far, and hellloooo, deep friend mac & cheese squares. Man, I swear I wasn't this disgusting throughout my pregnancy. Sometimes the need for fried food just strikes, you know? This spot is the answer. Oh, and the hubs had a burger that he said was on point.
Mayfair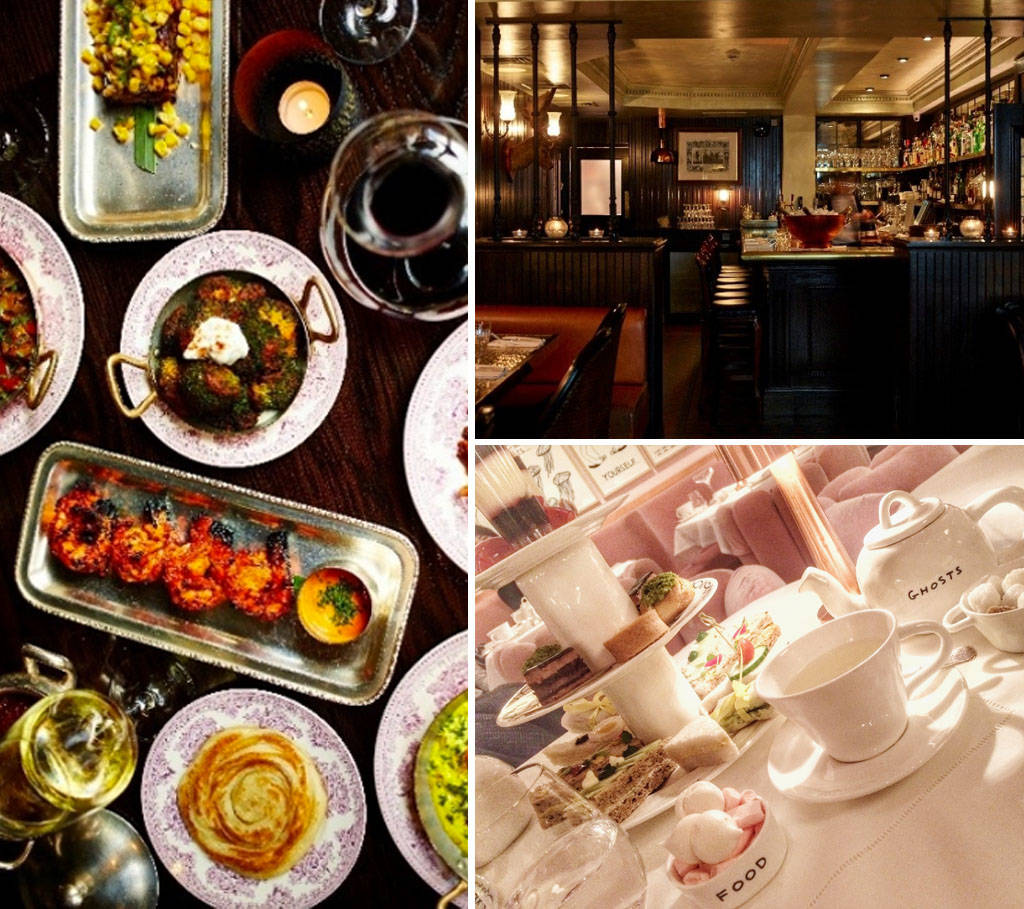 [ photos // left & top via // bottom right via ]
Gymkhana, 42 Albemarle St, London W1S 4JH // After a few failed attempts at Dishoom, I had given up hope on having Indian food anywhere but from our local. Enter: Gymkhana. We got lucky — we didn't have a reservation (which yes! they take!). But we decided to pop in on an impromptu lunch date, agreeing to sit at the bar if the tables were full. As fate would have it, someone cancelled a table for two mere minutes before we arrived! And thus, a new favorite restaurant was discovered. Order everything, but especially the potato chat with chickpeas. Holy crap.
Sketch, 9 Conduit St, London W1S 2XG // Honestly, this might be London's most instagrammed restaurant, so it's not like it's some big secret find. But I took an out-of-town visitor here for afternoon tea, and we loved every second of it! We sat in the gallery, which could not be better for a girls' outing, but each room is more unique than the other — I think The Glade might be my favorite. Oh, and all those adorable dishes you see above are available to buy!

Primrose Hill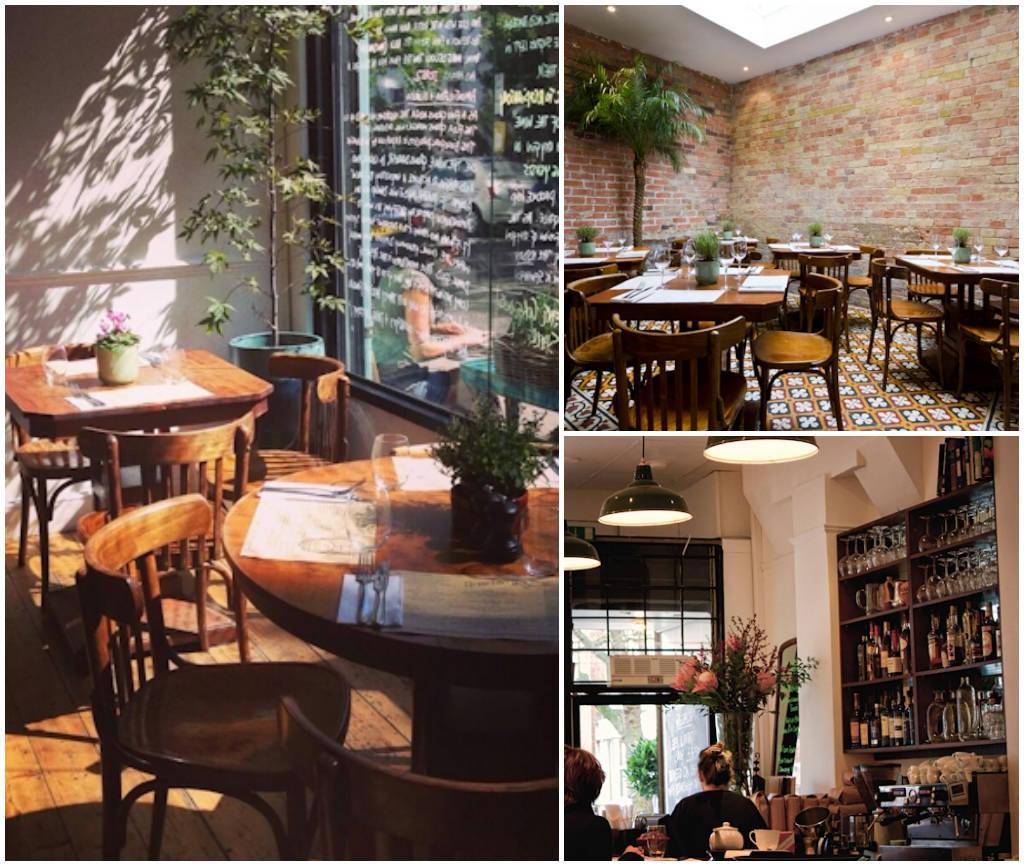 Greenberry Cafe, 101 Regent's Park Rd, London NW1 8UR // An adorable restaurant in the heart of an adorable neighborhood — what more could you need? The food is fresh and delicious, the staff is incredibly friendly, and the restaurant decor is cute and cozy. Wins all around!
Seven Dials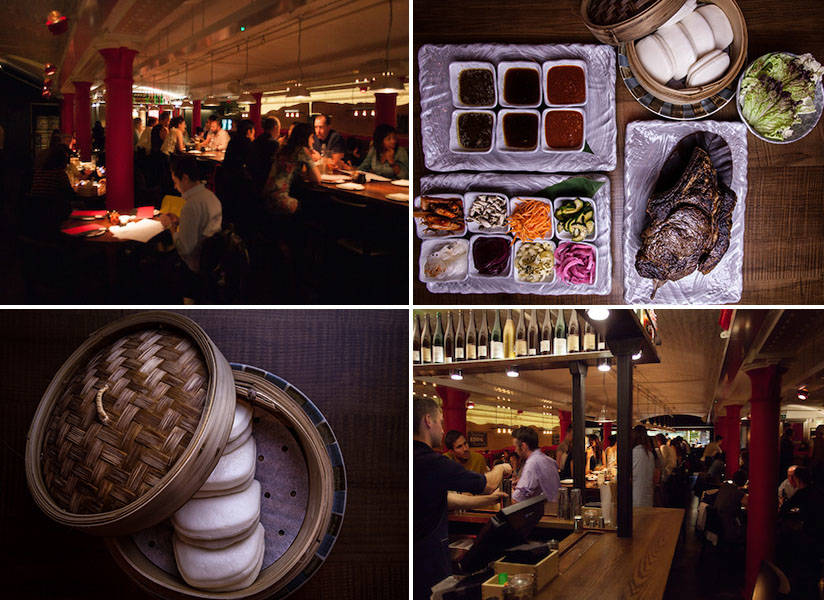 [ photos via ]
Flesh & Buns, 41 Earlham St, London WC2H 9LX // Owned by the same people as Bone Daddies (and we'll get to them and their amazingness in a second), Flesh & Buns serves up absurdly delicious Japanese buns, as well as sushi. Only note? Beware of the bathrooms… the poorly-censored anime porn wallpaper is… jarring! I suggest timing your fellow diners to see who stays the longest, and then humiliating when they come out.
Soho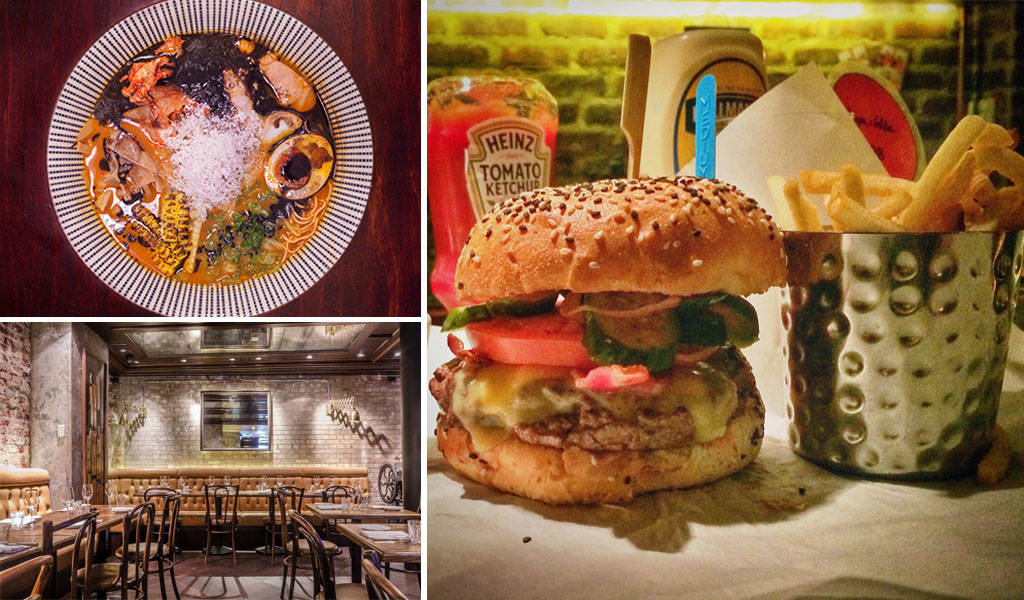 [ photos // top left via // bottom left via //right via ]
Bone Daddies, 31 Peter St, London W1F 0AR // Jeff is rarely in the mood for ramen, but on a cold and rainy day just after Christmas, I was able to convince him to have lunch here — mainly because its owned by the same team as Flesh & Buns. If the Brussels sprouts with soy sauce and pomegranate seeds are on the menu, then do yourself an order and get, like, 6 servings. AND! The Korean Fried Chicken Wings for a starter. Also, I know it's an old wives' tale, but I semi-blame them for sending me into early labor. We went here the Thursday before Margot was born, and I most definitely overdid it on the spice.
Burger & Lobster,  36-38 Dean St, London W1D 4PS // When we first moved to London, we were placed in a (HORRRRRRIBLE) corporate apartment in Holborn. What the place lacked in charm, character, and staff who weren't inexplicably terrified of our toothless pug, it made up for in being super, super central. One night, on a hunt for the perfect burger, we randomly ended up here when the line for Honest Burgers was out the door. There were two random seats at the bar at Burger & Lobster, and though we didn't have high hopes, it was everything we were craving and more. Oh, and New York friends, you don't have to miss out on the fun! There's one in Flatiron now, too. Let me know how it is.
Social Eating House, 58 Poland St, London W1F 7NS // This spot gets just as much acclaim for its cocktail menu as its food, but I can't really weigh in on the first one… though I did have a delicious mocktail! God, pregnancy makes you feel like such a nerd. Anyway, the menu is an upscale take on traditional British dining, and everyone in our group was thrilled with their selections. Whatever you get, don't skip a side order of the duck fat chips.
Spitalfields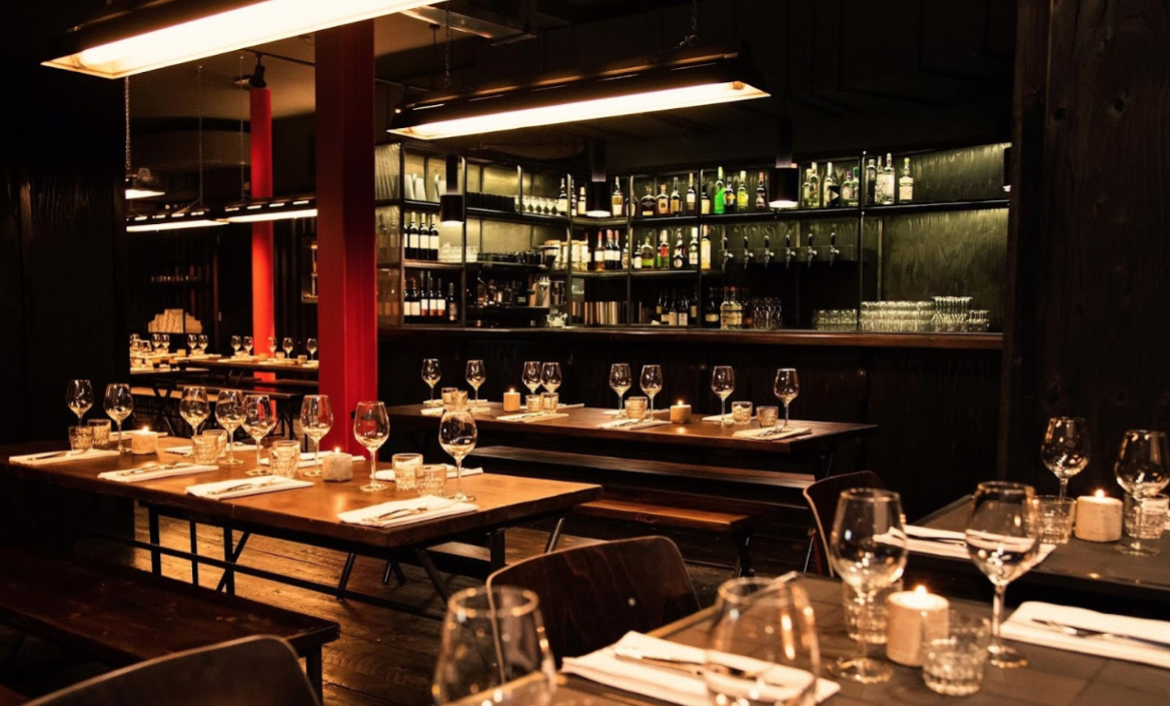 [ photo via ]
Hotbox, 46-48 Commercial St, London E1 6LT // We've written about Hotbox before, because it was a find during #LTlondontown thanks to Jeff's memory of a place that proudly serves craft meat. To date, it's been one of our best meals… though I'm still not sure we're cool enough for it. Nevermind, scratch that, we're def not cool enough for it. But it doesn't even matter when you're chasing a mountain of brisket with deep fried oreos, I promise.
Foodie Fests // Honorary Mentions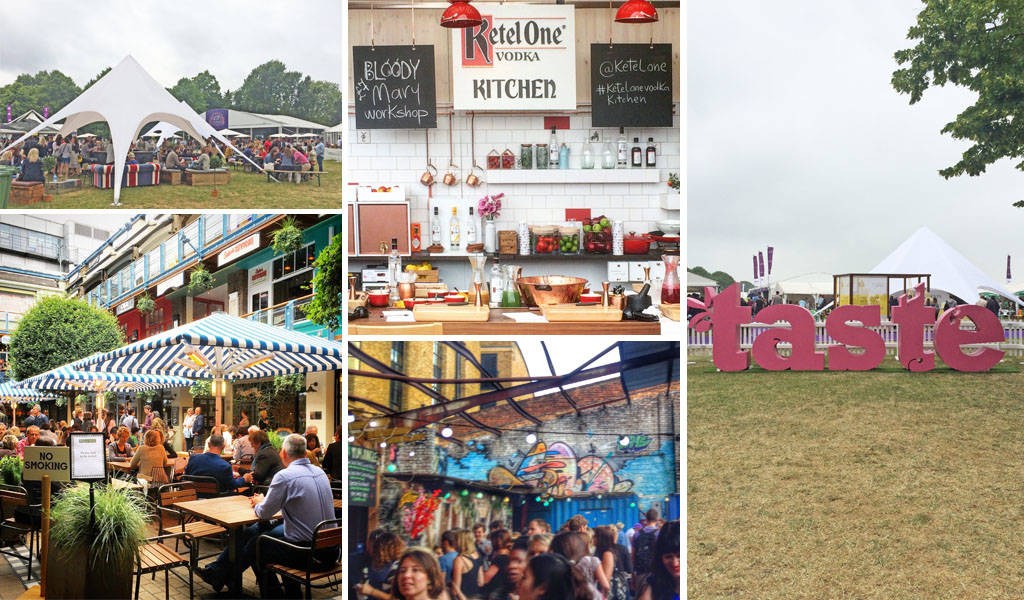 [photo via instagram ]
London LOVES a good foodfest, and it's where we've tried a lot of restaurants. These are a few of our favorites…
Duke of York Square // One of the reasons we don't know of too many restaurants in Chelsea is because every single time we're there, the food trucks in Duke of York Square are our first stop. It started when we followed our noses to a duck confit sandwich stand, which we washed down with glasses of Perrier-Jouët. Months later, I was in full blown pregnant hanger mode after an overwhelming nursery consultation at Peter Jones. We were walking aimlessly around Chelsea in search of SOMETHING to eat, when the hubs grabbed both my shoulders, spun me around, and whispered "look…" In front of us was a band of smiling men wearing Phillies jerseys, handing out CHEESESTEAKS. I thought it was a mirage, but no. It was the answer to a homesick and hungry pregnant lady's prayers (and her weary husband's, too).
Kingly Court // Ok, not a foodfest, but a worthy stop to keep in your back pocket when you're wandering around Central with nothing but lines out the doors of any place worth trying. It's tucked off of Carnaby Street and there are so many restaurants that even in the busiest of times, you're pretty much guaranteed a spot somewhere.
Old Spitalfields Market // Old Spitalfields has something going on every weekend, and even if there isn't a festival, there are always food trucks camped out. If you're super lucky, though, you'll randomly end up there during London Cocktail Week!
Street Feast – Dalston Yard // This was a total accidental find, when we were chasing some burger pop-up on Twitter that's now escaping me. We ended up walking from Holborn to Dalston, which is no small feat, and were completely confused when we arrived at a giant abandoned warehouse FILLED with food trucks. It was one of our first nights living in London, and definitely our most fun.
Taste of London // We were first invited to join friends at Taste of London Winter, which was held at the Tobacco Docks. We spent the day bouncing from stall to stall, before wrapping up with cocktails & pints as the space transitioned more into a bar than a foodfest. Come summer, we decided to venture back to see what the outdoor version had to offer. This time, it was in Regent's Park. I was pregnant for round two, which meant I couldn't take part in the cocktail aspect. Unfortunately for me, the summer fest was WAY more booze heavy. This, combined with abysmal weather the day we hiked up to Regent's Park, means I have better memories of the winter fest. But both are worthy visits!
I think I'll probably just continually add to this post as we keep eating our way through this fine city. You know, until it gets stupid long and is time for a part two. So this means I need your help! Whether you live here or have just visited… what's the best meal you've had in London?!
xo!
the romantic