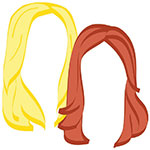 When we started planning our Swiss adventure, we had big dreams of snow-covered chalets and opulent apartments overlooking Lake Geneva. Because our itinerary had us going to a different city almost daily, we knew we would wind up covering all the accommodation bases. It wasn't until we looked at our lodging options on paper that we realized: over the course of seven days, we stayed in four very different types of accommodations in each hub of our trip.
Boutique Hotel: Hotel Ermitage
Verbier Tourism graciously arranged for our first night's stay, and this couldn't have been a more perfect way to begin our trip. When we arrived, exhausted from our flight, our room wasn't quite ready. Have no fear! The very debonnaire concierge, Hugo, offered us our first taste of Swiss white wine while we waited (DELICIOUS) and we relaxed in the lobby, which looked very much like someone's living room in a quaint mountain cabin, complete with breathtaking views of the Alps.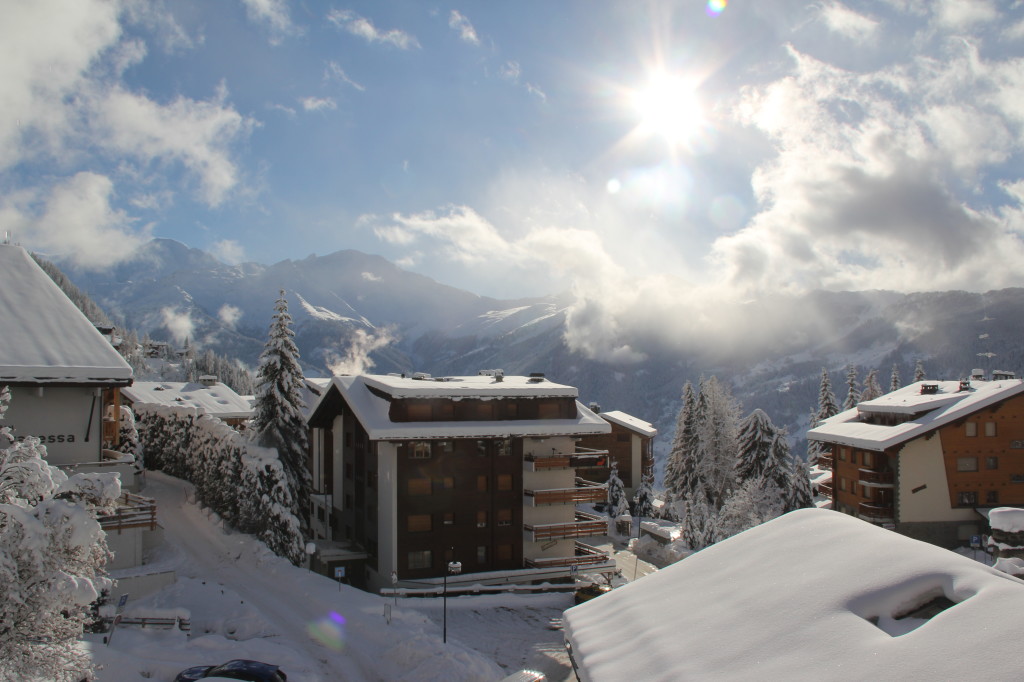 The view from our balcony at Hotel Ermitage.
This picture is going to get overused around here, but we don't even care because, I mean, look at it.
Our room was like most European boutique hotels–small, but clean and comfortable and full of charm. Plus, we're not sure we've ever had a hotel with better views.
A big part of our travels across Europe have included staying in hotels very similar to Hotel Ermitage. It's a great, wallet-friendly way to get the true European experience and we recommend you book at least part of your trip in a hotel like this. It certainly doesn't hurt if the concierge looks like Hugo…who, we should add, didn't even get mad when the wino broke her wine glass within the first 20 minutes of our arrival.
Bed & Breakfast: Bnb Lausanne
We're BIG fans of the B&B. One of our very best travel memories together is our stay at a bed & breakfast during our roadtrip across Ireland. Staying at a B&B always ensures a comfortable, homey experience, and you almost always meet the most fascinating people along the way. Our stay at Bnb Lausanne didn't disappoint.
Our hosts, Arianne and John, turned their early 20th-century apartment into a two-bedroom bed & breakfast when their kids left the nest. Our bedroom, with its high ceilings, large wooden doors, and Juliet balcony, embodied everything we loved about Lausannois architecture. Arianne and John, having just returned from a trip of their own to India, were anxious to talk with us about our travels and were full of good advice on what to see and do during our time in Switzerland. The highlight was Arianne's breakfast, which included muesli, fresh breads and croissants, a local cheese selection, and home-brewed coffee.
Staying in a B&B is definitely the way to go if you want the home-away-from-home feeling when you're traveling.
Hostel: City Hostel Geneva
We've both done our share of hostel-hopping over the years, some experiences more gritty than others. Though you always run the risk of…well, ickiness, we must admit we've had some pretty stellar hostel experiences. So, when it came time to book our stay in Geneva–the only city we had originally planned on staying in for more than one night–we decided to go the budget route and book a private room at City Hostel Geneva.
The good? The hostel was only a short ten minute walk from the train station, which played into our itinerary perfectly. Plus, they offer all guests a complimentary transportation pass which works on the buses, trams, and trains. This was especially helpful as our Swiss Passes expired the day we needed to get to the airport. The bad? Bunk beds, shared bathroom, miniature-sized towels, "complimentary wifi" that did not work once in two days, and the fact that it didn't cost us much less per night than our room at BnB Lausanne. The ugly? The room smelled like they mopped the floor with stale wine. Seriously.
Though we decided we may have outgrown the youth hostel experience, it definitely has its perks for the budget-conscious traveler.
Luxury Hotel: The Westbury
Our stay at The Westbury was offered to us literally at the last minute (more on this to come), and nothing sounded more inviting after a week of lugging our backpacks around snowy Switzerland than a two-night stay at a five-star hotel in Dublin.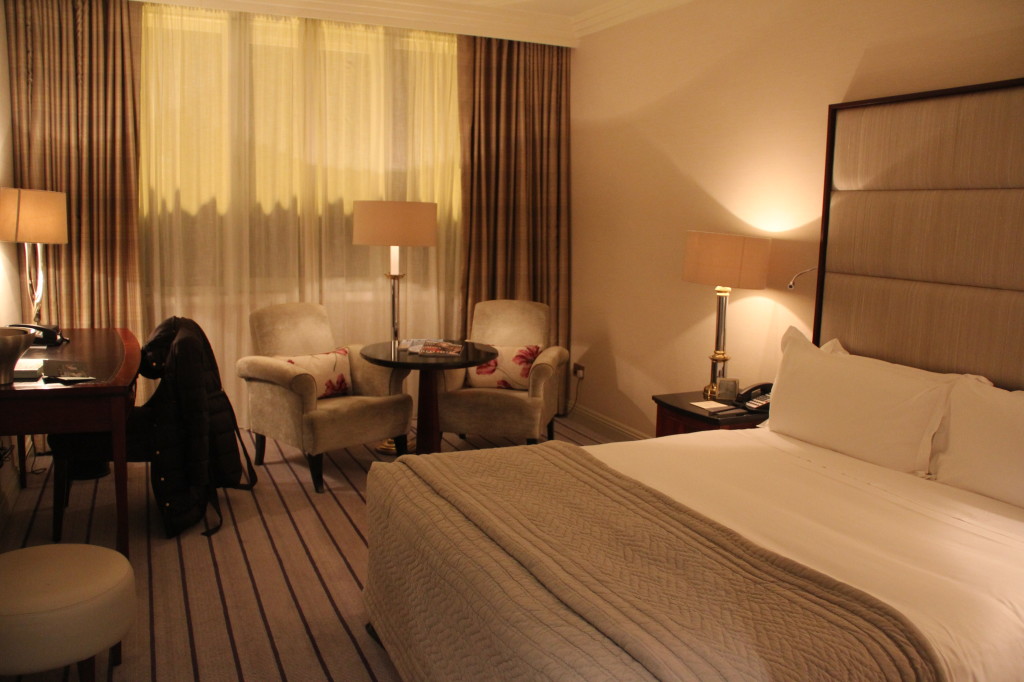 Located right off of Grafton Street, The Westbury was the perfect hub for our grand tour of Dublin–plus, after sharing bunk beds and a group bathroom, it was nice to have our own space to unwind, relax, and prepare for the dreaded flight home. Read our full review of The Westbury on our of favorite sites, Mrs. O Around the World.
Though staying in a hotel akin to the The Westbury isn't in the cards for all travelers, it was the perfect end to our trip and offered a valuable lesson: if you're going to splurge, we recommend holding off until the last few nights of your trip when your bodies will certainly appreciate it most.
xo!
the romantic & the wino
– Though our nights at Hotel Ermitage and The Westbury were sponsored, all opinions are, as per usual, 100% our own. The fact that our hostel stay in Geneva was not sponsored did not cloud our opinions, either. The room really did smell like it was cleaned with stale wine. Seriously.