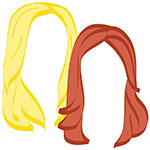 When we say its our pleasure to introduce you to Ashley from Ashley Abroad, we really really mean it. The two sentence "About Me" on her website was enough to cause a serious case of girl crush. She loves baguettes, red wine, and really salty butter so follow her ASAP @ashleyhfleck.  We just may have found a third piece to the Lazy Travelers puzzle.
Read on to learn more about our new fave fellow blogger.
Favorite Place?: Out of everywhere I've been in the world there's no place more dear to my heart than my family's cottage. It's on Lake Huron. It's been in the family for generations and will always be my true home.
More importantly, favorite meal?: True Life: I'm Obsessed with Food. Here in France I can't get enough of bread and cheese. But my other favorite foods are ceviche, dumplings and movie theatre popcorn. Food is such a huge part of travel (and life) for me.
The moment you caught the travel bug?: This one is hard to pinpoint. I'd like to think in some ways I was always a traveler. I have always been an avid reader! As I got older, getting lost in other worlds just became more literal.
First experience traveling alone: My first true solo trip was a four-day jaunt to Ireland when I was 20. I spent blissful days riding my bike around the wind-whipped Aran Islands. And listening to live music at the pubs in Galway. It was a truly amazing experience that led to two more solo trips to Ireland.
Ever been (or thought you've been) in imminent danger while traveling?: I've been really fortunate on my travels, but I was pretty freaked out when a man on the street flashed me when I was walking home late one night here in France.
Worst hotel/hostel experience: Over the years I've certainly had my fair share of unsavory hostel experiences. The most bizzarre was when one 30-something Italian man took my friend's underwear off of the clothesline. He wore them for the whole week we were there. We knew this because he was generally half-naked.
Best hotel/hostel experience?: While I've stayed in lots of lovely hostels and hotels (despite my last answer!), I loved the TangoInn Hostel Downtown in Bariloche, Argentina. There's been no other hostel where I can watch the sun set over the Andes from the hostel's private jacuzzi for only $10 a night.
Favorite family vacation: Bermuda when I was 13. My brother, sister and I body-surfed all day and sipped mango daiquiris on the pink sand beaches- I would go back to Bermuda in a heartbeat!
Must-have packing item: My Kindle. I'm basically addicted to it.
Most unbelievable travel experience: An impromptu road trip I took with a guy I had just met in Dingle, Ireland. As we crossed the Dingle Peninsula we stopped to hike up to a waterfall and the scenery was everything you expect Ireland to be: misty, green and absolutely gorgeous. That day I learned that good things sometimes do come from riding with strangers.
Favorite "I can't believe I'm doing this" moment?: I'm not sure if this counts, but the other day I fainted from dehydration on the Paris metro. The trains stopped for more than five minutes while I regained consciousness. Looking back it was definitely a "I really can't believe that happened" moment.
Place you can't wait to return to: Ireland will always have a piece of my heart. I've done three solo trips there and it's never enough- there's something about that rainy little island that entrances me.
Place you can't be paid to return to?: The Cinque Terre in Italy. It was over-priced, over-touristed and if you ask me, completely over-rated. I can see how the fishing villages would have been a treasure twenty years ago, but now they're swarming with tourists.
Any exciting trips coming up?: I'm finally heading to Southeast Asia later this summer! My Southeast Asian bucket list includes learning how to scuba-dive, volunteering at an elephant sanctuary and indulging myself with a Bangkok shopping spree- I've never been to Asia so I can't wait to see what happens.
Dream vacation?: I have always wanted to visit Brazil. I'd love to explore the colonial hill-towns. I want to sip caipirinhas on the white-sand beaches of the north. I need to practice my very rusty Portuguese! One day!
Favorite tourist attraction: I really loved the Alhambra in Granada, Spain- it's a 9th century Moorish palace with the most beautiful Arabic architecture, fountains and views of the city.

Favorite "I'm trying not to look like a tourist" attraction: Despite my best efforts, I think I always look like a tourist here in France. Sometimes it feels like every time I strike up a conversation with a French person, he or she immediately responds, "You have an accent. Where are you from?"
Favorite travel photo: I took this shot from the top of Arthur's Seat in Edinburgh a few years ago when a few friends from high school and I climbed to the top. I have no idea how the background turned out black and white- I swear I didn't edit it!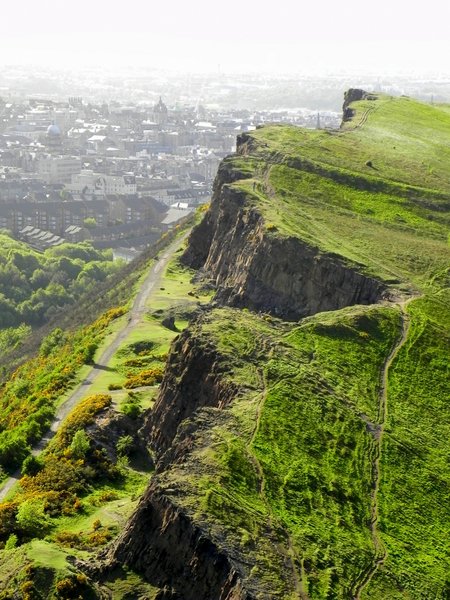 For more on Ashley's adventures, stop by her Facebook or Twitter and say hello bonjour!
And hey, if you want to be our next jetsetter, just email us, k?
xo!
the romantic & the wino