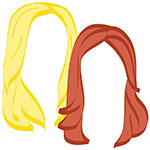 Hello and happy Tuesday! #TravelTuesday, even. How thrilling!
Today's jetsetter is Christina of Fleeting Life. We like her for lots of reasons, but one of them is definitely because she's a self-described travel-crazed goofball. What's not to love about that? She also currently lives in Madrid, so psst… Christina: can you mail us some cava?
Get to know Christina a little bit better by reading her choice answers below, and then hop on over to Twitter and say hi! Or Facebook! Or get extra tech-like and add her on Google+.
So many options, you guys.
Favorite meal: Does chocolate count as a meal? It does for me! Whoever thought of dipping doughnut sticks into thick melted hot chocolate was a genius (Ok, it was the Spanish. I truly love them for inventing churros with chocolate.)
First experience traveling alone: I decided I wanted to travel abroad one summer during university, so I planned an entire solo trip to Mexico in secret. When my mom found out, she said "hell no!" and I went to Costa Rica instead. Unfortunately I still haven't made it to Mexico, but my experience in Costa Rica was so magical that I ended up moving there for a bit after graduation and I'll never regret my time there. Living "pura vida" style can get addicting!
Place you can't wait to return to: I haven't stopped thinking about Galway, Ireland since I left about a month ago! I was only there for a few days, but it was long enough to get hooked. I am obsessed with live music, and Galway had the most unbelievable live music scene I've ever experienced. There are incredible bands playing all hours of the night every single day of the week. I'm hoping to go back next year!
Any exciting trips coming up?: I'm currently living in Madrid, so it's relatively easy to take trips around Europe. I just got back from a few weeks in Romania and within the next couple of months I'm hoping to make it to both France and Portugal. I will be in Italy in February, then the trip I'm most excited for: at the end of May I'm going island hopping in Greece, then off to Turkey and Jordan. So much to look forward to!
Dream vacation: Definitely an African safari! I have been dreaming of going on a safari for years! And by dreaming, I mean I actually have immensely vivid dreams about being on safaris all the time. Sometimes they even turn into nightmares where I am attacked by a lion, but I know that's just my overactive imagination. My goal is to go on a safari within the next 5 years!
If you wanna be a jetsetter, you know where to find us! We don't mean physically find us. We mean info [at] the lazy travelers [dot] com.
xo!
the romantic & the wino