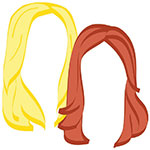 Things we love: when the week starts off on a Tuesday and Wine Wednesday comes out of nowhere to surprise us with its glory. Other things we love: makeup tips, gallivanting, and alliteration. This is all very lucky for us, as today's jetsetter is travel fiend and MAC Makeup extraordinaire: Alexa of Gallivant Gal. If her cute blog layout doesn't do it for you, then maybe you can find some excitement in her travel tales and makeup advice?  Get to know Alexa below and then pop over to Twitter and follow her @GallivantGal!
Favorite Place: Of all the places I've been lucky enough to see and explore, the city that stands out above all others is New York City. From Italian to Spanish to Chinese, you can find influences from all over the world in this melting pot of a town.
More importantly, favorite meal: While I was in Paris I had escargot and beef bourguignon for dinner. It was hands-down, the most cliché but unbelievable meal of my life. 
The moment you caught the travel bug: The summer after I graduated high school I flew to meet my best friend in Brescia, Italy where she was visiting her grandparents. From there we went to Venice, Milan, Sardinia and Switzerland—and that was it, I was turned into a traveling maniac and I haven't been able to stop since!
First experience traveling alone: After graduating college, I decided to move to Florence, Italy to take Italian language classes for a month. I got so lost that it took me two hours to get from the main train station to the apartment I rented, which is normally a 15-minute walk.
Ever been (or thought you've been) in imminent danger while traveling?: Luckily, I have never felt that I was in danger while traveling. I think I owe this in part to my ex-U.S. Marine father who raised me to always be aware of my surroundings.
Worst hotel/hostel experience/Best hotel/hostel experience: I'm combining these two questions. Funny thing, the hostel Villa Saint Exupéry in Nice, France was the nicest hostel I've stayed at in terms of customer service and amenities, but I had the worst room in the whole place. It was detached from the main building and was right next to the laundry room. I'm pretty sure there was a water leak because the room smelled like mold and then my friend and I were sick for a few days following.
Favorite family vacation: We don't take many, but when I was 15 we traveled as a family to New York City. This trip sparked my long-term love affair with this unbelievable, unmatchable city.
Must-have packing item:  My laptop— I always have to be writing!
Most unbelievable travel experience: Watching the EuroPride Roma parade march past the Colosseum. Never in my life have I seen so many bright colors, fantastic floats or so much skin! It seemed to be raining confetti the entire time. The whole day ended with a free Lady Gaga concert, it was probably the most fun I've ever had.
Favorite "I can't believe I'm doing this" moment: Attending a movie premier at the 2011 Cannes Film Festival. A girlfriend and I were visiting Nice during the festival, and it being only a short train ride away, we decided to check it out. We were wandering around celeb-hunting when a woman pulled us aside and handed us her tickets to the premier of Días de Gracia because she couldn't attend. Not only was the film wonderful, but also we were sitting only a few rows away from the starring actors!
Place you can't wait to return to: Anywhere in Italy. It's hands-down the most amazing country I've ever been to, so many history-rich and breath-taking cities to explore.
Place you can't be paid to return to: Berlin. Not for another hundred plus years when that World War II black cloud has lifted.
Any exciting trips coming up?: Currently scraping pennies to head back to Europe this summer. Not sure where—the price of flights will more than likely determine my trip!
Dream vacation: I'm part Croatian, so I dream of visiting the motherland … and then popping over to Greece.
Favorite tourist attraction: I think I'm biased because I studied Latin and classical mythology my entire life, but nevertheless the Colosseum is the most extraordinary place I've ever been. I just couldn't believe I was inside a structure that was not only over 2,000 years old but also had such a violent and profound past.
Favorite "I'm trying not to look like a tourist" attraction: Sitting in a coffee shop, trying to order in the native language and mingling with the locals.
Favorite travel photo: When I lived in Florence, I used to jog up a windy road on a hill that led to Piazzale Michelangelo. I told myself it was to counteract all that pizza I was eating, but in reality it was to see views like this:
Be our next jetsetter! It's a very competitive process: tell us you want it, and we give it to you. Unless you're a weirdo, then it actually is competitive.
xo!
the romantic & the wino