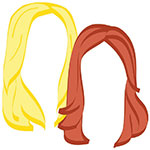 Happy Tuesday, little loves! This week's Jetsetter is full of SUCH INTRIGUE. Don't believe us? Come meet Rachel of Hippie in Heels and check it out for yourself.
But first!
Let us review the facts:
Rachel is a self-appointed contradiction: one half "dirty hippie," the other half girlie-girl.
She's a former nurse and a current masseuse in India.
MOST IMPORTANTLY: She aims to show people that travel can be glamorous, even on a budget.
Sounds like our kind of girl. Read about it, and then go say hi again here and here and here.
Most unbelievable travel experience: Taking a camel safari in Rajasthan was probably the coolest thing I've done. There were sand dunes surrounding us, and no people or buildings as far as the eye could see. Everything was prefect except the camel pain on my poor butt! The heat in the city before leaving was unbearable, but once out in the open it was perfect with a thin silk scarf on my head. We rode through the Thar Desert outside Jaisalmer just a few km from Pakistan border. I suggest not drinking a bhang lassi before this trip 😉
Must-have packing item: My must have packing item is Clinique moisture surge lotion. I think my skin has become addicted to whatever they put in that jar- because without it, my face shrivels up like an old woman. A huge jar lasts me forever, thank god, considering the price tag on it. I use mostly Clinique make up as well; I think it helps prevent breakouts in humid places like where I live in Goa, India.
Favorite "I can't believe I'm doing this" moment: While in Jinja, Uganda, I ended up white-water rafting grade 5 rapids on the Nile River, totally unplanned. The next day, we even went bungee jumping! While in the rapids, being thrown around and warned about rhino attacks, I definitely said to myself "I can't believe I'm doing this!" It's still one of the scariest, greatest adventures I've been on.
Most embarrassing travel moment: Nothing makes you feel like a bad backpacker than being pick-pocketed. I had my camera taken while on a metro in Barcelona and felt so embarrassed to be stupid enough to let that happen! My adrenaline was so high. It actually was for the best. I chased them down, and caused a huge scene to get my camera back! I then followed it up with an awesome night out by the pier.
Explain your travel "style": I dress exactly how I would at home. I love the boho-chic style and live on a beach in India. Goa is so laid back that you can get away with wearing ANYTHING. Literally. The trance scene is huge and sometimes women just paint their bodies. I wear lots of crochet, long flowy skirts, crop tops, bikini tops, and of course, high heels! When I'm on the road in more conservative places in India, I still can wear crop tops as they are used to bellies in India. Legs do need covered though and I love a high waisted colorful maxi skirt. I top it off with loads of Indian jewels- moonstone, rubies, rose quartz… the more the better! Lastly, a bindi, the accessory I cant live without.
If you want to join in on all the Jetsetter fun, shoot us an email or leave a comment for us here.
xo!
the romantic & the wino
Save