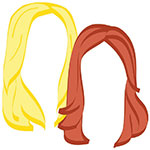 Hello friends and fellow travel lovers! It's our favorite day of the week (next to Wine Wednesday and Friday and Saturday and Sunday, of course). It's JETSETTER day! Meet Nadine of Tales From Saigon.
She grew up in the West Indies, first traveled solo at 17, and has ridden on the back of a motorcycle taxi. This makes her infinitely cooler than us. She quit her job and moved to Vietnam for sixteen months, where she fell in love with Pho. We'll let her tell you the rest.
Favorite Place: Wow, this is a really hard question considering how many amazing places I've been to. If I were under pressure to choose only one I'd have to say, and this is with a lot of arm twisting, Luang Prabang, Laos. It's gorgeous; they have an amazing night market (dangerous territory for my fellow shopaholics) and waterfalls that take your breath away.
More importantly, favorite meal: Pho! It's Vietnamese noodle soup, for those that don't know, and I can eat this every day if necessary. I actually did for my first month in Sai Gon (now Ho Chi Minh City, but that sounds less romantic to me.) I was quite ill during that month because MSG messes you up like crazy! Now that I'm back in the States I have yet to find a place that lives up to pho in Viet Nam. I'm not even sure it's possible which is heartbreaking.
The moment you caught the travel bug: Probably before I was born. Is that even possible? Thanks to my jetsetting parents, I grew up in the West Indies. I went back to NYC every summer and winter holidays. Then, when I moved back to NYC, I visited the islands every summer.
First experience traveling alone: I was 7 when I first travelled without my parents. I was 17 when I first travelled by myself. For my birthday my mom sent me to visit my dad in Trinidad for winter break. That was also the site of my First Severe Sunburn. My first time travelling out of the western hemisphere by myself was when I quit my job and moved to Viet Nam. Have you ever had a panic attack and couldn't do a thing about it because you were 36,000 miles in the air and you didn't know how to say help in Korean? It's no fun.
Ever been (or thought you've been) in imminent danger while traveling?: All the time but it's probably due to my general paranoia. I never trust anyone, yet somehow I always end up doing so. Once in Cambodia I hopped on the back of a motorbike taxi because he was cheaper than a regular taxi and we ended up in a part of town where the only light we had was moonlight. There were no houses, people, or signs of civilization. I had no idea if he was taking me where we agreed to or if he was going to drive me to his friend's house, bundle me into a boat and I'd wake up a sex slave in Bangkok. I'm really lucky that he was a trustworthy person. I promised God and my mom that if I survived this I wouldn't do that again. Technically, I haven't.
Worst hotel/hostel experience: Definitely Sihanoukville, Cambodia. I spent the night in the seediness that is Sihanoukville during a stopover from Koh Rong Island to Phnom Penh. I found a spider the size of my palm, which was very much alive by the way, in my first room. My second room smelled strongly of cigarette smoke. My third room was okay by a small margin, but I never closed my eyes that night.
Best hotel/hostel experience: The Landmark Hotel in Ha Noi was amazing. We stayed there three different times during the same trip. The first time was when we arrived in Ha Noi. The staff helped us arrange a trip to Sapa, the mountainous northern region of Viet Nam. Upon our return we stayed there again before setting off to Ha Long Bay. We stayed there a third time after our return from Ha Long Bay and before our flight to Laos.
The staff were some of the nicest people I've ever encountered and considering the ill luck I had with hotel staff in Viet Nam, that's saying something. They were so friendly! I actually spent more time chatting with them than sightseeing. Ha Noi was my last stop in Viet Nam before flying to Laos, and I was so tired of Viet Nam at that point.  They restored my faith.
Favorite family vacation: My mom and sisters came to visit me when I was living in Viet Nam and I took them to Cambodia to see the magnificent Hindu temples of Angkor Wat. We then flew to Bangkok where they shopped to their heart's desire and we finished up our whirlwind of a vacation in Koh Lanta, one of the islands in the south of Thailand. It was off season in most of the places we visited and that suited our tastes just fine. We avoid crowds whenever possible. I've never had so much fun with them! Watching their faces when my youngest sister had a bag of fried cockroaches thrust in her face as an offering in Cambodia or when my middle sister realized she couldn't get Thai iced tea in Thailand was brilliant.
Must-have packing item:  My camera. I can't live without it. The billions of photos in my Google Drive can attest to that fact.
Most unbelievable travel experience: Living for 16 months in Viet Nam. Every day was an adventure. Whether it was going to the grocery store, taking the bus, or ordering street food it was all brand new each and every time I did it.
Favorite "I can't believe I'm doing this" moment: The first time I drove a motorbike in Sai Gon. Sai Gon traffic is complete insanity. It's renowned for how intense it can be. There are YouTube videos if you want to get an idea of what I'm talking about. The first time I drove in rush hour was mind-blowing. I just couldn't believe that I was finally doing it. Me! The girl who got run over while crossing the street in Viet Nam, was finally on her own bike. They didn't know I was out for revenge. Muahaha.
Place you can't wait to return to: ::sigh:: England. I'm a self-confessed Anglophile. Living with two English girls for a year in Viet Nam was heaven sent! (Don't tell them I admitted that though!) I'm currently doing everything in my power to make living there a possibility.
Place you can't be paid to return to?: I used to say if you pay for me, I'll travel there! Now I know I would never, ever choose to return to Pattaya, Thailand. It was the seediest place I've ever been! The place abounds with older men picking up, or trying to pick up, prostitutes. We left our hotel room once for a food run. But we spent the rest of our time sleeping and swimming in the rooftop pool.
We couldn't even enjoy ourselves in the pool since a nearby hotel also had a rooftop pool. About 7 men spent about an hour trying to take pictures of me and my friend. I hunkered down in the far corner of the pool, while my friend escaped Navy SEAL style. She crawled under the pool chairs to the door. She got to our towels, ran back to collect me, and we ran away.
Any exciting trips coming up?: Actually, I'm off to NYC this weekend for my uncle's wedding. It'll be 5 glorious days of festivities, delicious food, outfit changes and family time. I can't wait! Also, hopefully Boston at the end of the month if I can finagle time off.
Dream vacation: I have two dream vacations! They're both tied to each other in a weird way. I am obsessed with Greek culture and in particular, Greek mythology. I can't wait for the day that I get to visit. Once I'm living in England it'll be a quick plane ride to make my dreams come true. My other dream vacation is New Zealand. My love of Greek mythology led to a love of all things Xena: Warrior Princess. It was filmed in New Zealand! Along with my favorite books turned movies, The Lord of the Rings trilogy and The Hobbit. I'm going to be such a nerd! I WILL make a tour of the Hobbiton movie set the first thing I do.
Favorite tourist attraction:  Tirta Empul Temple in Bali, Indonesia. It's without a doubt one of the most gorgeous and tranquil places I've ever been. Tirta Empul Temple is a Hindu temple, since Bali is a Hindu island. The Balinese go here for purification, because it's said that the waters are holy waters. It's such a peaceful place. Also, it's a gorgeous location for photos, if you're camera obsessed like I am.
Favorite "I'm trying not to look like a tourist" attraction: DC in the summertime is a hotbed for tourists. I used to work across the street from the White House. There were plenty of unfortunate moments when I was forced out of my building, and had to walk to wherever I was going.  I was among annoying tourists, but I'd pop my ear buds in, look down at the street and speed walk. I couldn't be mistaken for a tourist if I ignored everyone and everything around me, right? At night, when no one is around, it's one of the most beautiful places I've ever been.
Favorite travel photo: Let me preface this by saying I'm obsessed with waterfalls and sunsets. I'm surprised I didn't write more about it because I'm that obsessed. I was so torn between choosing a picture of me FINALLY getting to sit in a waterfall in Laos or a sunset in Indonesia. But the sunset picture is my own and I'm extremely proud of it. I'm hoping I don't sound pretentious. I love the contrast between light and dark, both in the colors of the sky and between the sky and earth. This photo reminds me of the duality of nature and life and that's what I think of whenever I look at this.

You can see more of Nadine's photo on Instagram
Let us know if you want to be our next Jetsetter. It's really fun– Nadine will tell you!
xo!
the romantic & the wino