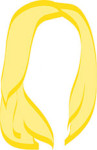 It's hard to believe that it's been more than two months since my Mom, Mari and I were hopping from Christmas market to Christmas market across Switzerland. The time may have flown by, but fret not, my fellow Switzerland lovers, I haven't forgotten one bit about our epic adventure and still have so much to share!
Over the course of a week, we traveled by train to Geneva, Verbier, Bern, Lucerne and finallyyyy, the lakeside Olympic city of Lausanne. You may remember that the romantic and I visited Lausanne a few years back and spent two snowy days climbing the hills of Old Town. Since my mom, Mari, and I would be flying back to the States via Geneva on this trip, I decided Lausanne– which is about a 45 minute train ride from the Geneva airport– would be the perfect final stop on our tour.
Here's my disclaimer: before Lausanne, we had visited four other cities in seven days, which meant we were pretty much exhausted by the time our train arrived. Also, we were a few hours behind schedule, given that we loved Lucerne so much and ended up staying later in the morning than we intended. And finally, the weather was especially dreary in Lausanne, extremely cold with dense fog over the lake. For all of these reasons combined, we were lazier (or should I say even lazier) than usual. Still, I think we managed to do and see a lot, given the circumstances and our limited time.
When we arrived, we headed straight to our hotel, Hôtel Angleterre & Résidence, to drop off our bags, freshen up, and hopefully make our way over to Château de Chillon via the local train. Due to my sub-par navigational skills and the aforementioned exhaustion, what was supposed to be a 10-minute downhill walk from the train ended up zigzagging through the streets and taking us about double that amount of time.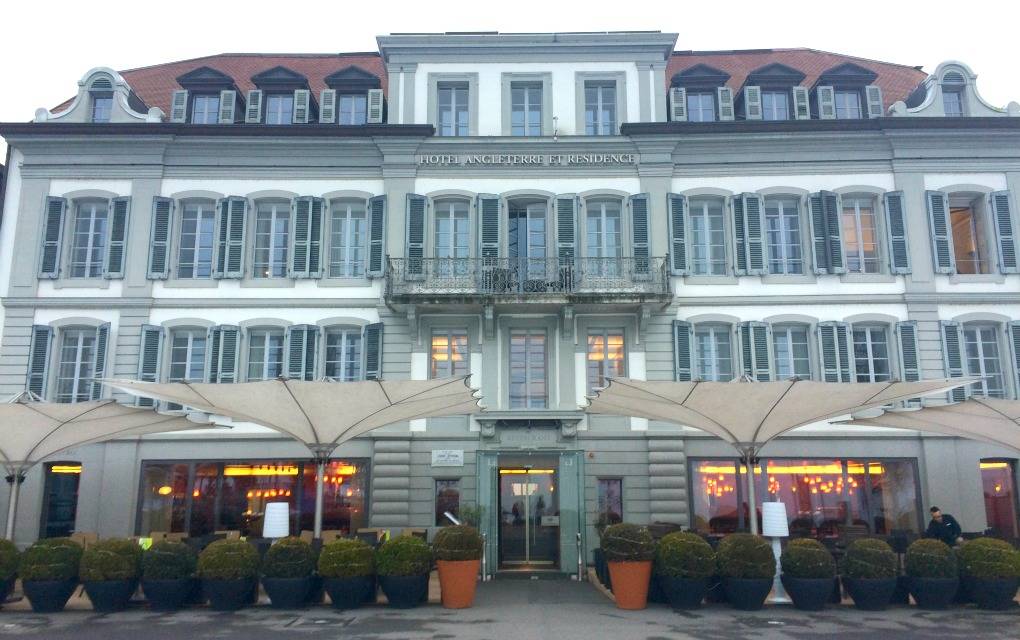 When we arrived at the Hôtel Angleterre & Résidence, the front desk attendant, perhaps sensing our somewhat flustered demeanor, wasted no time checking us in and making us feel comfortable. Though our room wasn't quite ready, she got us set up with city transportation passes, looked up train times to Chillon, and helped us choose a restaurant and make a dinner reservation for that evening. When it turned out the train times to Chillon wouldn't work with our schedule, given our late arrival, the attendant searched for alternative transportation options, suggesting a boat ride that departed not far from the hotel. On almost any other day, we would have jumped at the chance to take a leisurely boat ride along the lake, but decided that would rather not over-schedule ourselves on our last day.
By that time, our room was ready, so the attendant walked us across the property to our suite. The guest rooms at Hôtel Angleterre & Résidence are spread out between four separate buildings which vary in style, though each is reflective of the hotel's 300-year history. Our Junior Suite was located in the Florissant building, which exuded quaint yet elegant comfort. The room itself was sprawling, with a large sitting area, spacious bathroom, and best of all, a small balcony overlooking the property and the lake.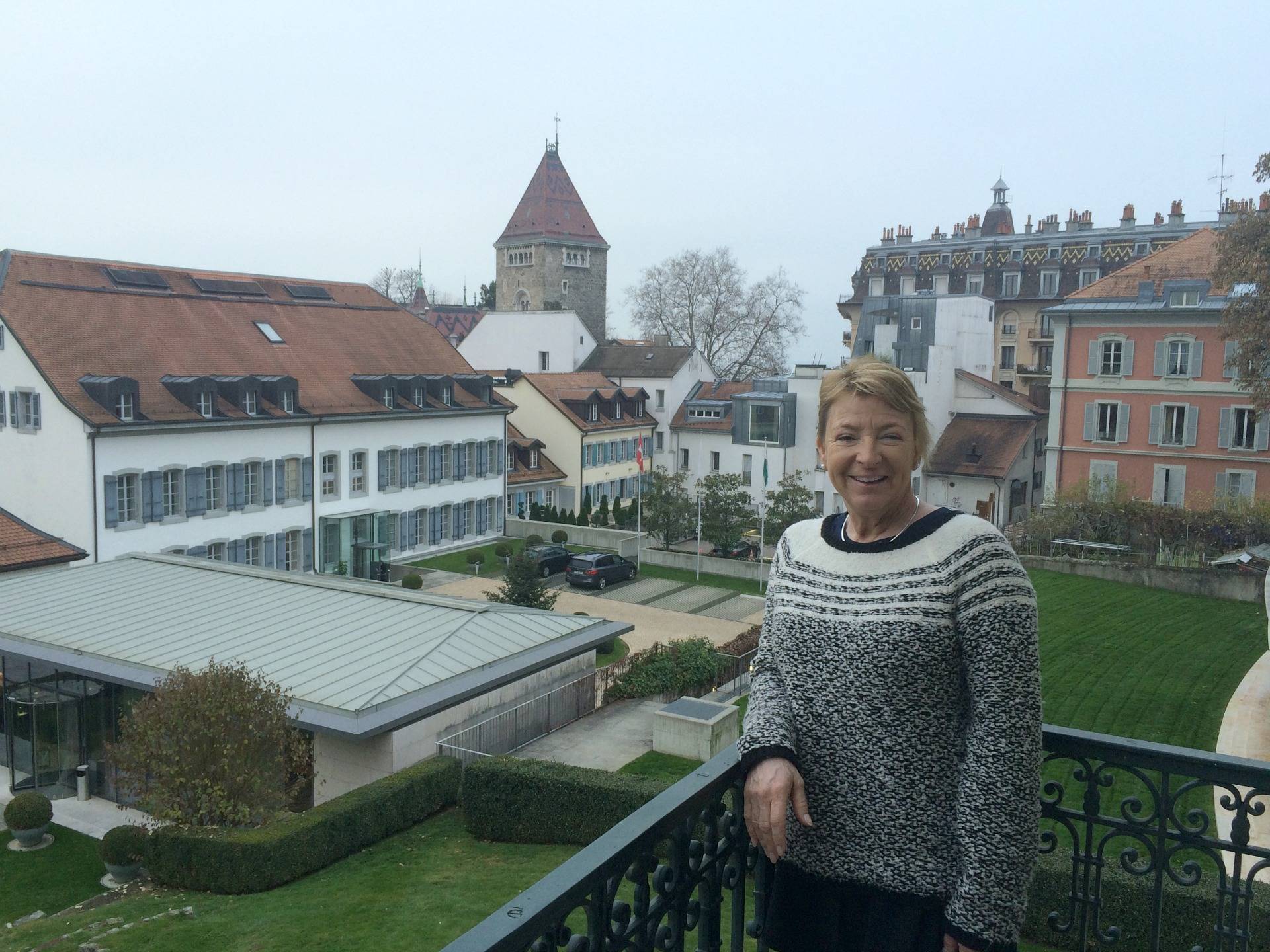 I repeat, how cute is my mom?
Though we could have spent the rest of the day and evening relaxing in our room, we bundled up and headed back into the cold to explore the city. Thanks to the transportation passes that the hotel provided us with, we were able to hop on the metro only a few blocks away and take it all the way to Old Town– and thankfully so, given that the way from the lake to Old Town is entirely uphill.
Once we got off the metro, we headed straight to The Cathedral of Notre Dame, which is situated at the top of Old Town, offering panoramic views of the city and the lake. From there, we descended Les Escaliers du Marché, a set of covered wooden stairs winding through Old Town that date back to the early 18th century.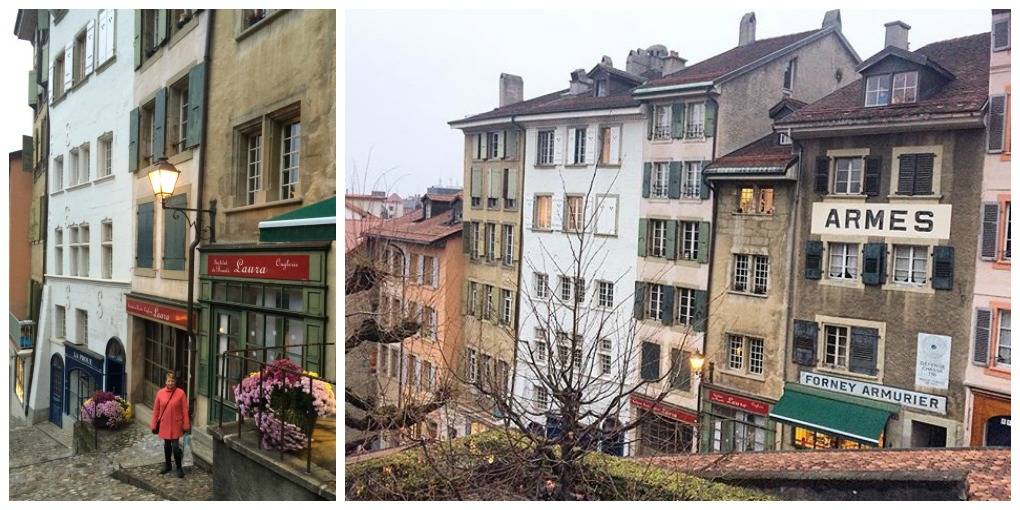 My mom is a teeny, tiny, bite-sized human and I make her stand in front of
tall things that make her look even smaller, because that's what daughters do.
With a few hours before our dinner reservation, we were of course on the lookout for another Christmas market– because can you ever really have enough?– and took our time snapping pictures of the lovely holiday decor around the city.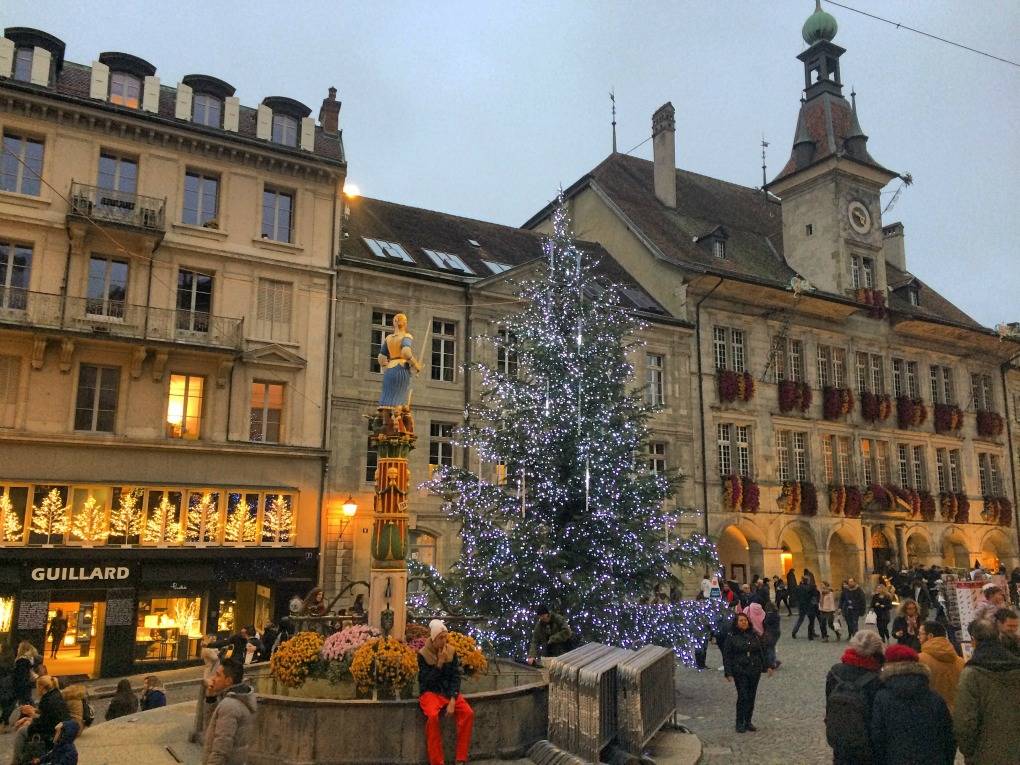 @lazytravelers on Instagram
After winding our way down the steep, cobble-stoned streets of Old Town, we came across a massive Christmas market in front of Place Saint-François. Coincidentally, our reservation for dinner was just down the street from the market at Café Romand so we took our time perusing the stalls and the surrounding shops, making a few last minute purchases for our friends and family at home and taking in all the European Christmas market goodness we could get before our trip came to an end.
When dinner time came, we made the short walk through the square to Café Romand for our last Swiss meal. The brasserie, with its dark wood and cafe-style seating, boasts traditional Swiss menu items and is known for being one of the last few local breweries in Lausanne.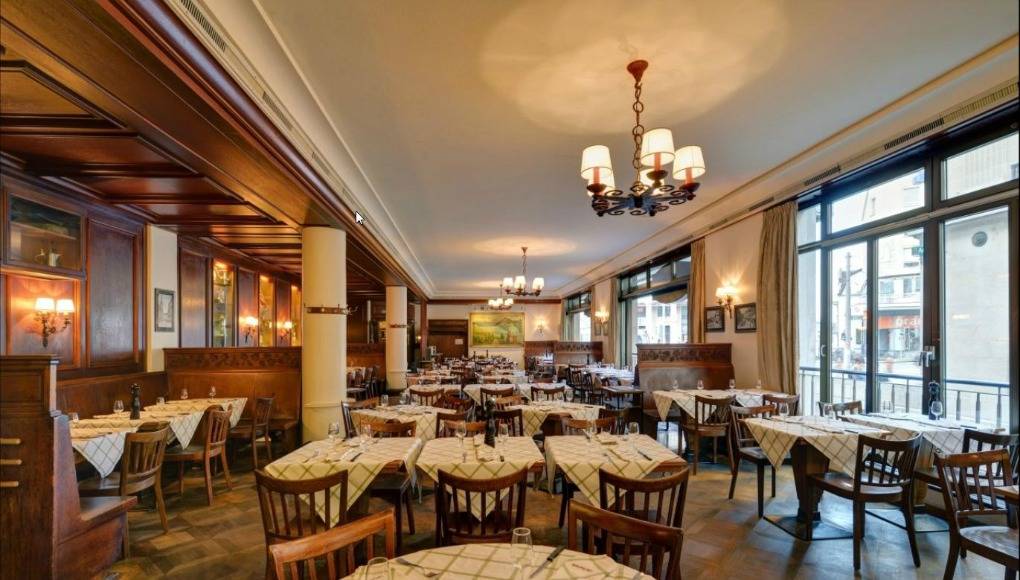 Photo credit
In hindsight, I think we made a maaajor mistake while at Café Romand. Having stuffed ourselves full of bread and cheese throughout the week, we decided against ordering the fondue, opting instead for a few other traditional swiss dishes like rosti and sausages. However, watching table after table order fondue gave me a slight (perhaps even more than slight) case of FOMO.
Though the food we did end up with was delicious, I have to point out that the service was abysmal. Though we purposefully made a reservation for the beginning of the dinner hour, we had to wait to be seated and then weren't seen again by any of the wait staff for nearly twenty minutes. We put in an order for wine and raclette to start while we decided on our entrees, neither of which ever showed up at our table. When we finally were able to order our entrees, the waiter was never seen again, meaning we were stuck with one glass of wine for the entire meal– quelle horror!!
Despite our wine-less dinner, we were all feeling so tired by the end of the meal that we decided to make the journey back Hôtel Angleterre & Résidence and relax for the rest of the evening. With our transportation passes, we were able to hop right on the Lausanne metro again and rode it all the way down to the lake and our hotel, which was serenely quiet at night.
While my mom and Mari packed up their bags, I took a long bubble bath and soaked up every last minute of relaxation I could before our trip came to an end the next day. Our little piece of lakeside luxury at Hôtel Angleterre & Résidence proved to be the perfect way to close out our grand Swiss adventure.
À bientôt, Switzerland!
xo!
the wino
Thank you to Hôtel Angleterre & Résidence for taking great care of us during our stay. All opinions are my own.