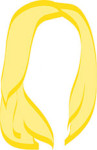 After we kicked off our grand girls getaway in Geneva, we were off to spend the next few days après-sking in Verbier and pretzel-eating in Bern. For most of our trip, I was playing tour guide for my Mom and Mari, since I've been fortunate enough to visit the first three stops on our itinerary before. Though I was happy to revisit some of my favorite Swiss cities, we wanted to add at least one place into our itinerary that was new for all of us. Luckily, in Switzerland, we had no shortage of beautiful cities to choose from.
After talking it through with Amy, who would be joining us for this leg of our trip, we decided on Lucerne, a lakeside city in central Switzerland known for its picturesque Old Town and wooden covered bridges. And, the very best part about Lucerne was that it would be a first for all four of us.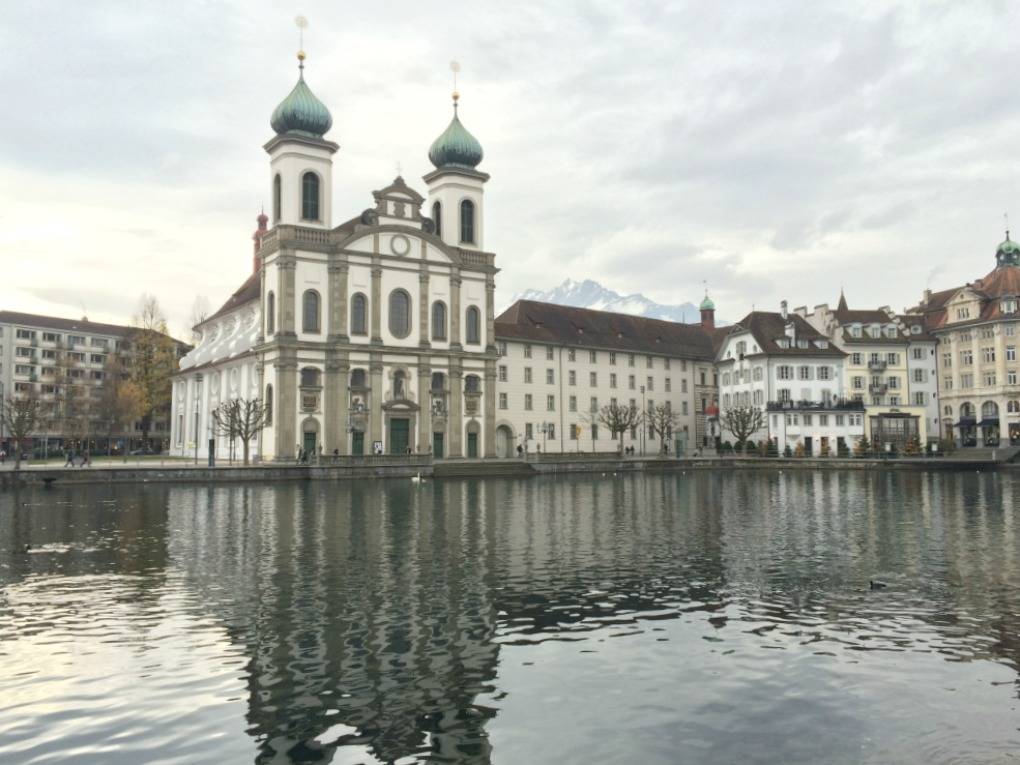 Without knowing too much (…or, anything) about Lucerne, we chose a hotel within walking distance from the train and close by to the Old Town neighborhood– AMERON Hotel Flora. We didn't know until we arrived just how conveniently located and perfectly equipped Ameron Hotel Flora would be. With Amy turning our trio into a foursome, we booked two SMART Standard Double Rooms, located just across the hall from each other. Each room, though small, reflected the contemporary vibe of the hotel, with brightly colored accents and black and white photography depicting traditional Swiss scenes. Better yet, when we arrived in our rooms, the manager had two bottles of white wine, chilled and ready for us. Why yesss, thank you, we DO enjoy a refreshing beverage after a long train ride.
Since Amy was coming on a separate train from Geneva, we decided that after checking in, we would set up shop at the hotel bar, Brasserie Flora, while we waited for her. Coincidentally (orrrr perhaps by the grace of God), the bar was offering two different kinds of vin chaud on special, which my Mom and Mari still hadn't tasted. So, we bundled ourselves in layers and bravely chose a table outside, and the Brasserie provided us with fleece blankets along with our vin chaud to help fight the cold.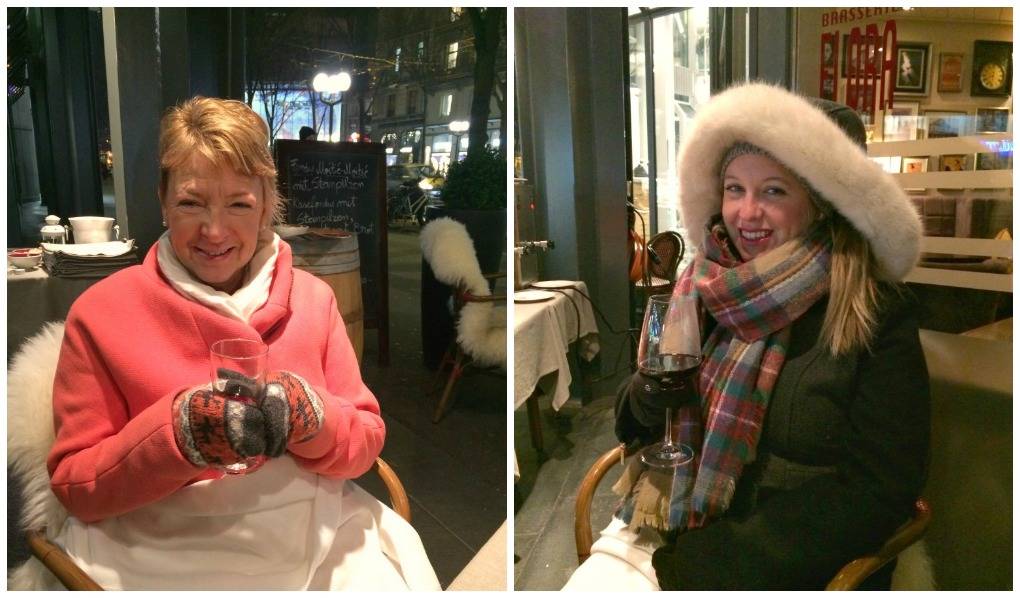 Once Amy arrived and we polished off our drinks, it was time to stroll through Old Town for the night. With no particular agenda in mind, we wandered the streets until we found somewhere that looked appealing for dinner. Here's a lesson we learned très quickly: without a reservation, it's very difficult to get a table at any popular or busy-looking restaurant in Lucerne. Though we found many restaurants throughout our walk where we would have happily sat down for a meal, almost every place turned us away because of our lack of forward-planning. This is a time when our lazy style of traveling definitely worked against us.
Eventually, we decided to take our chances and squeeze our way in Brasserie Bodu, where we found a tiny table in the corner of the bar. Since the bartender told us it would likely be an hour or more until they could sit us for dinner in the restaurant, we ordered up our standard bottle of red wine and settled in to the bar while we waited. With French music playing and almost every patron at the bar chain-smoking cigarettes in between glasses of red wine, we felt like we stepped into a 1920s Parisian movie.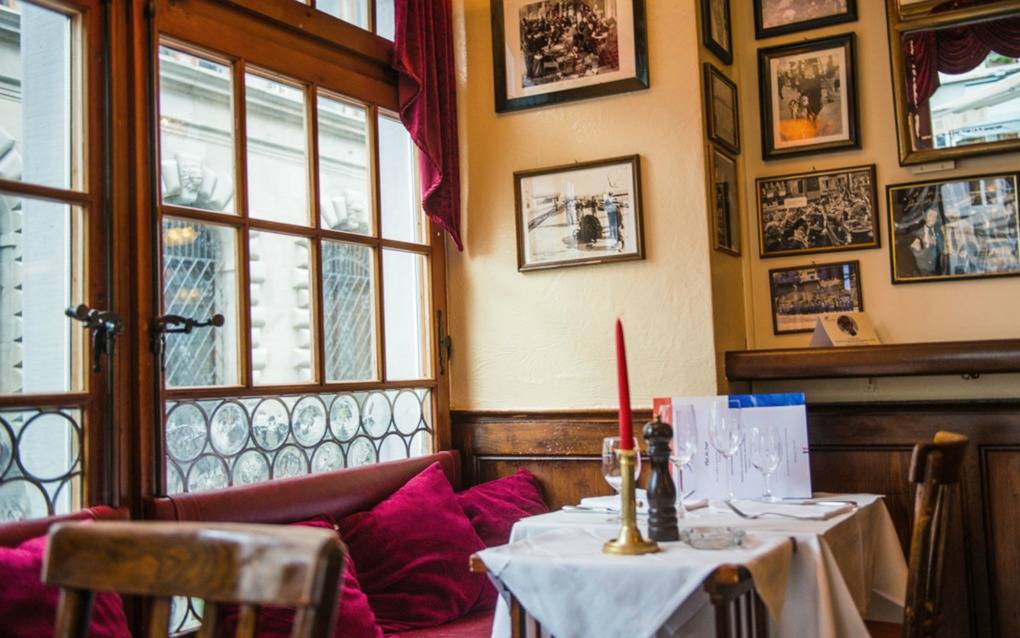 Photo via Brasserie Bodu
Many glasses of wine later, we were escorted to the main dining room downstairs, which was packed from wall to wall, despite the late hour. And let me say this: it was 100% hands-down worth the wait. We shared plates of beef tartare, mussels, Alsatian charcuterie and more, all paired with des bouteilles du vin rouge. Very full and very happy, we made the short walk back to AMERON Hotel Flora and ordered one last glass of wine at Brasserie Flora before calling it a night.
The next morning, we took our time working through the previous night's wine haze and enjoyed a leisurely breakfast downstairs at Brasserie Flora, which was included in our room rate. If you're wondering how much bread and cheese one can eat for breakfast, the answer is a lot.
Photo via AMERON Hotel Flora
In the least shocking turn of events ever, we had zero things on our agenda for Friday other than explore the city and attempt to find a Christmas market, which turns out, didn't take very long at all. After a walk along the river, crossing back and forth over the many beautiful bridges, we stumbled upon a sprawling Christmas market, which was already in full swing despite it only being late morning. First thing first: we got ourselves beers and glasses of vin chaud and then set off to explore the many rows of stalls. We spent the next hour tasting samples at the food stalls ('chelloooo cheese samples) and purchasing a few small gifts to bring home to the family (YA WELCOME).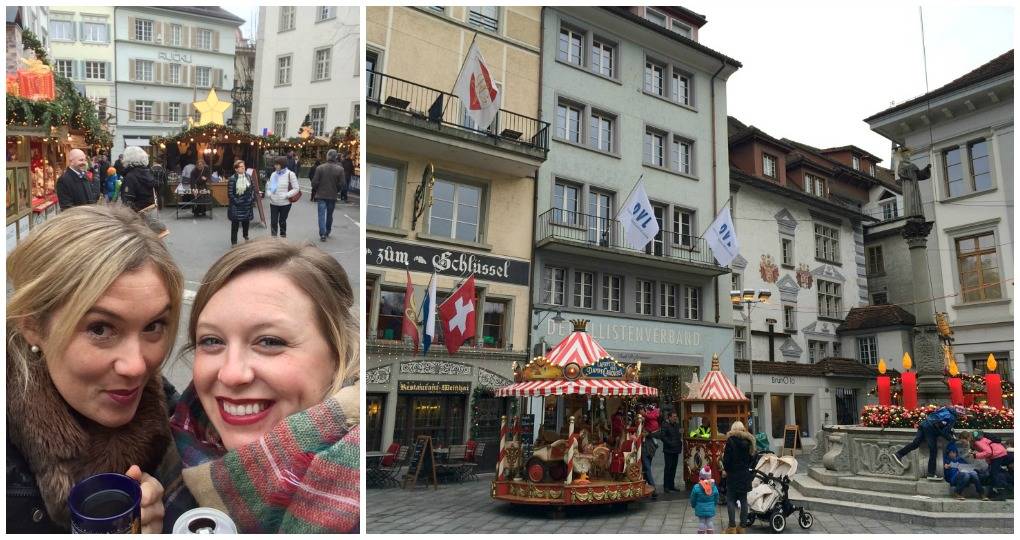 Content with our Christmas market finds, we decided to celebrate with, what else, a glass of wine in a nearby cafe, which turned into a full day of drinking and exploring. In hindsight, I should have jotted down the names of the places we visited, but let's face it, I had A LOT of wine, and that sort of thing just didn't cross my mind. We bounced around from cafe to cafe and bar to bar, ordering drinks in each, until the sun went down and we realized we failed yet again to think about dinner reservations. Merde!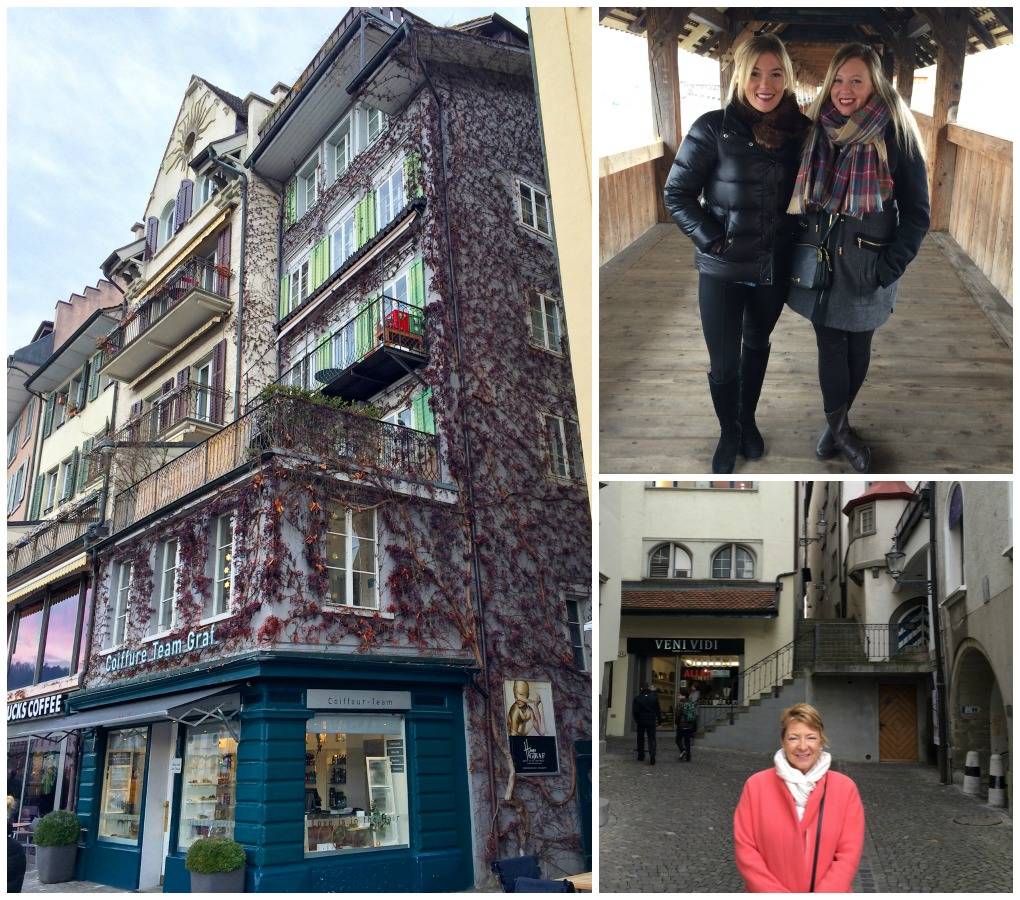 How cute is my mom though??
When we couldn't bear to wander in the cold any longer (read: our buzz was beginning to fade after searching so long for a place to eat), we went inside the Wilden Mann Hotel hoping they could squeeze us in at their inviting looking restaurant. Unsurprisingly, we were told by the front desk that without a reservation, it could be hours until they could find us a table. We must have looked completely devastated because the hostess offered to let us sit upstairs in one of their receptions rooms and enjoy a drink while we waited to see if a table opened up. Upstairs, the historic hotel was decked out in full holiday decor, and we got comfortable on the plush armchairs and couches in front of the fireplace and Christmas tree. They immediately sent up a server to take our drink order, and when she found out how long we had been searching for dinner, she had the kitchen put together a cheese and charcuterie plate to hold us over. Did we mention the Wilden Mann Hotel staff are our new best friends??
After our pick-me-up at Wilden Mann, it was back out to the streets of Lucerne to find our next watering hole. We remembered walking by a pretty-looking restaurant along the river, La Barca, that had outdoor seating, so we headed in its direction. When we arrived at La Barca, we found that not only did they have heat lamps, but they also offered your FUR COATS to wear while you sat outside. Sold aaaaand sold.
Thanks to our full day of bar hopping, our time at La Barca remains a little blurry, but we did end up with some great pictures to refresh our memories (which will remain under lock and key). We headed back to AMERON Hotel Flora with our hearts full and our love for Lucerne in full effect.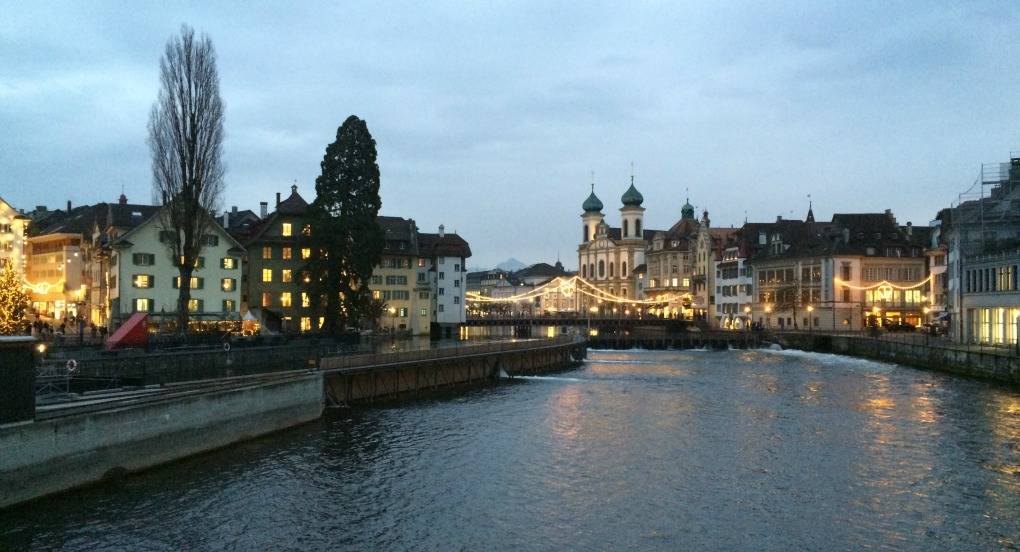 When we reached our rooms and went to say goodnight to each other, my mom realized that somewhere along the journey, she had misplaced her wallet. It being too late in the night (or, erm, early in the morning) to do anything about it, we decided to wake up early for breakfast and try to track it down. Early Saturday morning, we met up in Brasserie Flora and came up with a plan to retrace our steps. The hotel front desk was more than accommodating, searching high and low and checking with the housekeeping and restaurant staff to see if anything turned up, but unfortunately it wasn't found. Doubtfully, we tracked down the number to La Barca to see if her wallet may have been in the pocket in one of the fur coats we wore.
Lo and behold, it was! Our ABSOLUTELY DARLING WONDERFUL AMAZING server noticed it after we left and even tried tracking my mom down on Facebook to get it returned to her. While my mom and Mari packed up their bags and got our rooms ready for check out, Amy and I dashed across the river to La Barca, where my mom's wallet was safely waiting for us, all cards and cash in tact.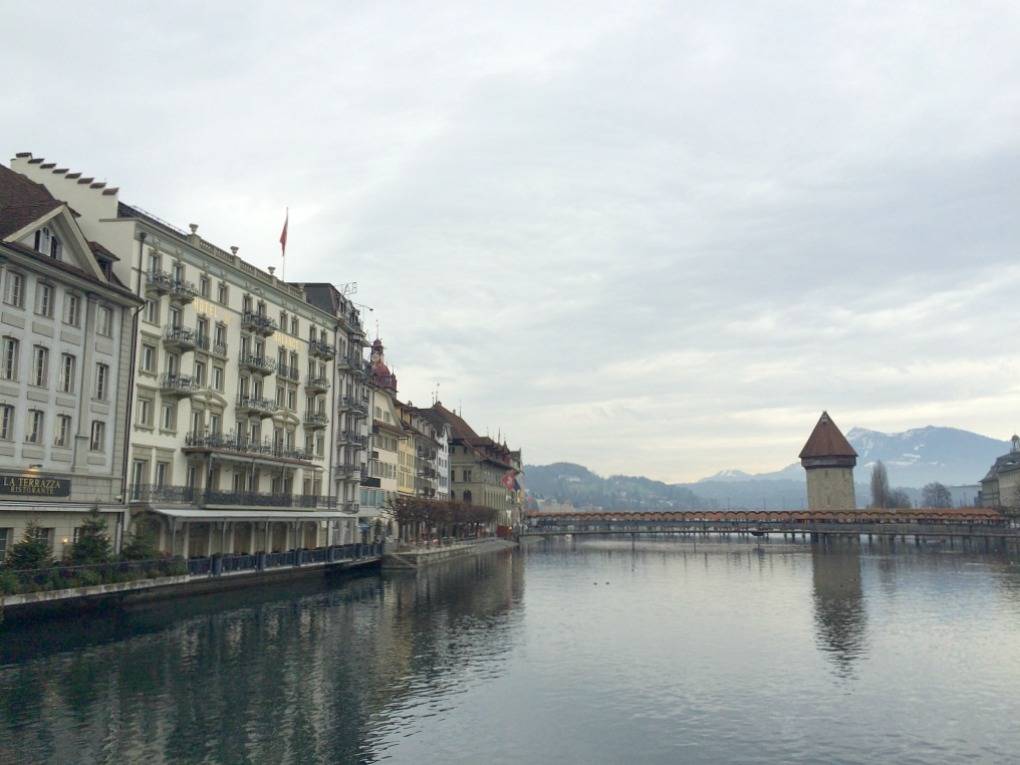 On cloud nine, we took our time walking back to AMERON Hotel Flora, stopping to take in the produce, flower, and crafts markets that had popped up along the river. We would have loved more time in beautiful Lucerne, but alas, we had one more city to visit on our Swiss adventure. Where, you ask? Stay tuned!
xo!
the wino
A very big thank you to AMERON Hotel Flora, who hosted us during our stay and took great care of us. All opinions are my own.