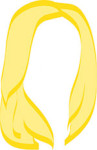 Remember yesterday when we talked about the importance of rallying? Living in New York City during the winter months, I'm forced to remind myself of this rule constantly. There's literally nothing harder than dragging yourself out of the warmth of your apartment (and your sweatpants) to trudge through the rain, or worse, snow, and get on the subway for some sort of winter time activity. And I mean LITERALLY. This includes but is not limited to: work, social gatherings, food shopping, and general interaction with people other than your roommate and television.
That's why, when my friend and fellow fun-loving New Yorker, Amy, asked me to join her on iAdventure's Chocolate Walking Tour in Soho, I hemmed and hawed until finally she convinced me that eating chocolate in the presence of OTHER HUMANS is probably better for my morale than eating handfuls of chocolate in bed as I'm prone to do in the winter months.
And so, on a rainy Saturday afternoon, I found myself in Soho touring four of the best chocolate destinations in the city. And guess what? I kind of loved it.
Our tour guide, Karen, was both knowledgeable and informative without being overly intense– a combination I've found to be rare in many tour guides. Better yet, the 90 minute tour was the perfect length for someone like myself who lacks the attention span and energy to partake in anything structured for much longer. In an hour and a half, we visited four delicious and drastically different chocolate makers:
Mariebelle // 484 Broome Street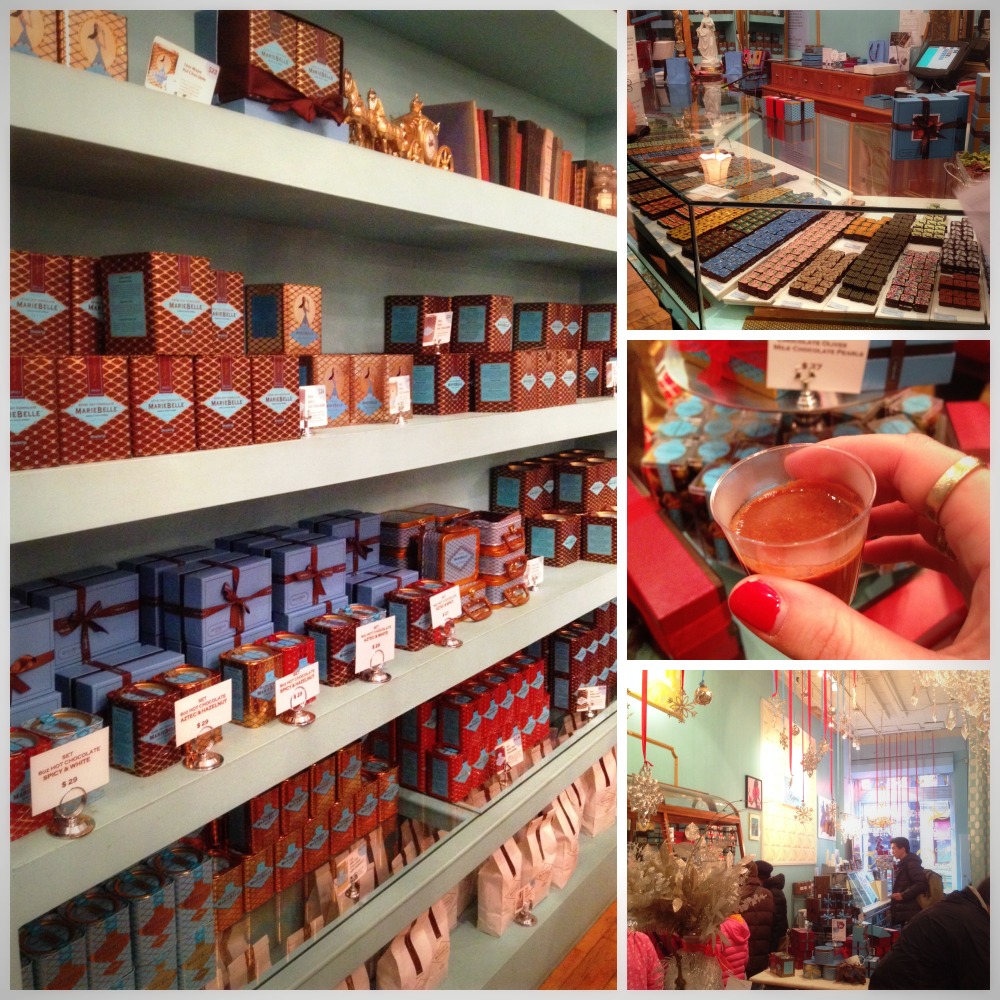 Walking into Mariebelle, you could almost convince yourself that you wandering into a European chocolatier.  Gilded mirrors, chandeliers dripping with crystals, and rows upon rows of hand-painted and delicate chocolates  line the Tiffany blue walls. While I waited, I helped myself to one of the many samples strewn around the room, including chocolate pearls (heavenly) and a whisky infused ganache. Tucked behind the main store is a small cafe where they serve up their signature hot chocolate, pastries, and a full lunch menu.
Don't skip the: Aztec Hot Chocolate
Vosges Haut-Chocolat // 132 Spring Street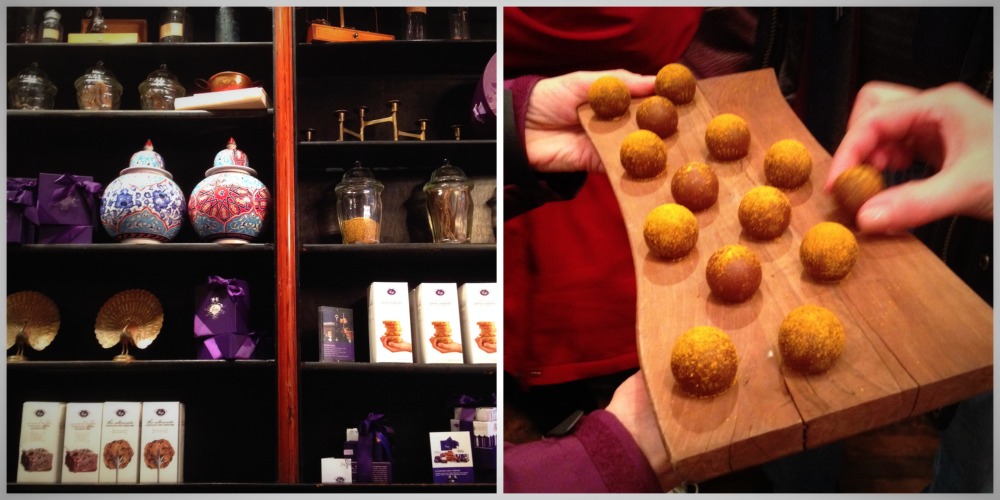 Vosges Haut-Chocolate is decidedly more "Soho" than our first stop, and it shows in their chocolate selection. The first item we tried was a coconut curry truffle, which tasted exactly like it sounds. From chocolate bars infused with coconut ash to chocolate covered bacon, Vosges brings forth highly original and inventive confections.
Don't skip the: Pomegranate & Goji Super Dark Chocolate Bar
Kee's Chocolate // 80 Thompson Street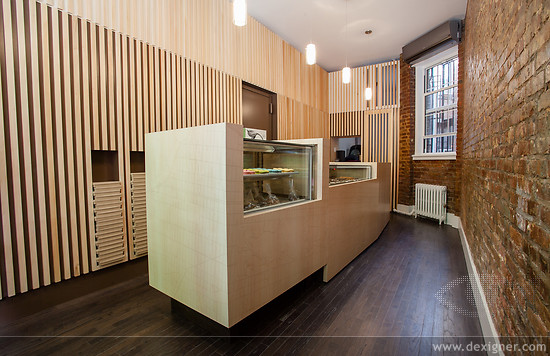 Photo courtesy of Dexigner.com 
Kee's Chocolate is tiny and unostentatious, with a small counter displaying a handful of its signature chocolates. What started as a joint chocolate and flower venture by Kee Ling Tong in 2002 soon became a business entirely focused on her selection of handmade fine chocolates. All of Kee's chocolates are made without preservatives, which means the shelf life is short. This also means that its totally acceptable to eat all the chocolate you purchased in one day.
Don't skip the: Crème brûlée bonbon
Jacques Torres Chocolate // 350 Hudson Street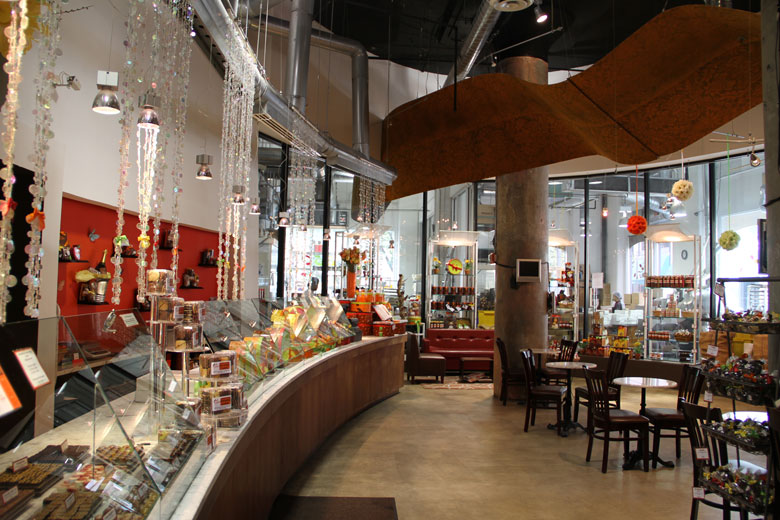 Photo courtesy of Jacques Torres Chocolate
You can't talk chocolate in New York City without mentioned Jacques Torres. World renowned chocolate maker, Chef Jacques Torres, began his chocolate empire over a decade ago in Brooklyn where he built his workshop and factory from the ground up. Today, Jacques Torres has five locations across Manhattan and Brooklyn, all which offer his award winning confections. Here, we got to choose our own "bon bons" and sip on decadent hot chocolate.
Don't skip the: Chocolate Chip Cookie
Though group tours aren't a part of my normal repertoire, I enjoyed spending the afternoon in a neighborhood I rarely visit. All things considered, eating my weight in chocolate wasn't too terrible of way to spend an otherwise lazy Saturday. If you're interested in taking this tour, you can purchase tickets through iAdventure for $80/person. For more information, drop iAdventure a line on Twitter or Facebook, and make sure to browse their full tour and event offerings here.
xo!
the wino
Thank you to Bob Gelber of Walkin' NY and iAdventure for graciously hosting me on this tour. All opinions are, as always, my own.