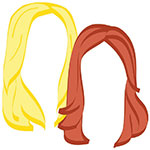 None of our current or past states are on either list, but we're not surprised by that OR by #1. The Happiest (And Unhappiest) States In The U.S.
Our most favorite type of attractions! Wait, second most. Do pubs count? 12 of the Best Free European Attractions
Perhaps we will buy this instead of a house and just live there. Possible? Boeing delivers biggest 747 to secret VIP buyer
They make it look so wholesome! NYC Nightlife – In Photos
Ummm these stairs are in a book shop in Portugal and we want to be there ASAP. Preferably with a talking candelabra and a little wooden clock named Cogsworth, because helloooo Beauty & the Beast:
Lello Bookshop, Porto, Portugal
xo!
the romantic & the wino