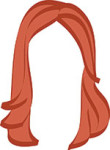 I've been sitting on my pictures from our early summer trip to Malta for a while now. Every time I try to cobble together a post, I realize… we didn't really do much. But this gem of the Mediterranean is well worth your time, so imma prove it with a little round-up of digital postcards from Malta.
Sure, I could bore you with riveting recaps detailing all the pool lounging and island driving we did.
But instead of telling you, I'll show you.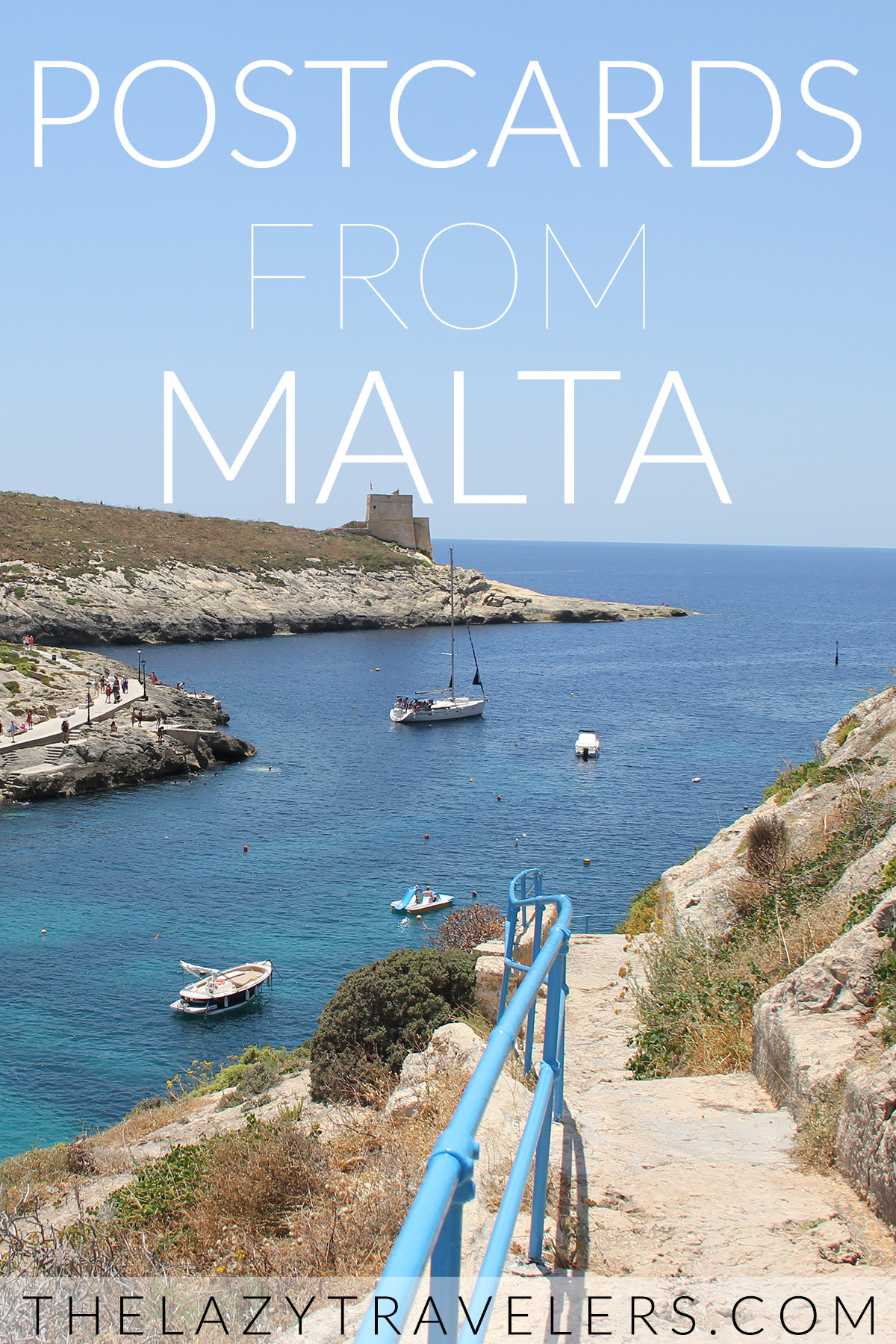 We spent the entire time on Malta's smaller island of Gozo. This tiny island is known for its natural beauty and beaches, which are apparently better than those on Malta's main island. Honestly, I can't really compare the two. Aside from our drive to/from the airport, the only time we spent on the other island was a little half-day trip to Valletta for lunch. It was SO HOT that we couldn't wait to get back to our villa and in the pool. Can you blame us?: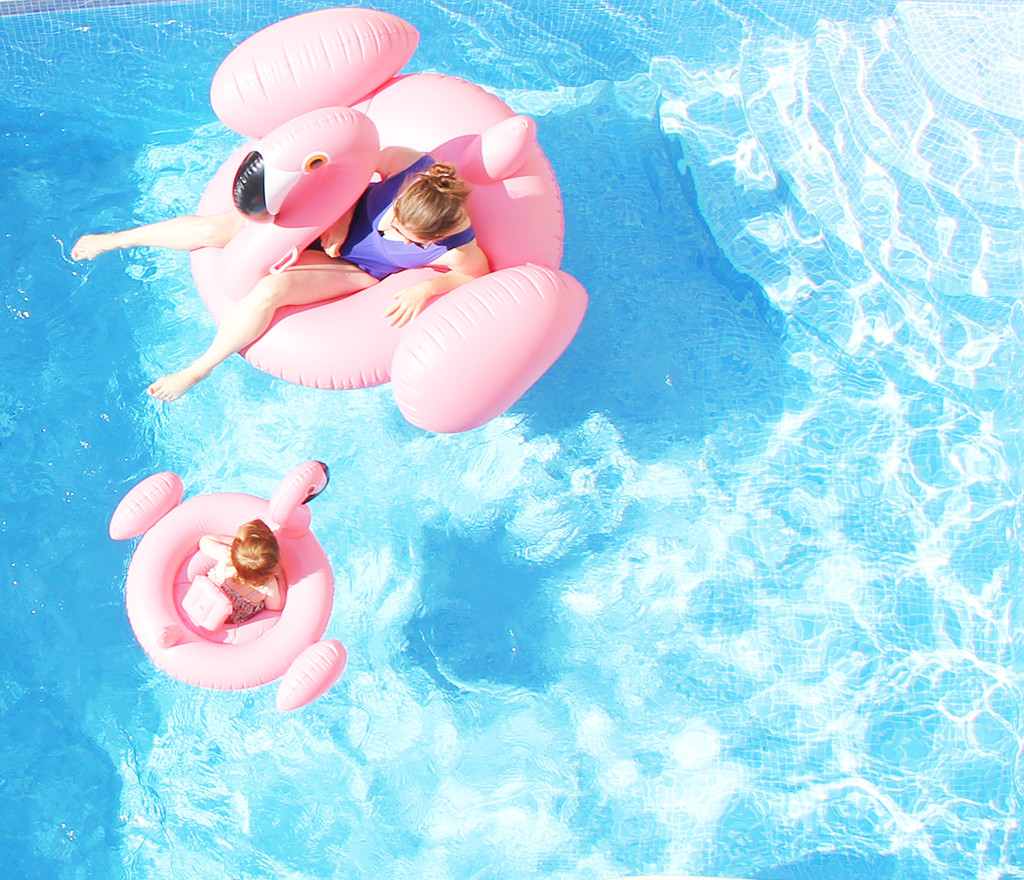 But I do think a return to Valletta to properly explore — and ideally not in the summertime — is in order.
Instead, we stayed in Gozo's tiny village of Għarb, which we pronounced "Garb." This has to be an American butchering of the local language, which is Maltese, and  looks and sounds somewhat Arabic. The harsh sounding Garb is much too silly of a name for this adorable little village.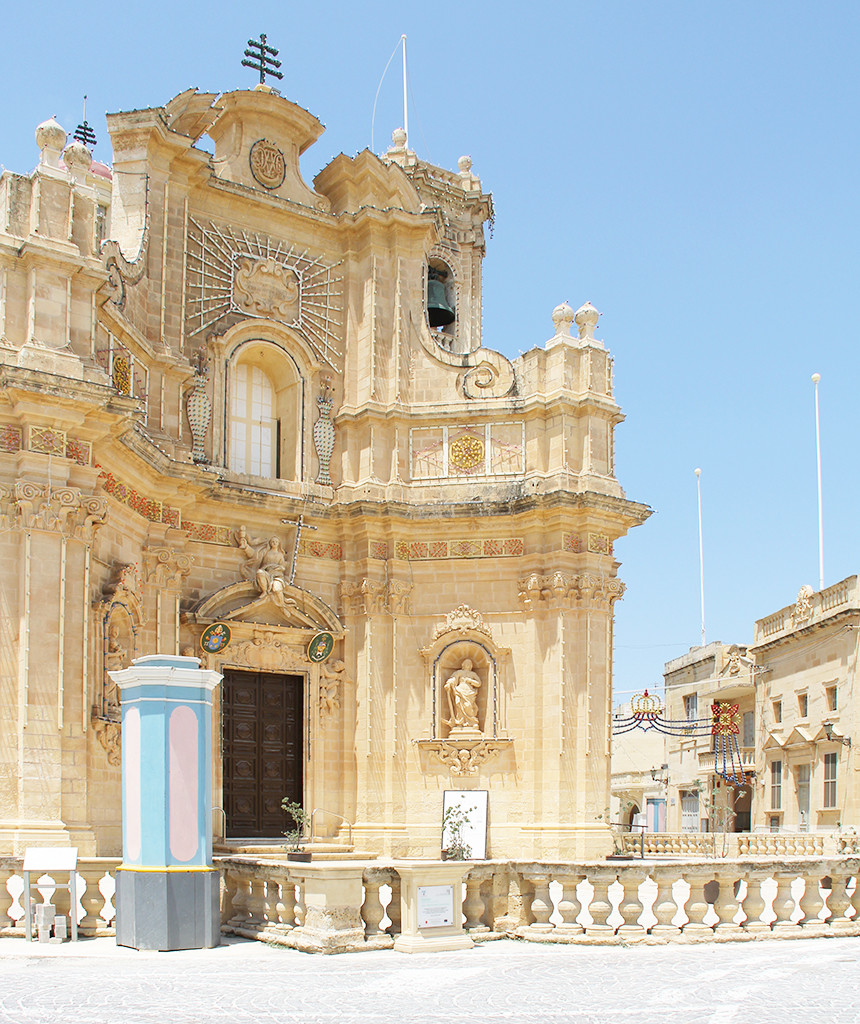 Malta is extremely Catholic, and as we drove around, we noticed enormous churches and cathedrals dotting the countryside. Each one was surrounded by a tiny village. Within each village, there are regular "feasts," where the locals shut down the streets on random nights, celebrate different saints, and set off fireworks. We missed the main one in Għarb by about a week, but could occasionally hear far-off celebrations from our roof terrace. Unfortunately, they always happened well after Margot fell asleep… and we didn't think waking her up to hunt for fireworks would be enjoyable. For anyone.
Most, if not all, of the villages on Gozo are made of limestone, and the tiny little streets twist and wrap and wind around each other. They're hardly wide enough for one car to squeeze through, let alone two… but none are one-way. Then, in the middle of a central town square, up pops an enormous cathedral, looking the size of St. Patrick's in New York. The island is 62 square meters and there are 46 churches! Bananas.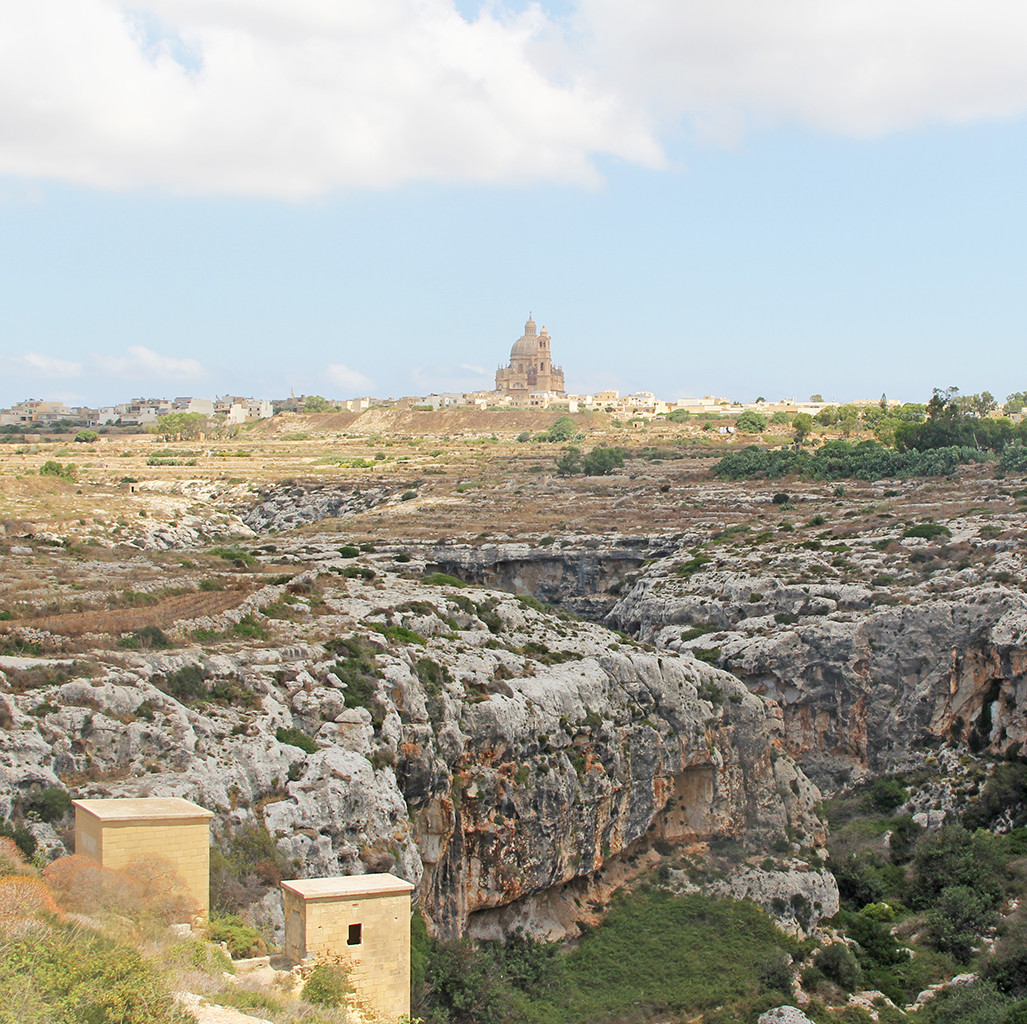 On our first full day, we woke up early and drove to Dwerja. (I know how to say 0% of these words properly, FYI.) Dwerja is most famously known as the site of the Azure Window, which collapsed in March during a heavy storm. Naturally, this happened about two weeks after we booked our own trip. Fortunately, Dwejra was still beautiful — as was the little swimming area tucked around the bay, behind the main site.
Gozo is also known for its scuba diving and snorkeling — it's apparently a popular place in Europe to get certified. At almost every beach, we saw guys in full scuba gear just walk from seemingly nowhere, straight into the water, and swim off.
Just around the corner from the bay, the Azure Window once stood. If you do a quick Google search, you can see what it used to look like.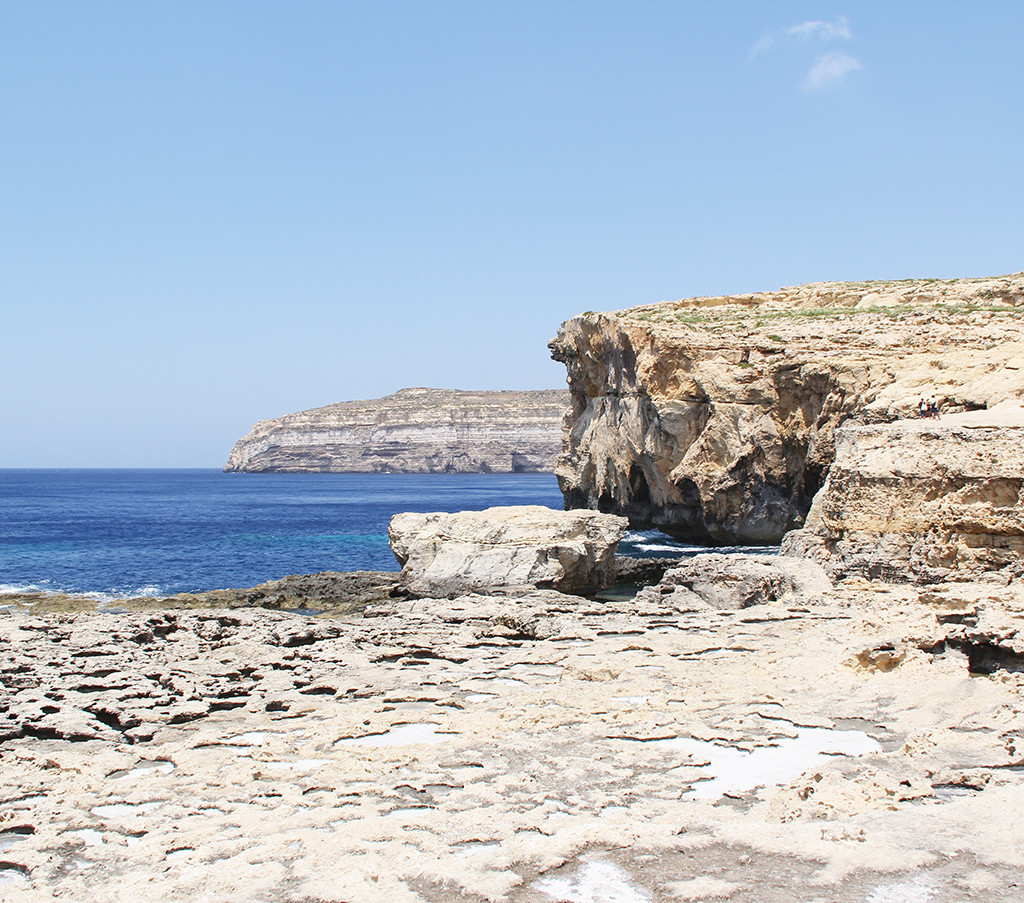 While we knew what to expect, I still thought the views were gorgeous. Other travelers, however, apparently disagree. I will say that they haven't exactly invested in updating the signage with details of what happened. Most advertise the Azure Window as if it still stands — but it had also only been 3 months. We'll give them a break.
The view to the left was also stunning.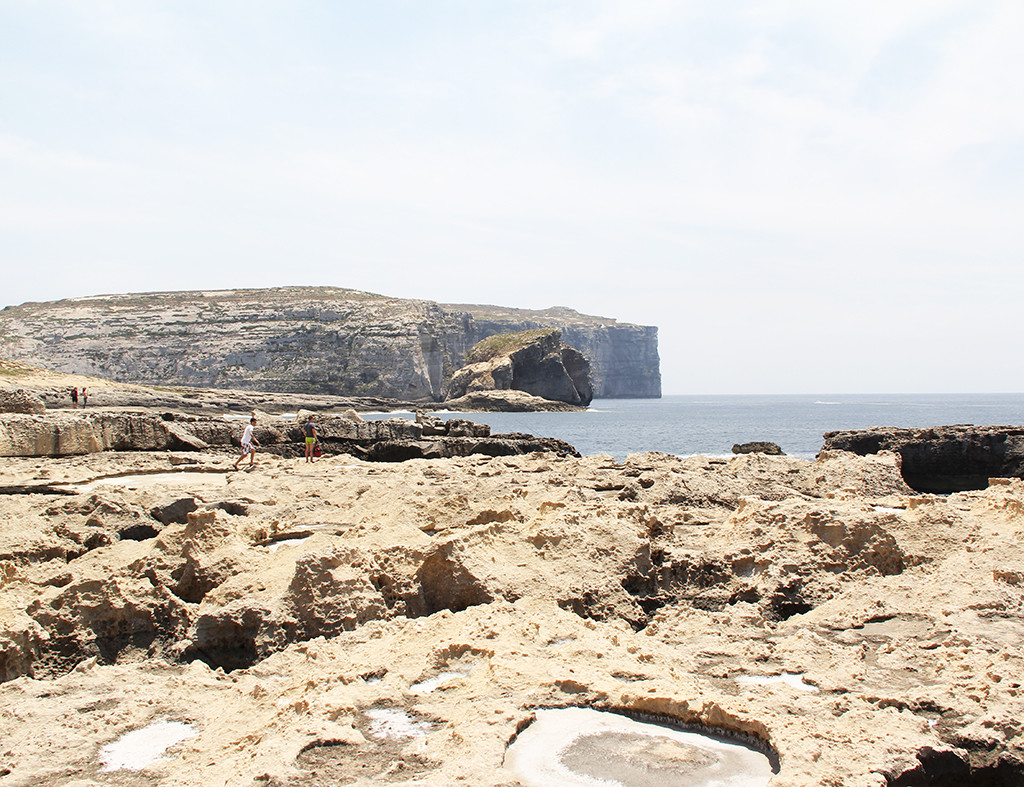 Though we spent most of our mornings scouting out the local beaches, we never really settled in for a proper beach day. The beaches of Gozo aren't really like the rest of the Mediterranean. They also didn't feel like a great option with a little one — especially one who isn't particularly sold on beaches quite yet. The next morning, we started our day in Mgar Ix-Xini.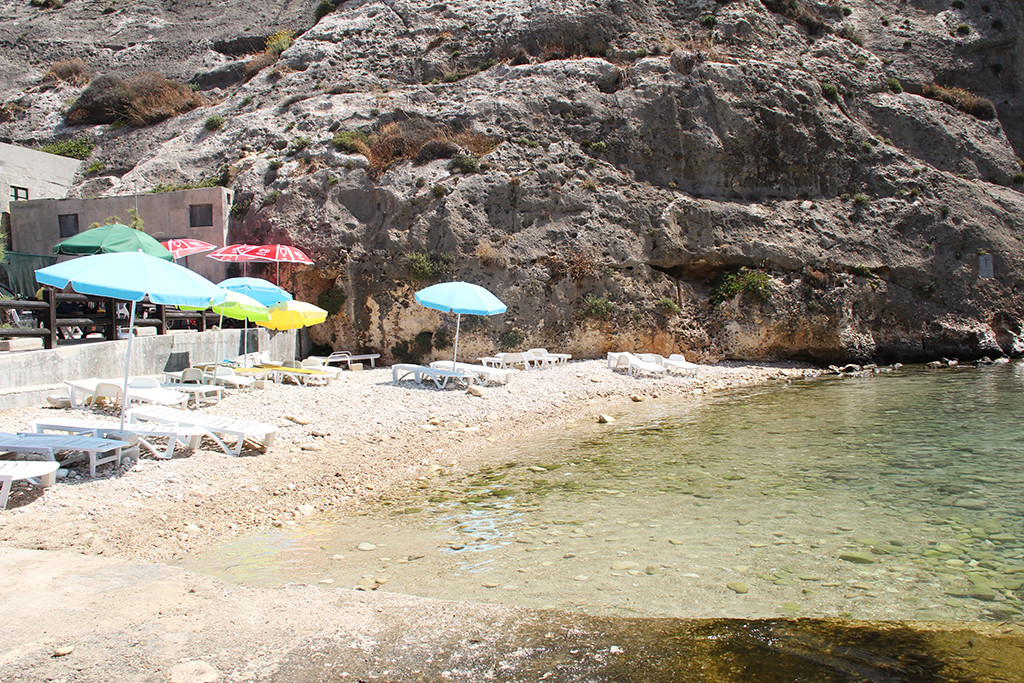 Apparently, Brad & Angelina shot a film here in 2014 called By the Sea… which the locals hated because the film was actually set in Marseilles? And also apparently it's a sucky movie in general, je ne sais pas. All I know is Brangelina rented out this little bay for the majority of their shoot, and paid the local restaurant to close for the month.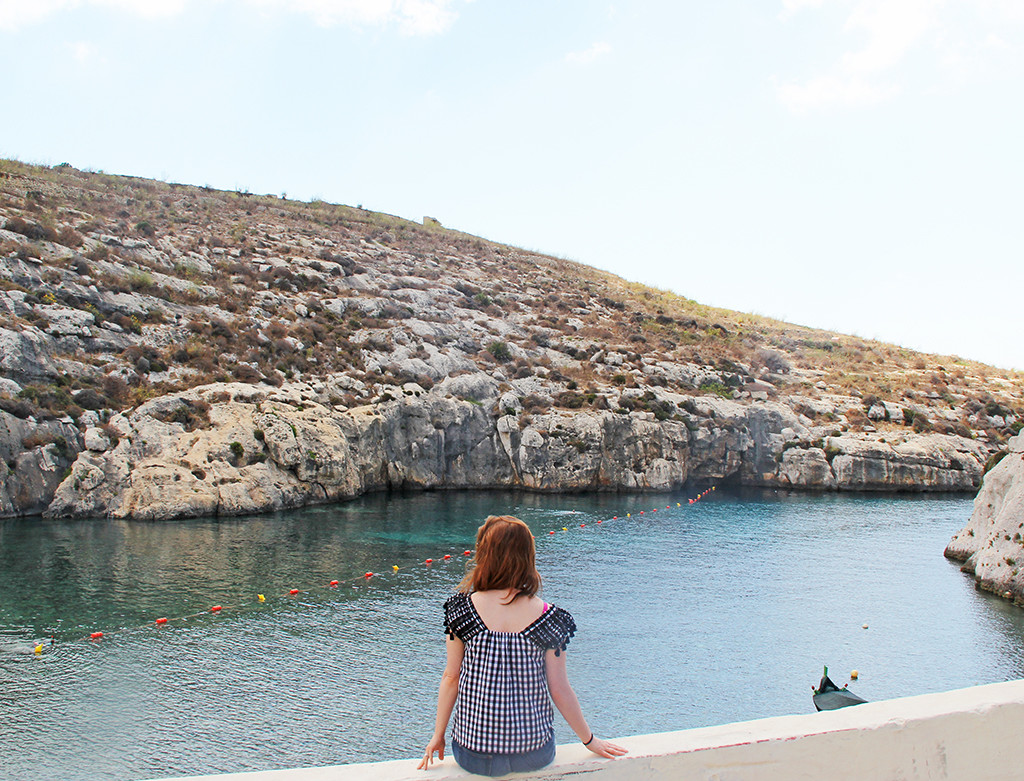 We thought about having lunch here, but our timing was a little off and the menu didn't excite us enough to wait. It looked fine, but we had a feeling there was something better for us somewhere else. We were correct.
After a quick search, we drove to Ta'Cenc Il Kantra Lido, and it was amazing. So good, we went back here again for lunch on our last day. And while our pasta and seafood were delish, it was the view that made it.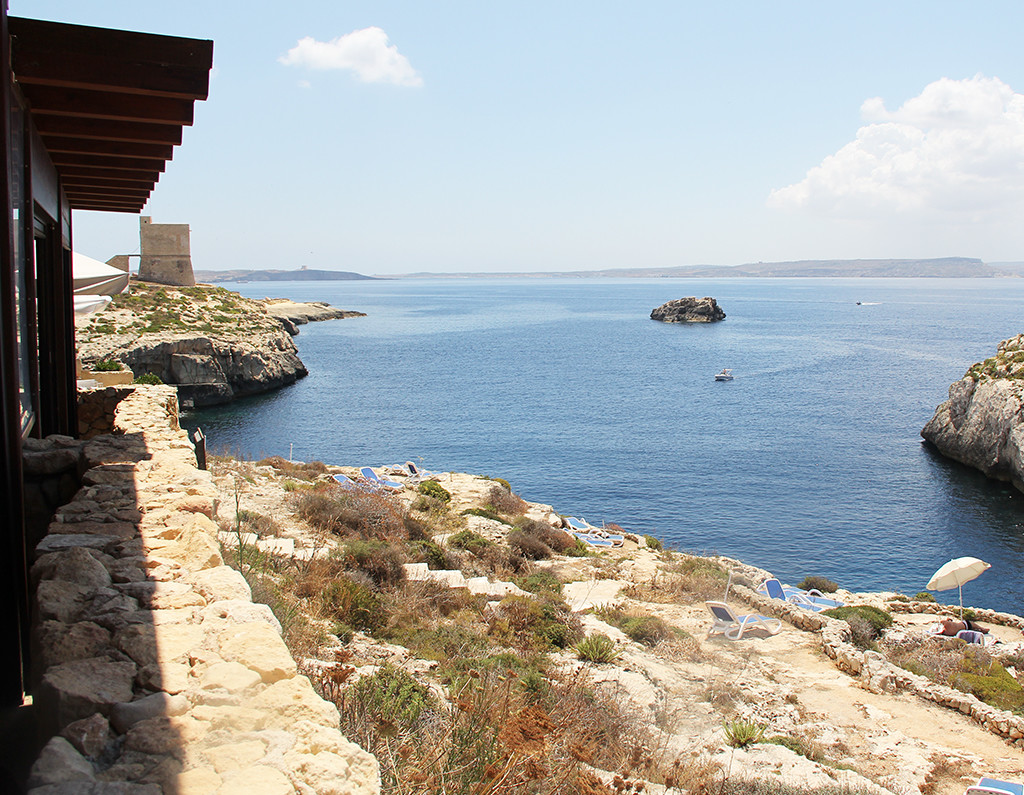 The next day, we decided to make one last-ditch effort at the beach, and we drove to Ramla l-Hamra. It was a bit more beachy… but still not really our scene. While the beach was sandy, the water was rocky, and Margot was maxed out before we even got started. More proof that when you're traveling with a toddler, you just gotta roll with it.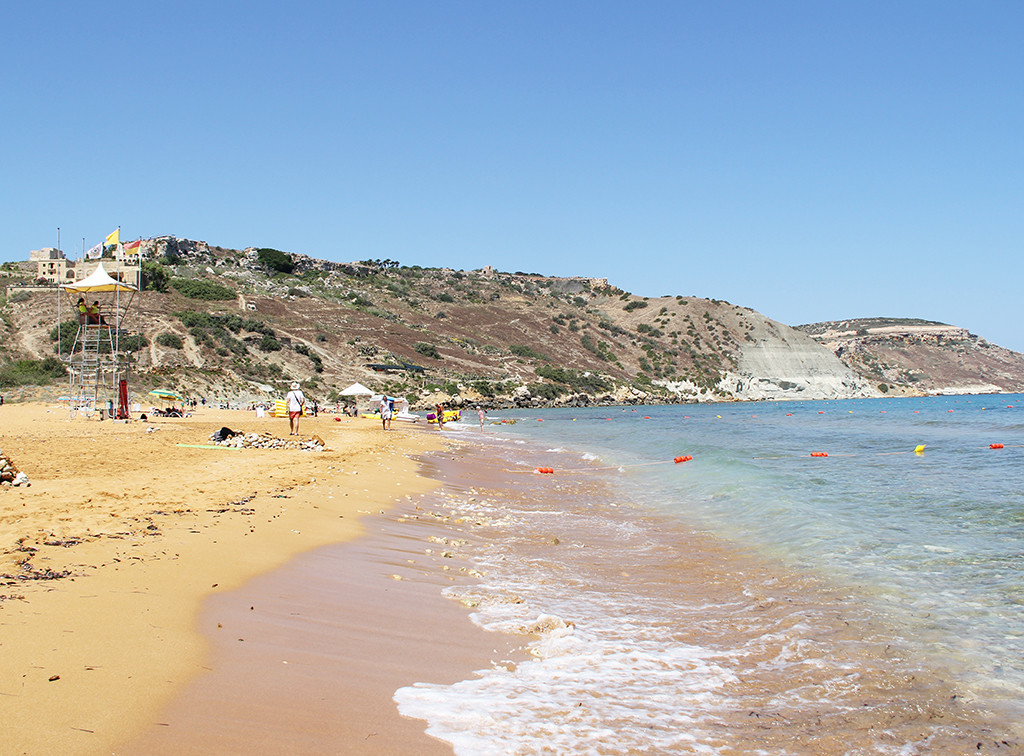 Instead, that afternoon, we made it to what would become my favorite village of the trip: Xlendi. Pronounced…. jk no clue.
But who cares? Look at this place.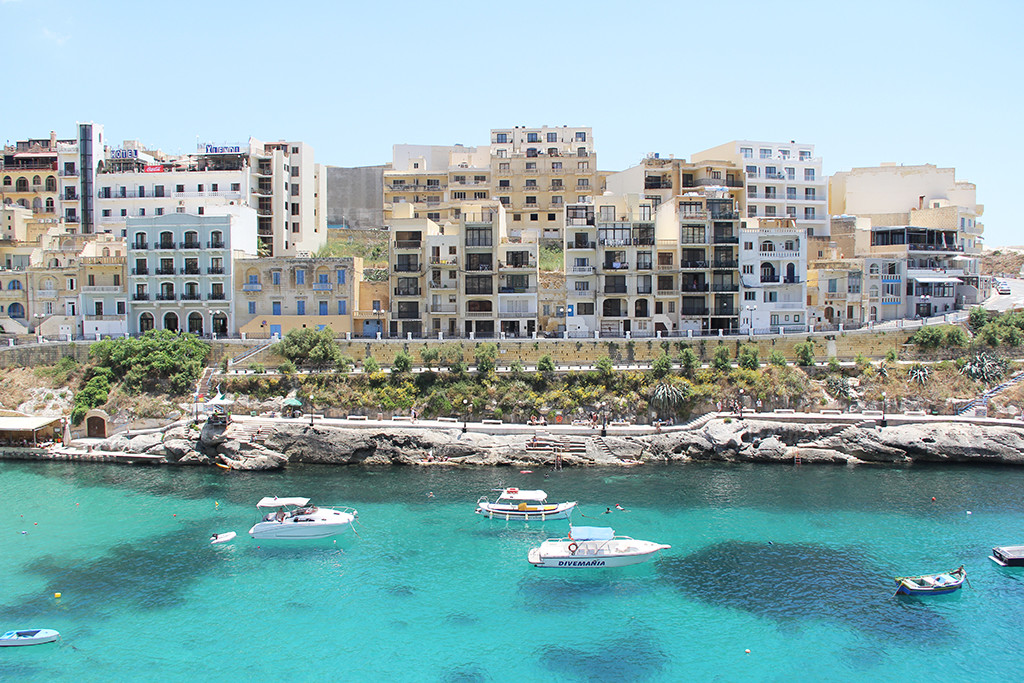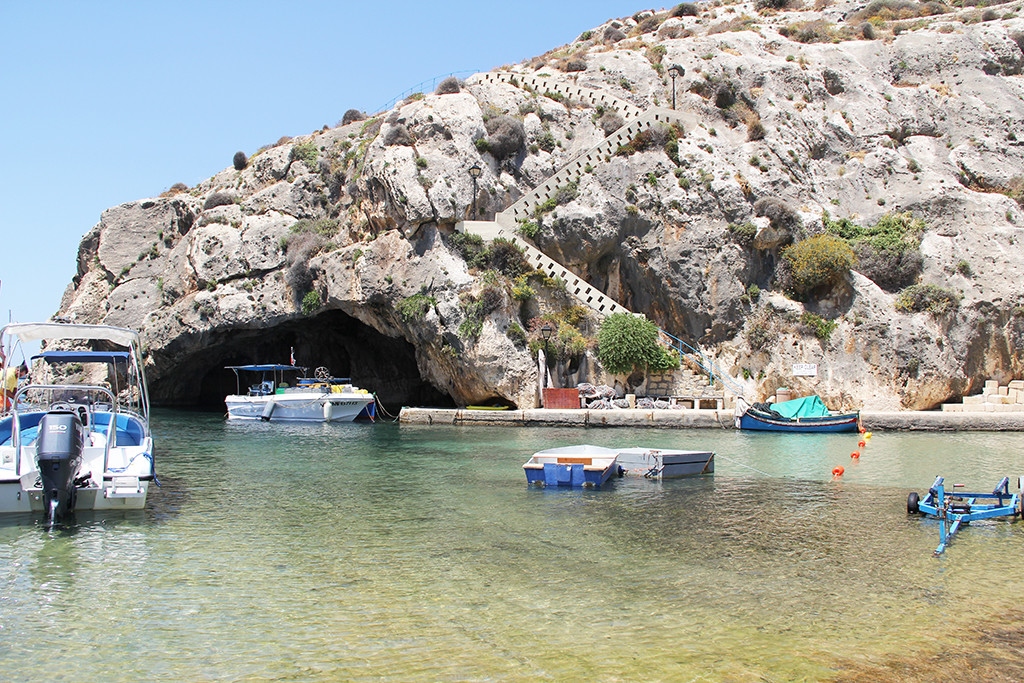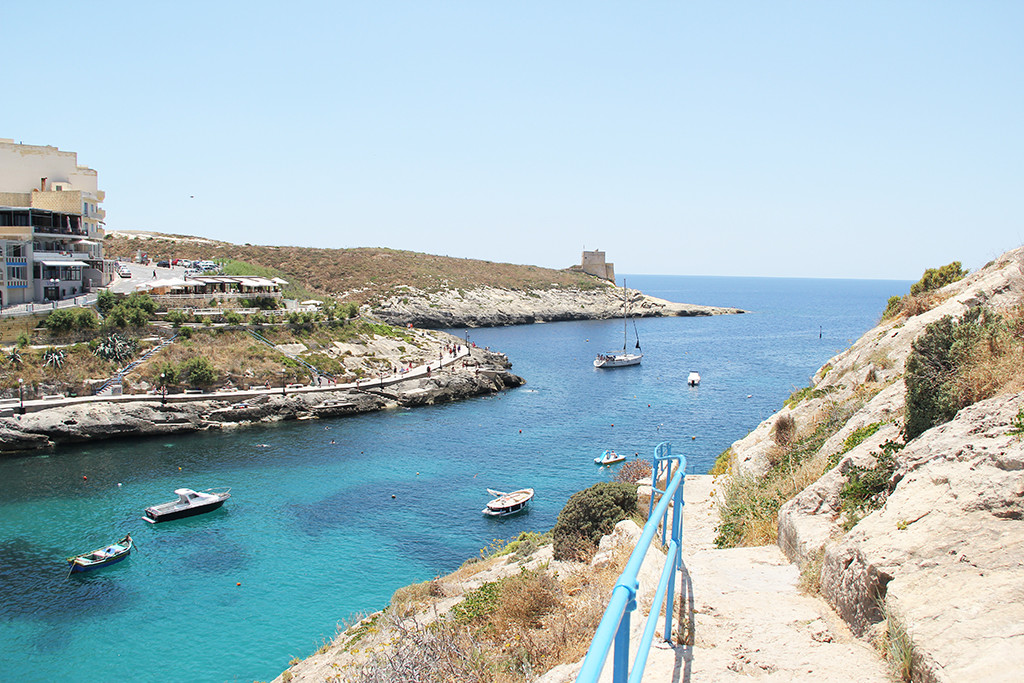 Here, we had a leisurely lunch at The Stone Crab. We wanted to go to Ta Karolina, which is just next door, but we didn't have reservations. Apparently, it's one of the best restaurants on Gozo, but we were more than happy with its neighbor.
Honestly, all of the restaurants we liked were very equal in quality. All had pasta and seafood as their main options, and all did it well enough. Its unfair that Malta's proximity to Italy gives you hope that the culinary scene will measure up. It tries, but it just doesn't compare.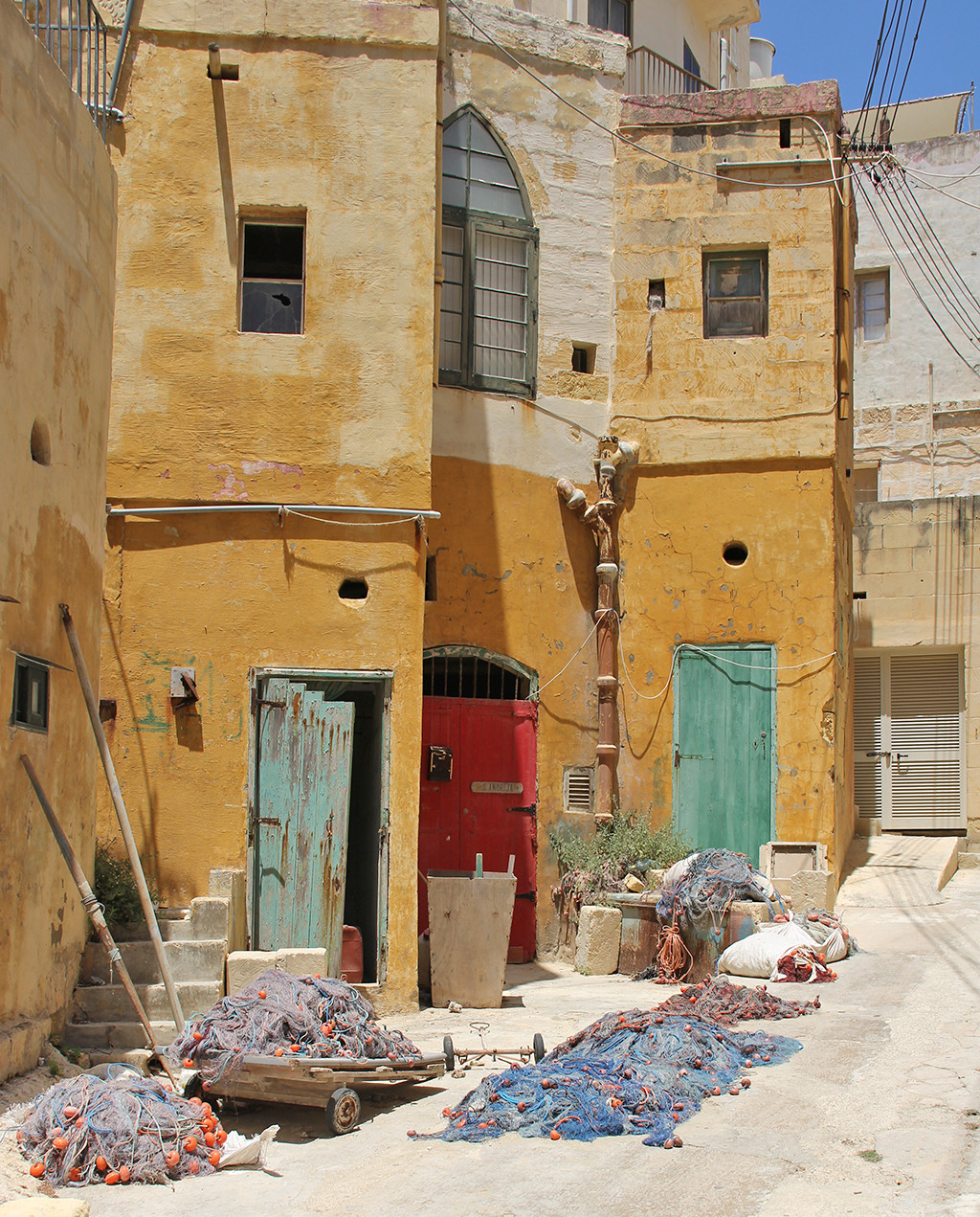 When we finally made it into Valletta for an afternoon, it felt like a movie set. I loved the hilly streets and the glimpses of the water in between enclosed wooden balconies, painted all different colors.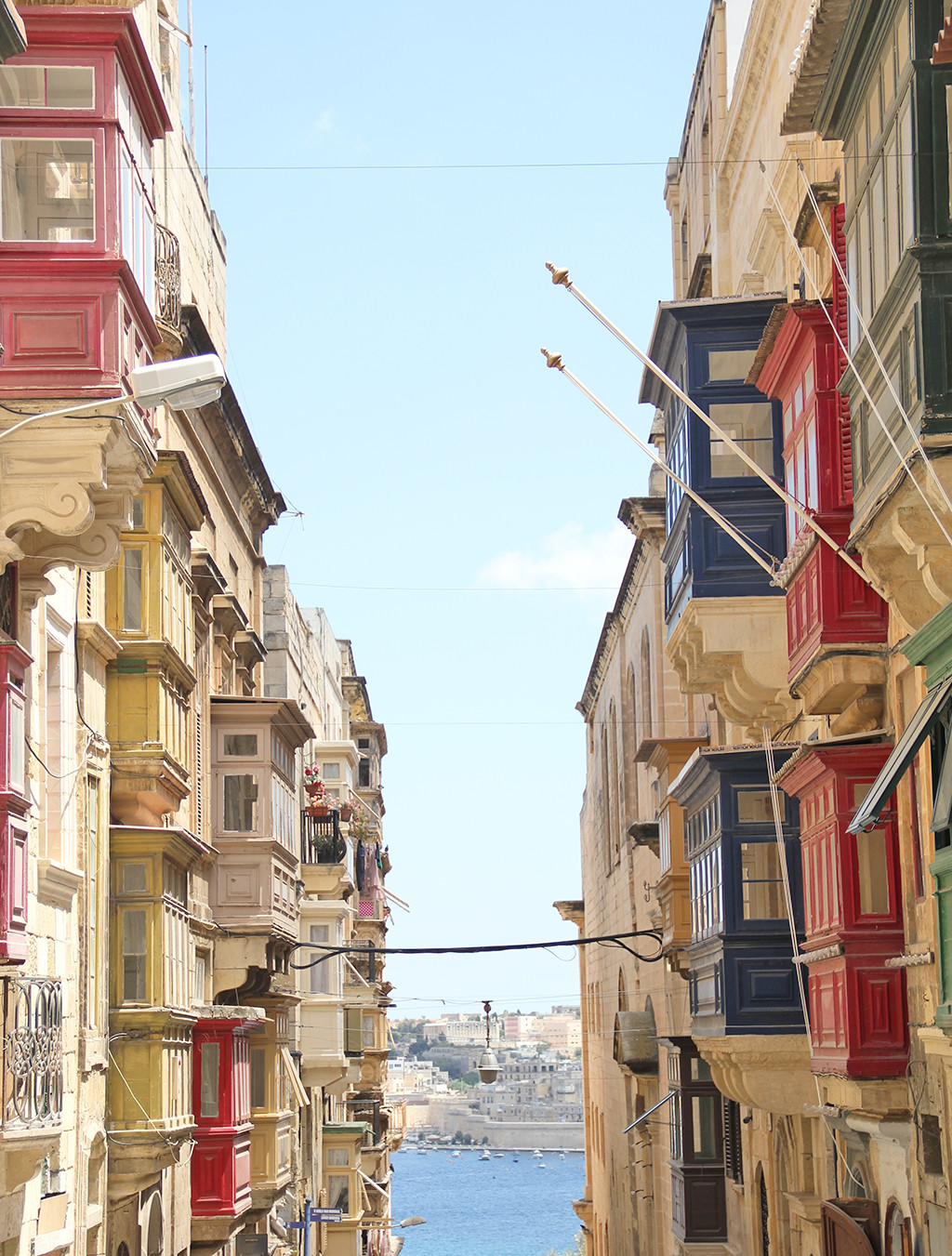 I tried to find more info about these, because I thought they were so pretty and unique to Malta — and some claim that they are. But others cite them as being more North African, and specifically Moroccan. Either way, they make Valletta feel so different than any other European city I've visited.
In Valletta, we had lunch on the terrace at Rampila. It's nestled into one of the city's ancient fortifications, and overlooks the former moat and entrance to the old city. The setting was gorgeous, but it was SO HOT. The food was pretty on par with everything we had experienced on Gozo, so I kind of wish we had just skipped the sit-down experience and explored the city more. But I still think this is a solid lunch or dinner option if you're in need.
For our very last day in Gozo, we explored the more rural areas near our village, and capped it off with lunch at Grazie Mille. They don't have a website, but this place was SO cute.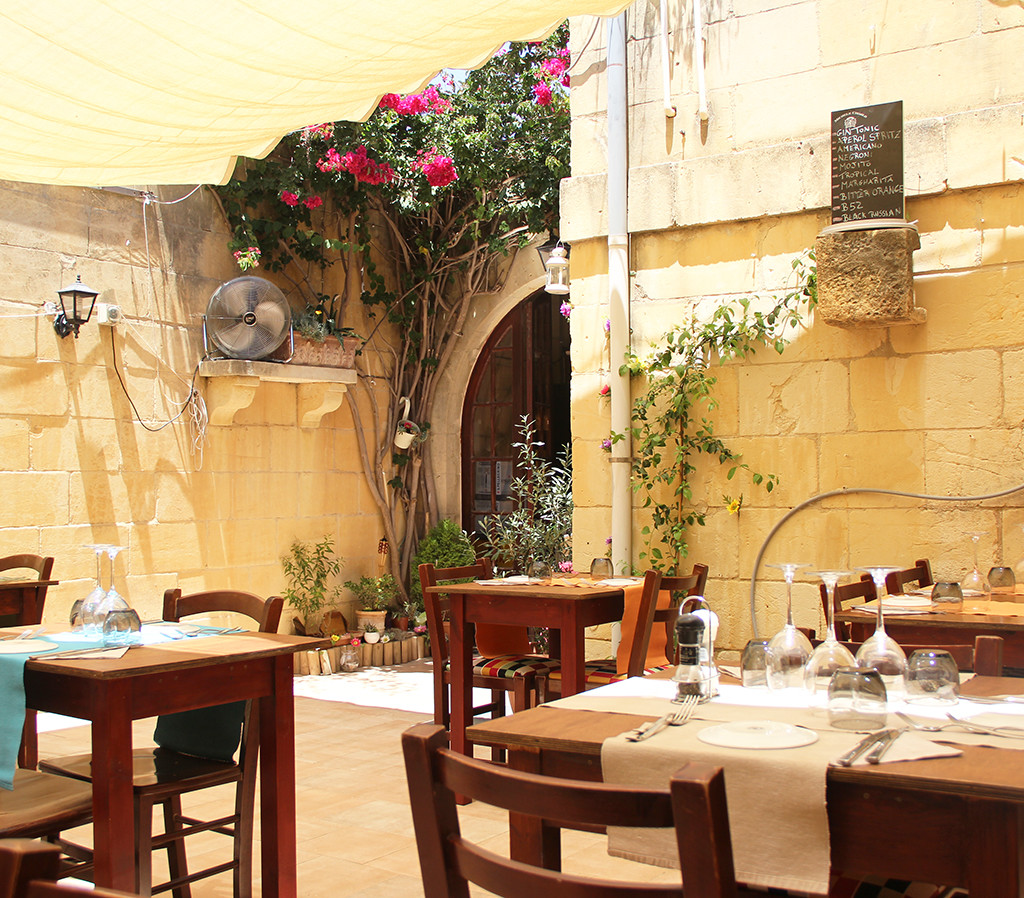 Our last full day also confirmed that, even when you can't see the sea, Gozo is stunning.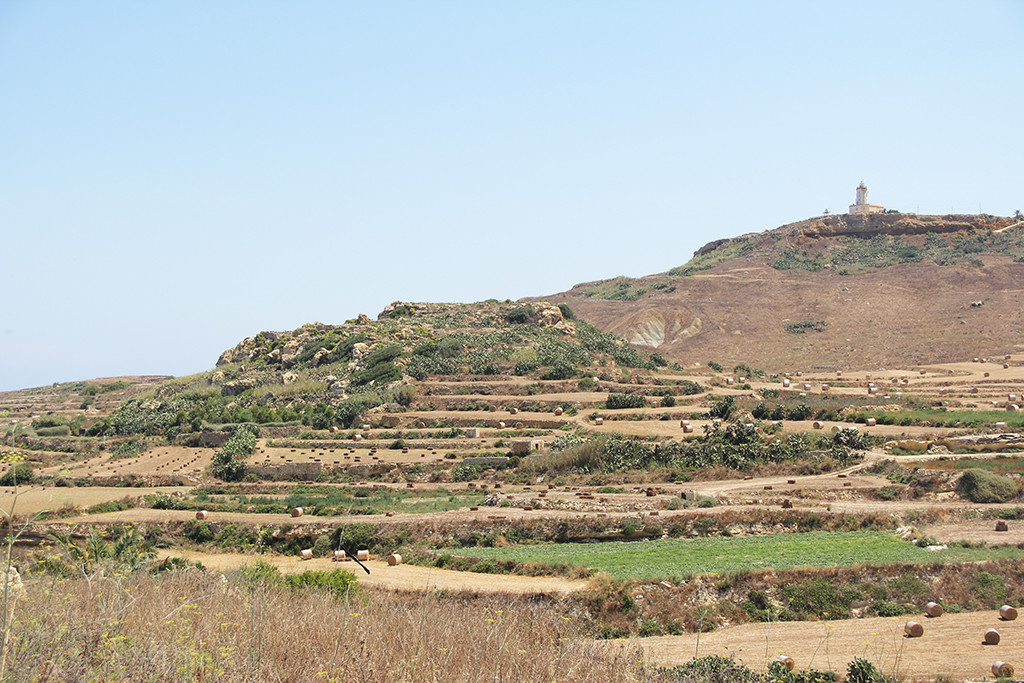 We also stumbled across another arch formation… the Wied il-Mielah Window, which is apparently Gozo's other Azure Window.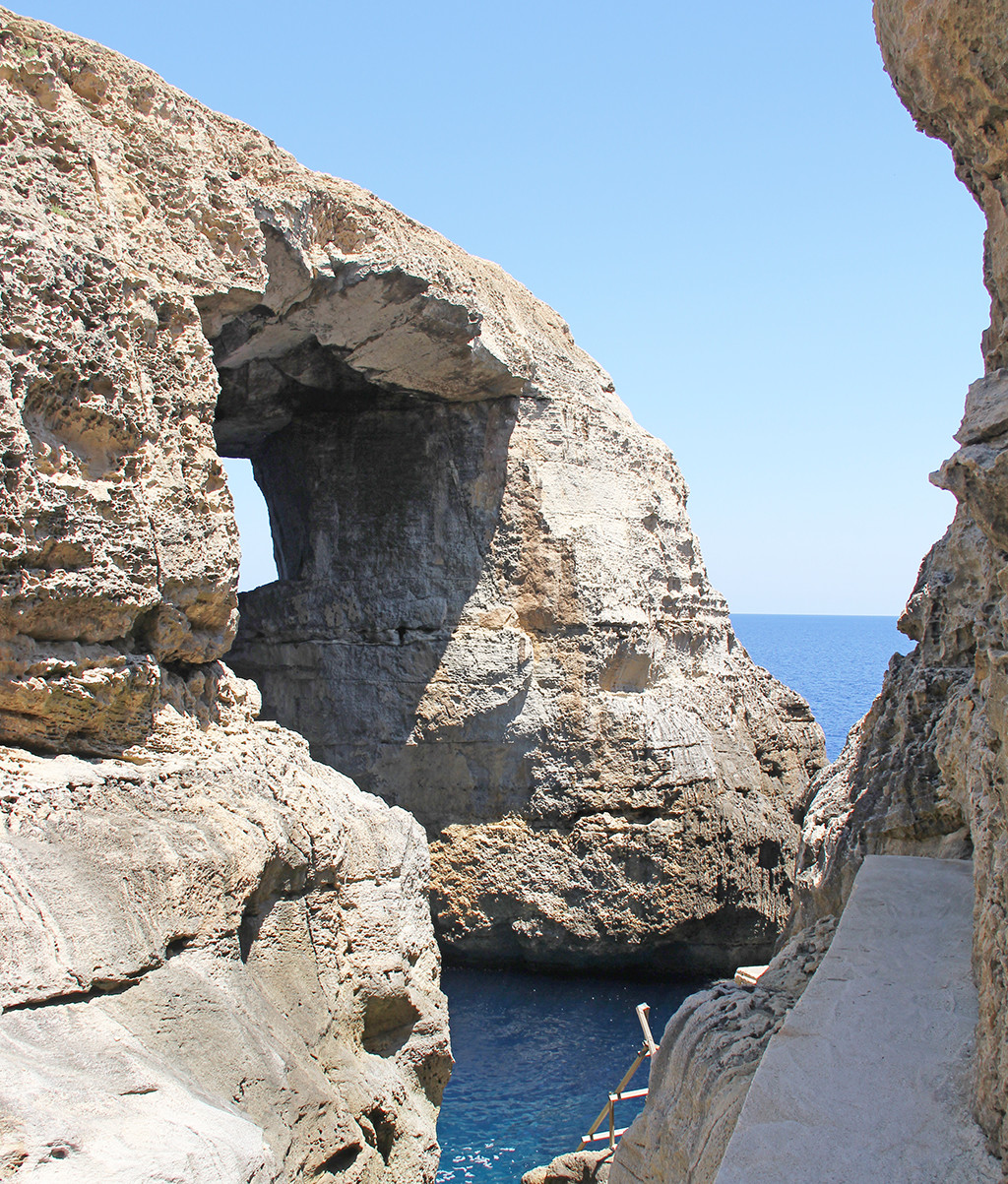 Because of the angle, it lacks the drama of the original Azure Window, but it's still worth a visit.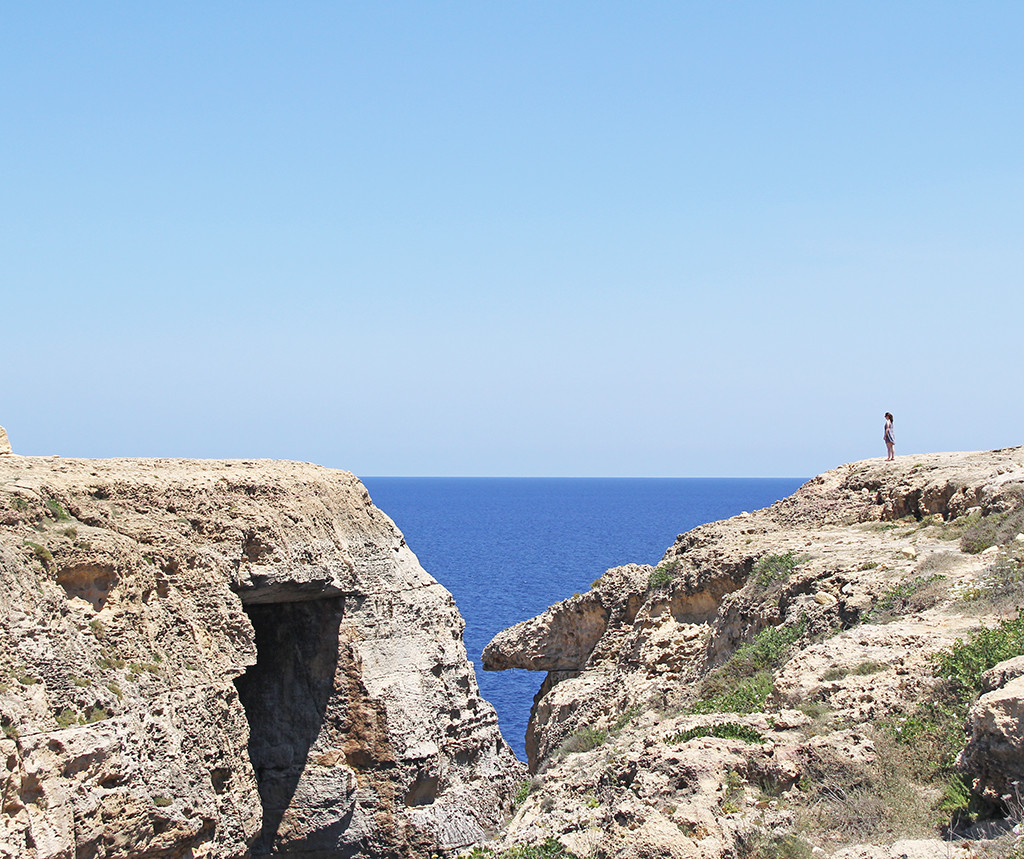 If you've reading all of this and are wondering if we tried Maltese Ftira, the answer is yes. If you don't know wtf ftira is, you're missing nothing. It's pizza, and I'M SORRY. But it's not even good pizza. There was a place near our house that had it for takeaway. It was an easy option for us once lazy baby went to sleep and we were on our daily dose of evening house arrest. But honestly… we had it from two different places and it reminded me of Pizza Hut. Both times. Anyone wanna fight me on this and tell me what I'm missing?
I won't lie to you. It's a long day of travel from London to Gozo. I think if I were to plan the itinerary over, I'd bookend the trip with a night or two in Valletta. But we wanted a low-key, week-long vacation with one homebase, and that's what we got!

It didn't help that we flew out of Gatwick, which is one of Dante's circles of hell, I'm pretty sure. We had no option, and from Gatwick, we flew to Valletta. There, we picked up our rental car. Then, we drove to the ferry, which departs every 45 minutes and is free going to Gozo (about €5/person on return). Once we arrived on Gozo, about 25 minutes later, we then had another 25 minute drive to our village. That means we left our flat around 5:30 AM and didn't reach our home in Gozo until 4 PM. You can imagine that it was even less fun on return.
And that, mes amies, is a wrap! We've clearly had a pretty quiet summer of travel around here, but the wino & I are about to reunite in just a few short weeks…
STAY TUNED!
xo,
the romantic
Save
Save
Save
Save
Save
Save
Save
Save
Save
Save
Save
Save