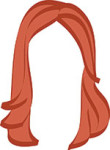 Much to my surprise, this is the year that I really learned that Paris isn't just all eating and drinking. During past trips, it really was all I cared to do… plus, you know, see the Eiffel Tower.
Strolling leisurely through the city is still my preferred method of Parisian exploration, but with the touristy things out of the way (looking at you Mona Lisa and Versailles), and a ticking clock each time we shlepped into the city because trains stopped running to our village at 11:19 PM, SHA-OOT ME NOW, we were forced to prioritize what we actually wanted to do and see.
If you missed part 1 of my Parisian preferences, pop on over and catch up. Now, it's time for part DEUX!
where to explore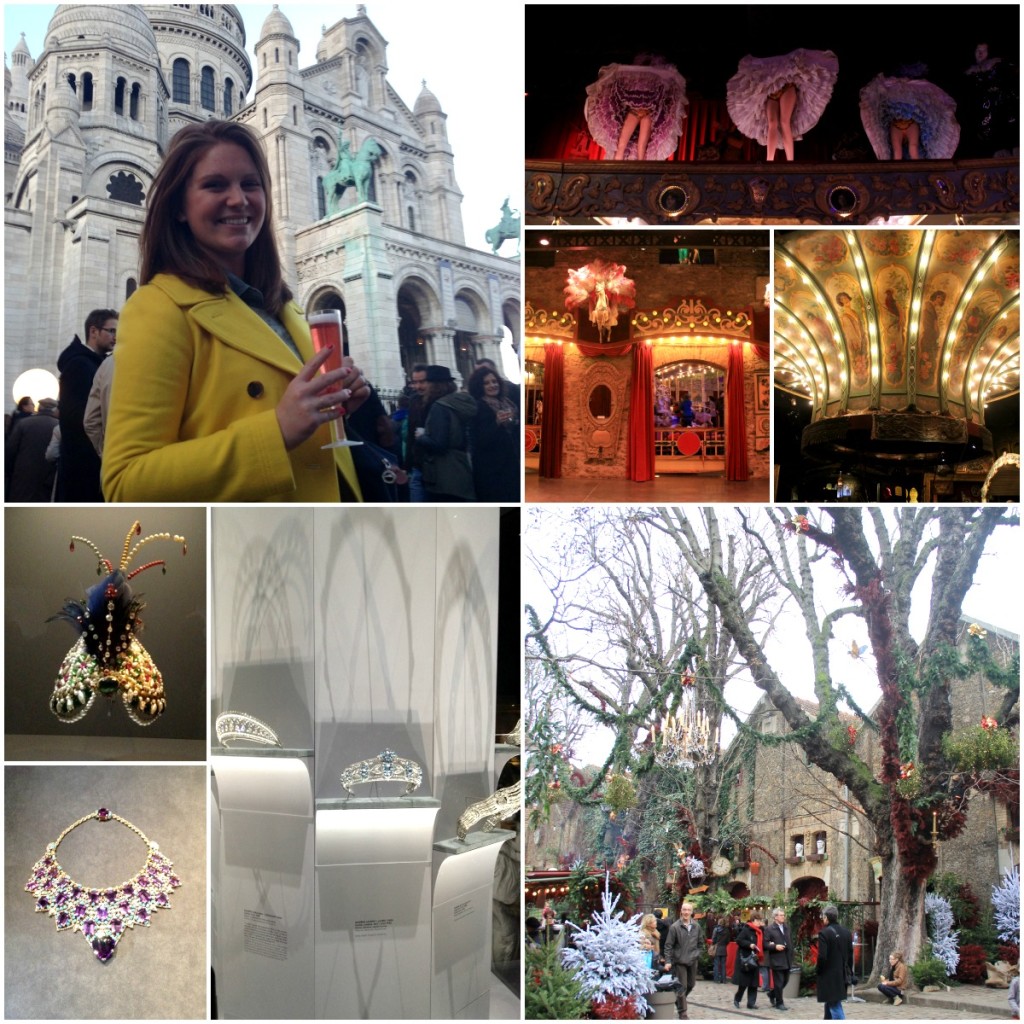 Grand Palais, 3 Avenue du Général Eisenhower, 8ème // It's hard to miss the Grand Palais' glass dome ceiling as you stroll down the Seine toward the Champs-Élysées, and the sartorially obsessed mainly know it as Chanel's venue of choice each fashion week. However, the Grand Palais also hosts short-term exhibitions, like Cartier: Style & History, which we visited, or the upcoming Spring/Summer 2015 exhibit on Jean-Paul Gaultier. It's worth keeping an eye on their calendar (and not everything is fashion-related!), and popping in after you've exhausted the halls of Le Louvre and Musée d'Orsay.
Le Musée des Arts Forains, 53 Avenue des Terroirs de France, 12ème // Each year around Christmas time,  Le Musée des Arts Forains opens its doors to the public for a limited time. Inside, you'll find a semi-creepy collection of antiques from the 1850s, and mostly consisting of amusement park attractions. The history isn't readily displayed, which makes it feel more like you stepped back in time to a Belle Époque carnival… complete with carousels,  swings, a Parisian Waiter Race and a very jarring soundtrack. If you read The Night Circus by Erin Morgenstern, it's basically exactly like that, and I'm only kind of joking. Private appointments to view the collection are available year round, but I can't imagine going when the surrounding streets aren't filled with decked-out stands serving roasted chestnuts and vin chaud in celebration of the holidays.
Montmartre Grape Harvest Festival, the base of the Basilica of the Sacré Cœur, 18ème // This was a purely accidental find on our very first visit, so when we realized we would be in town once again, we made sure to attend. The festival winds through the streets of Montmartre and up around the base of Sacré Cœur, with stands serving wine, champagne, and craft beer from all over France. There's an annual fireworks show over the basilica, and I'm 100% convinced that it's the very best way to spend an autumn night in Paris.
where to (window) shop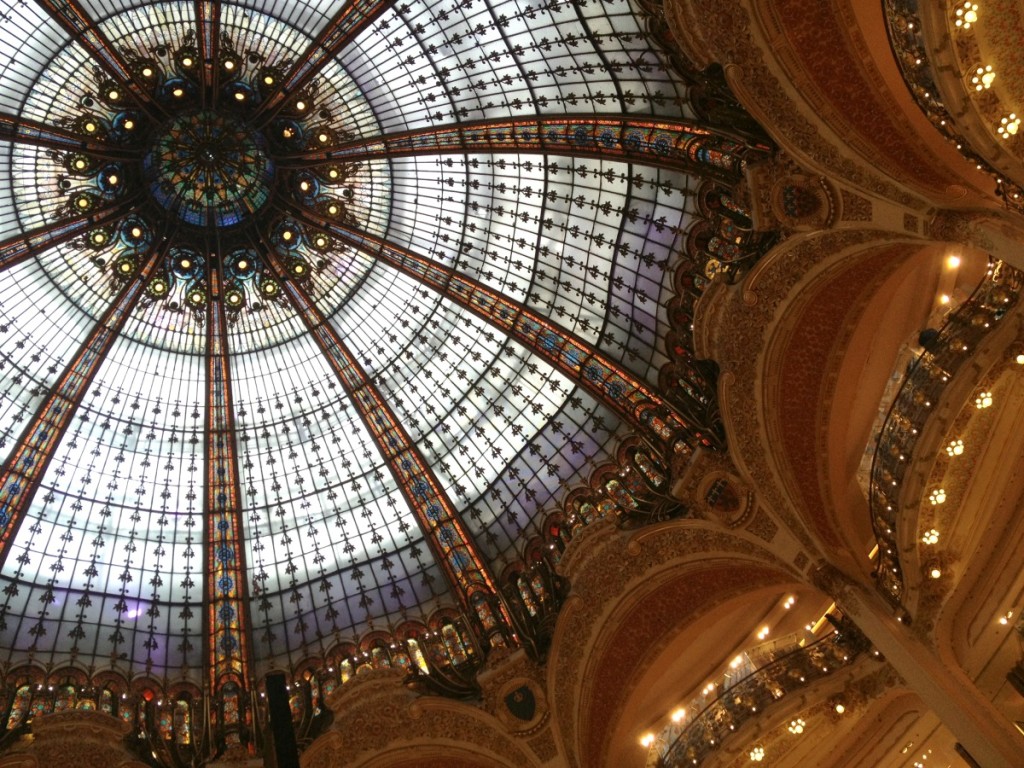 It's hard to believe, but shopping wasn't my main priority during our year in France. With a very limited income split between the two of us, all of our funds were focused on travel and experiences, which is how it should be. I GUESS.
Even so, it doesn't mean I didn't wish I had some disposable income, and if I had, here's where I would have splurged.
Repetto, 22 Rue de la Paix, 2ème // If you're heading to the Palais Garnier, the Repetto flagship is a worthy stop. Their signature ballet flats have long been used by the Paris Opera Ballet, and both the window and in-store displays regularly feature retired tutus from past performances.
Place Vendôme, 356 rue Saint-honoré, 1er // Three words: Chanel flagship boutique. Cartier, Patek Philippe, and the Paris Ritz also boast Place Vendôme addresses, but it's Chanel that always called my name. I can't imagine ever going in the store and having it feel more like a shopping experience than a museum, but maybe someday? PLUS, little known fact: the aerial view of Place Vendôme was the inspiration for the shape of Chanel's signature perfume bottle. Stick with me, kid, I know things.
Le Marais, 3ème et 4ème // Le Marais is boutique heaven — especially for jewelry. Pick the windiest streets you can find, because those are where the real gems are. Internationally known stores, like, Diptyque and Aesop, can definitely be found here, but plenty of French brands and vintage stores have set up shop for beaucoup des one-of-a-kind choices, too.
Galleries Lafayette, 48 Boulevard Haussmann, 9ème // Ok, so this place actually makes me want to punch kittens because it's always PACKED. BUT! Race to the rooftop terrace for expansive views of the entire city, stop for champagne on the way down, and your stroll through each department will be just a little less stressful.
where to sleep

So, most of the time, we obviously just went back home and slept in our own bed in Montigny-sur-Loing, avec le petit pug. However, occasionally, the opportunity to stay in the city would present itself. More times than not, we opted for apartment stays (see here, here, and here), but on our last trip, we stay at the Hôtel La Demeure in the Latin Quarter.  It's a very charming boutique hotel set a little bit away from the more touristy areas, the rooms are clean and VERY spacious by Paris standards, and! Most importantly! This was the view from our balcony: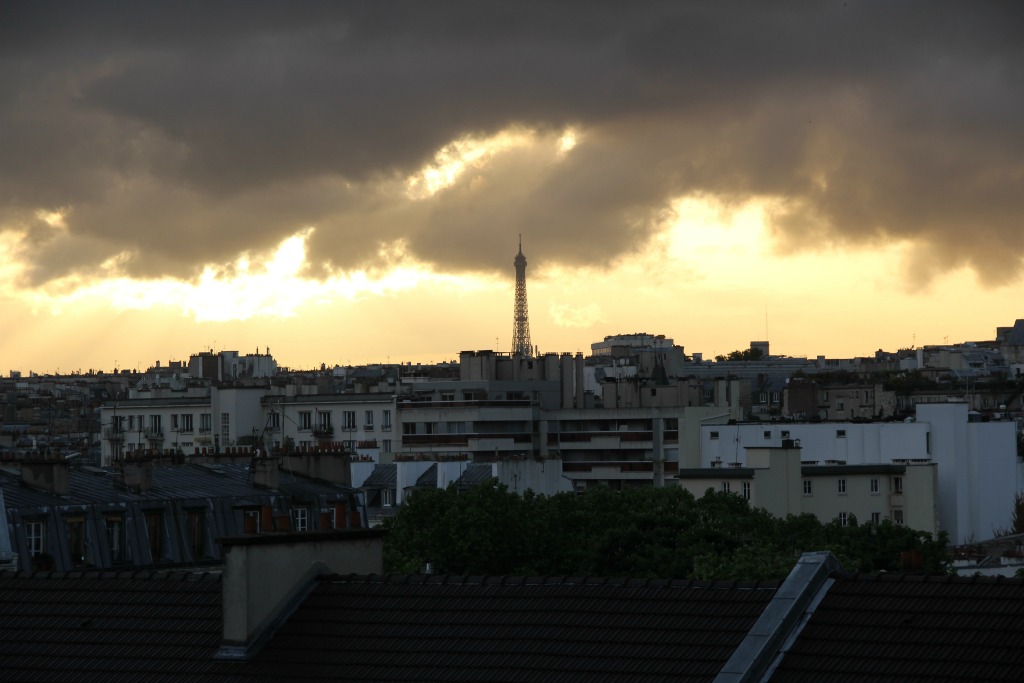 Guys. I could lay down IN BED and see the Eiffel Tower. Dreams do come true!
And that, mon amours, is that. Our year in France has officially wrapped, and we're now Londonders! Honorary Brits! All hail the queen!
But more on that later.
xo!
the romantic
Please note that my stay at the Hôtel La Demeure was part of a press partnership, but all opinions are, as always, my own.