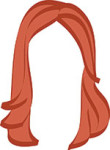 At this very instant, as I type, the wino is lounging on a beach. Book in one hand, cocktail in another, getting tan. Meanwhile, I've been living it up on an island just slightly different than the wino's St. Thomas. I've been in my very own little apartment on Paris's Île Saint-Louis.
(Sidenote, do you think Saint Louis & Saint Thomas were buds?*)
So, despite my jealousy over her Vitamin Sea, it hasn't been all bad. After our #LTnyc madness, one of my best friends from college crossed the Atlantic for a week in France. Along with showing her around my temporary Frenchified existence, we ambled around Paris for a few wonderful, sun-filled days.
Though I had passed through the Île a few times before, this was the perfect excuse to get to know a pocket of Paris that I hadn't properly explored.
Where to stay // There are tons of amazing hotels in Paris, but I thought it'd be fun to have an apartment for our three nights. I came across Paris Apartments by Numbers, and it was actually their owner, Liam, who first recommended we stay on the island. They have 30 apartments on the Île Saint-Louis, and it wasn't long before we were all set for the LOUIS02.
The apartment was located right in the center of the Rue Saint-Louis en l'Île. This could not have been more perfect. Most of the main restaurants and shops are on this street, and it runs directly through the island. The island is, of course, very tiny, so you're never very far from any of the highlights anyway. We were also a five minute walk to Notre Dame in one direction and a ten minute walk to the Hôtel de Ville in the other. Really, you can't get much more central than that.
The buildings are as quaint and old in this neighborhood as you'd expect, which obviously meant no lifts. It was an easy walk up to the third floor when we checked in because we had a very helpful new friend named Amine there to check us in and assist. The walk down on our last day, however, was less easy, as we were all on our own. Still, the views from our little Juliet balcony made it all worthwhile.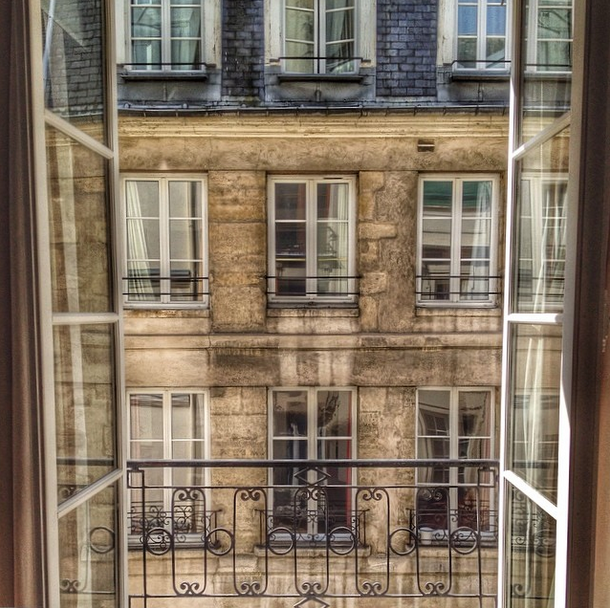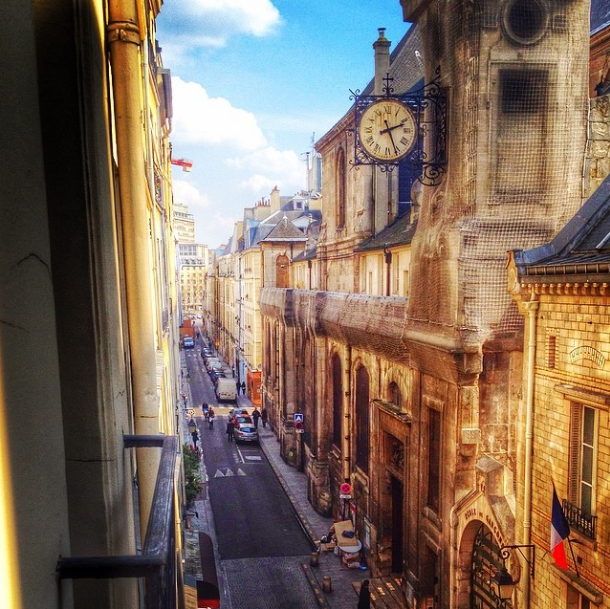 Most importantly, despite the building's age, the apartment itself was obviously recently refurbished and extremely clean. The shower was also massive for Parisian standards, which I also appreciate.
At night, the island turns into what, I assume, is the darkest and quietest part in all of Paris. This, we didn't love. We always felt perfectly safe, but I prefer some white noise when I sleep. It's been a major struggle while living out in a farmhouse in the middle of nowhere, actually. Plenty of other people would see this as a huge benefit, though. So, for that reason, I can see how it would be ideal for people who aren't used to city noises while they slumber, or don't want to battle drunkies on their way back to their hotel after a late night out.
Where to eat & drink // On our first night, we didn't get very far before we decided to stop at the Cafe St. Regis. I had actually been here once before with Edna and knew it was delish, so now that I've made my return, I can officially recommend. Get the burger!
On night two, we planned to walk off the island for dinner, but then we strolled past Mon Vieil Ami (now permanently closed!) right across from our apartment, and we were immediately sold.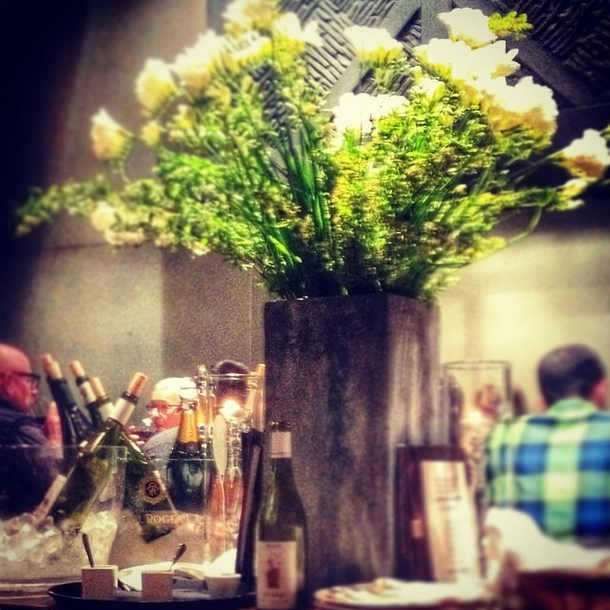 It was cozy and adorable, and packed! I'm actually surprised they were able to seat us without a reservation, but they squeezed us in without a problem. Most importantly, our meals were both amazing. I also wish we had had room for dessert, but we were pretty much about to burst by the time it was over.
Lastly, and most importantly, is the ice cream from the local glacier, Berthillon. It's pretty much the first thing people mention when you say Île Saint-Louis, and it doesn't disappoint. Especially if you go for breakfast!
What? Remember, we met in college when things like "ice cream for breakfast" were not only allowed, they were encouraged. Glory days and all that.

Go with the framboise à la rose.
Honorable mention: on our last full day together, we stopped at the La Chaumière en l'Île for a glass of wine. I can't speak to the food (though some quick research doesn't make it sound great), but the location at the end of the Pont Saint-Louis is perfect for people-watching.
Where to shop // We spotted tons of cute boutiques on the island, but 78isl was our favorite. Also, Vero Moda is my new favorite (French? I'm assuming) brand, and I'm going back for the pineapple printed pants I passed on in favor of the trench above. I really don't get enough points for my responsible shopping decisions.
So! Ruling on the Île Saint-Louis? Je l'aime. Its central location cannot be beat, and you feel a little bit like you stepped back in time, or maybe just escaped Paris all together. Because my guest had already visited Paris in the past, we weren't hard pressed to see anything specific, though it's certainly a great location even if you are.
It may not be St. Thomas, but St. Louis isn't so bad either.
xo!
the romantic
*I just did a quick search and apparently Saint Thomas was the Patron Saint of Architects and Saint Louis was the Patron Saint of the Third Order of St. Francis, France, French monarchy and hairdressers, so. Probs not friends. Plus there was, like, a millennium between them. But it was worth a shot.
– Though Paris Apartments by Numbers did host us for the weekend, all opinions are, as always, my own. If you're interested in the LOUIS02 for your next visit to Paris, prices start at €773 per week, and a minimum of 5 nights is generally required.
Save
Save