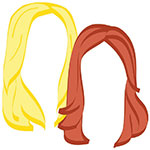 With only one night in Bratislava, we wanted to make sure our hotel selection was top notch. We went back and forth on whether we should just hightail it to Vienna, but we figured we'd poke around and see if we could find a good place to crash.
It didn't take much research to find the Radisson Blu Carlton, and it took even less time to become completely charmed with the idea of staying there.
Central location, reasonably priced, with a facade that looked like this: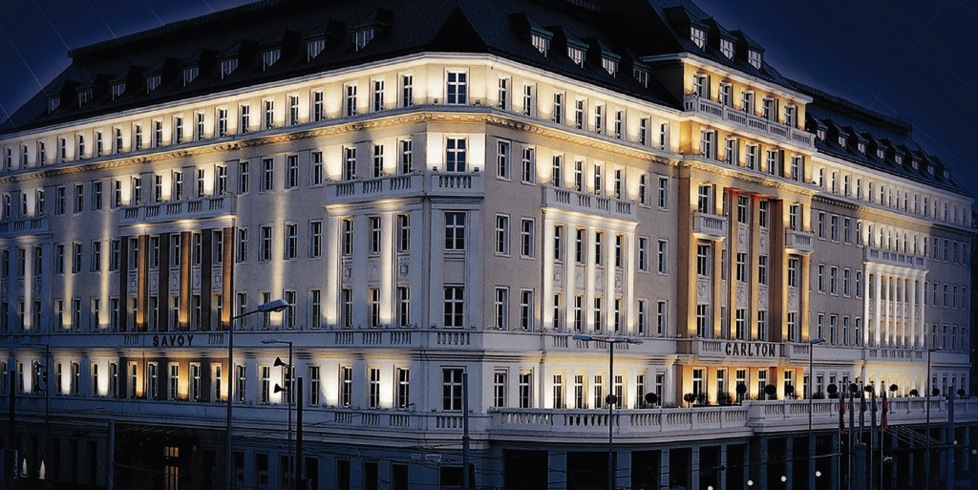 Photo courtesy of the Radisson Blu Carlton
Here's the catch: from the minute we stepped in to the Radisson lobby, our experiences were… very different.
Part One: The Wino
Check in was quick, efficient, and done with a smile from the person behind the desk, which I greatly appreciated after an early morning train ride and a restless night of sleep in our non-air conditioned apartment in Budapest.
My room was on the sixth floor, in one of the front-facing rooms with a small Juliet balcony overlooking Hviezdoslav Square, with views of Old Town, Bratislava castle, and St. Martin's Cathedral. When we arrived, a festival was in full swing in front of the Radisson–we swung open the balcony windows and enjoyed the sounds of musical performances and laughter while we opened the chilled white wine left for us in the room. If this was the true authentic Bratislava, then Bratislava was just heavenly.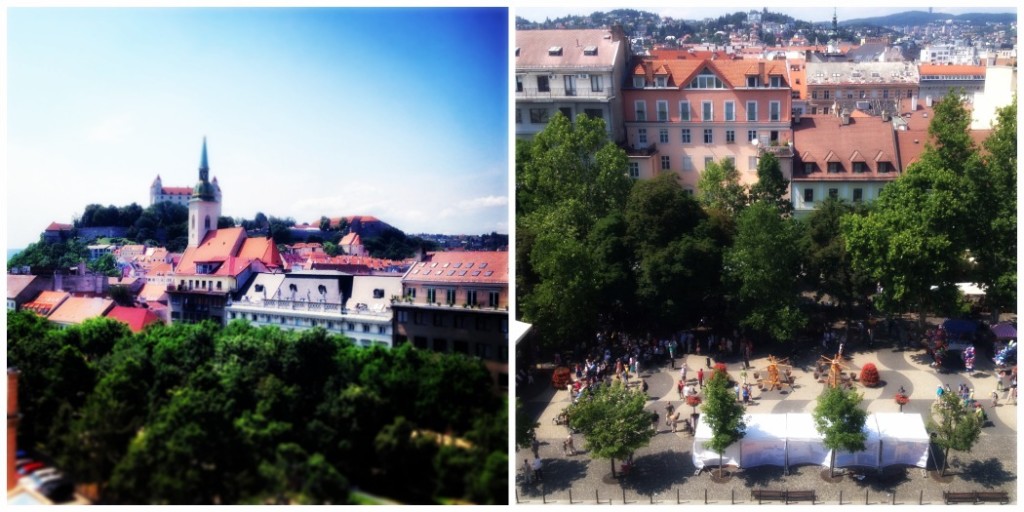 Views from the wino's balconey
As far as hotel rooms go, this one had all of the amenities I love: a king-sized bed, a Nespresso machine, big white terry-cloth robes, free wifi, and (le duh) a fully stocked mini-bar. Because I was staying in one of the Junior Suites, I also had separate sitting area, which was parfait for hosting the romantic and the hubs while we drank our wine and listened to the festivities drifting through my windows.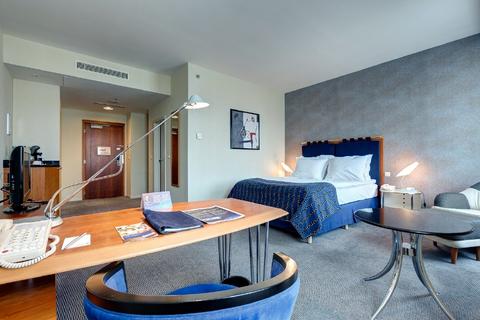 Photo courtesy of Orbitz
Part Two: The Romantic
As the wino checked in seamlessly to my left, my own experience was off to a rocky start. The employee was in training and seemed petrified from his first hello. We fumbled through the process together, but when I learned that the wino would be on the sixth floor and I'd be on the second, I almost caused a panic attack by asking if I could possibly be bumped up to have a room near hers. Not normally a big deal, but we had a quick stay–and how would we efficiently get ready for our night out while being four floors apart?!
After some words with his manager, he was able to move me up to a junior suite on the sixth floor, sans view. Being on the same floor was more of a priority, so I thanked him for his troubles and agreed this would be great. A courtyard view didn't sound so bad, right? Never you mind that the courtyard in question was more of an abandoned cement building currently under construction… I quickly realized we had bigger fish to fry. My room was all the way in the back of the building in a part of the hotel that didn't appear to have wifi. A quick call down to the front desk confirmed every blogger's worst fear: the WiFi didn't reach these far corners of the Radisson Blu. This was another factor that wouldn't normally be an issue for one night, but our AC-less apartment in Budapest was also without WiFi, and two nights in a row without an internet connection?! ARE WE ANIMALS?
Alas, the staff didn't seem too excited about moving me to a new room, so I grabbed my laptop and we headed to the wino's room, where we shared the complimentary wine and  watched the festivities unfolding below her little balcony.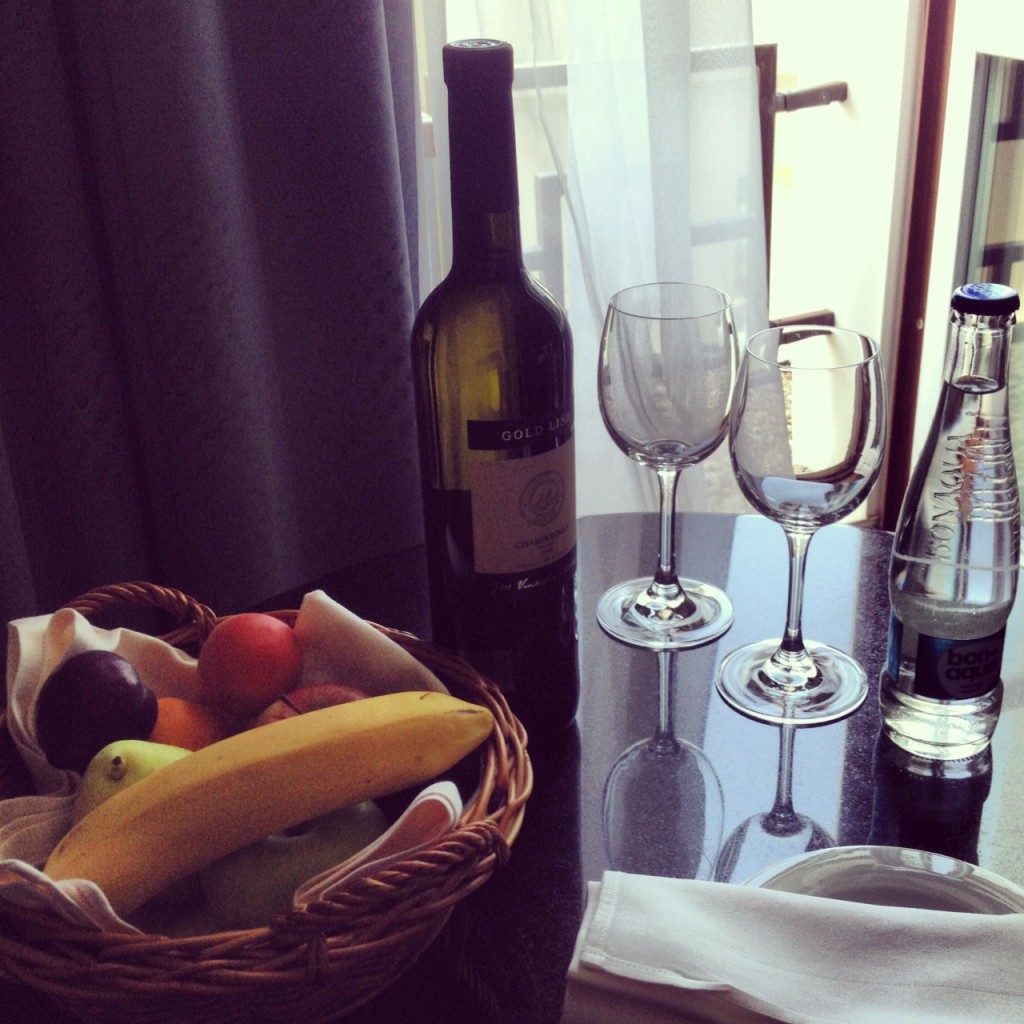 We quickly forgot about my hotel woes, and made our way out to explore. We fell in love with Bratislava's charm, and fully agreed that our hotel location was tops.
A few hours later, we returned home, tired and ready for bed. We said our goodnights, and as soon as I walked into the room, I realized: the AC was broken. We had turned it on before going out, but dun dun DUNNNNN: it was a sweatbox. I called down to the front desk once more, thus cementing my reputation as the neediest guest in all the land, and honestly? The next hour was the most confusing. Someone came up to look at the AC, confirmed that something was amiss, and disappeared for awhile. A full hour later (and well after midnight), we were told to carry our bags down to the second floor. It was all more frustrating than an exhausted girl with a budding sinus infection was prepared to handle, but finally–FINALLY–the hubs and I were snuggled in a one bedroom suite… down on the second floor.
Part Three: The Lesson.
Choose your hotel battles. The romantic most certainly should have stuck with the second floor room from the beginning, but at the time, having both our rooms on the same floor seemed far more preferable. Unfortunately, back at check-in, we weren't warned that the WiFi wouldn't work in the new room, which, as bloggers, typically trumps all else. When the AC sputtered and died, we assumed there was some sort of karmic retribution in action.
The Radisson Blu Carlton is definitely not a bad hotel– it's perfectly suited for business travelers and its location is by far the best in the city. It was obvious that room choice greatly affects the experience, and should we return, a room with a view (because, let's face it, its views are unbeatable) on one of the higher floors would be a priority.
Still, the real lesson here is that Bratislava doesn't require an overnight stay. You can see the whole city in a day, and as long as that visit includes an amazing meal at Pôvodný Meštiansky pivovar, you'll feel your time was well spent.
xo!
the romantic & the wino