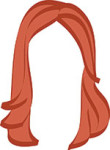 If I could change one thing about our time in New Zealand, it would be a few less days on the North Island and just a few more on the South Island.
No, wait. If we're making wishes, I would first wish that my lens cover didn't need to be removed with a hacksaw. Then, my favorite sunglasses would not snap in half as my hard-drive committed suicide. Because those were rough days.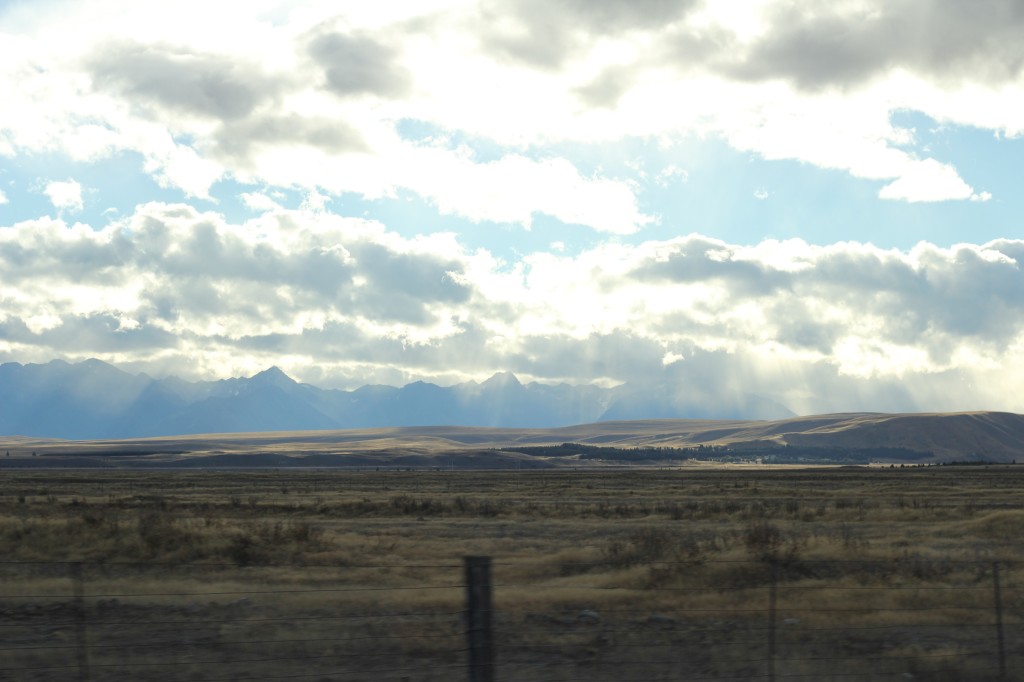 But after the genie grants those wishes? Then I'd like to go back and readjust our itinerary.
As it stands, here's where our Spaceship took us during our fourteen-day tour:
Christchurch
We arrived in Christchurch pretty late, crashed at our Kiwi Backpackers hostel, and picked up our campervan first thing the next morning. To say we didn't give Christchurch a fair chance is a huge understatement.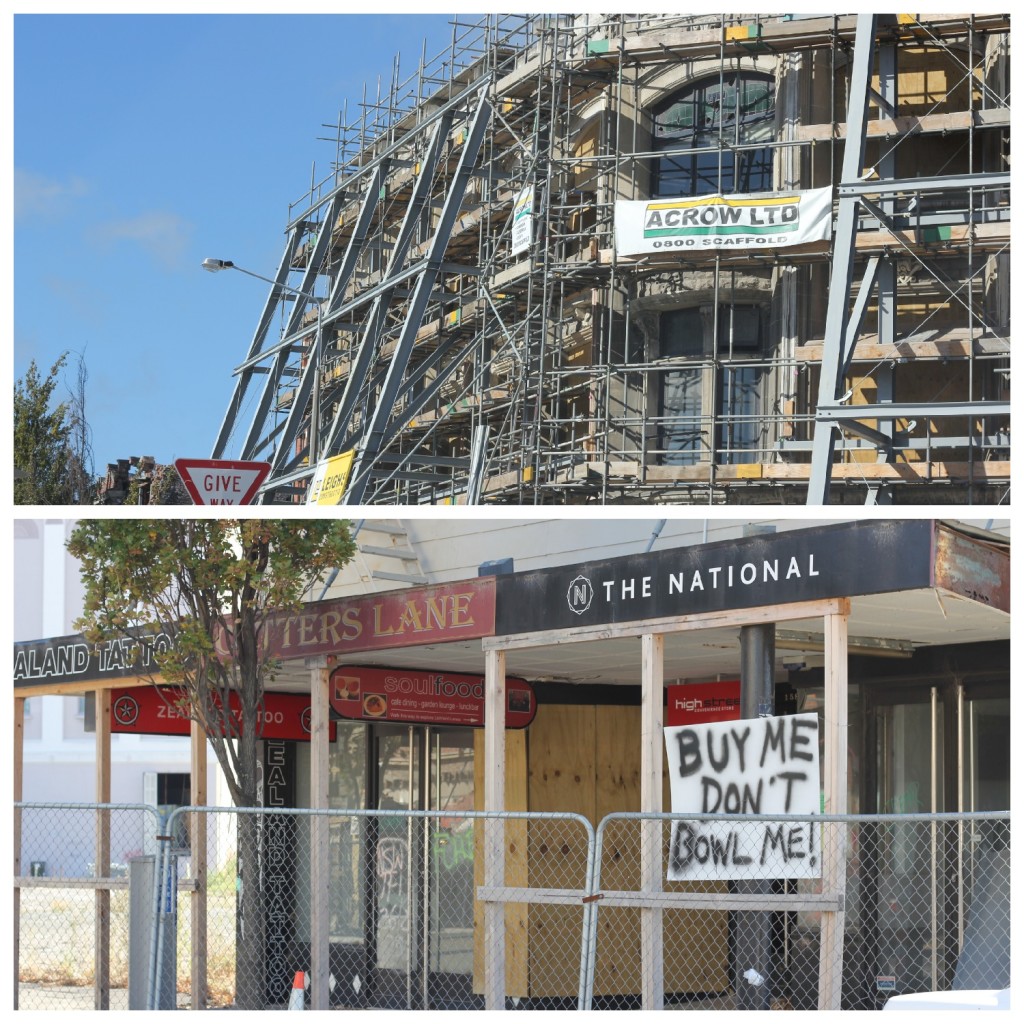 We did, however, stop in a local coffee shop before embarking on our road trip, and the construction still happening downtown was unimaginable. Though I knew the damage was substantial, I just did not expect it to be literally everywhere. I will hand it to the locals. Everyone was in good spirits, joking with us about how many one-way streets we had to take just to find a decent parking spot.
Lake Tekapo
Back at the Spaceship launch site, we were advised by their staff to head south first… in an effort to try and beat the cold weather that was headed our way. You can imagine how well that worked out, but we bee-lined it for Lake Tekapo anyway.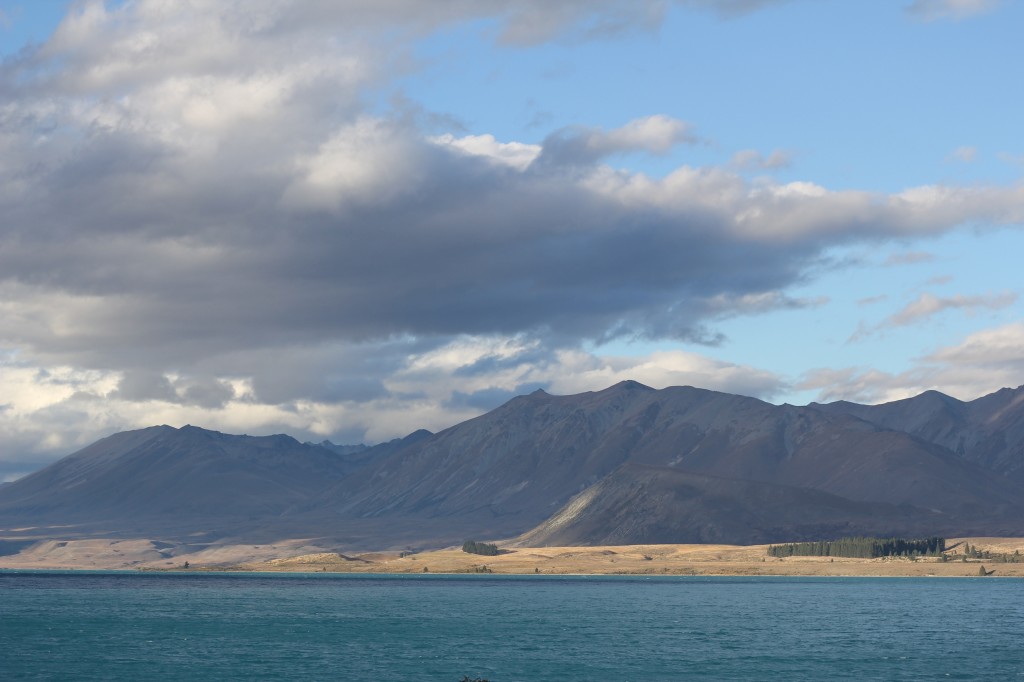 Best. Decision. Ever. Seriously, Lake Tekapo was one of the best introductions to the natural beauty of the South Island. After a perfect dinner (and by perfect I mean RAMEN because that is what novice campers eat and I hadn't had it since college and oh how I missed you, Ramen!), we snuggled in for our first "chilly" night.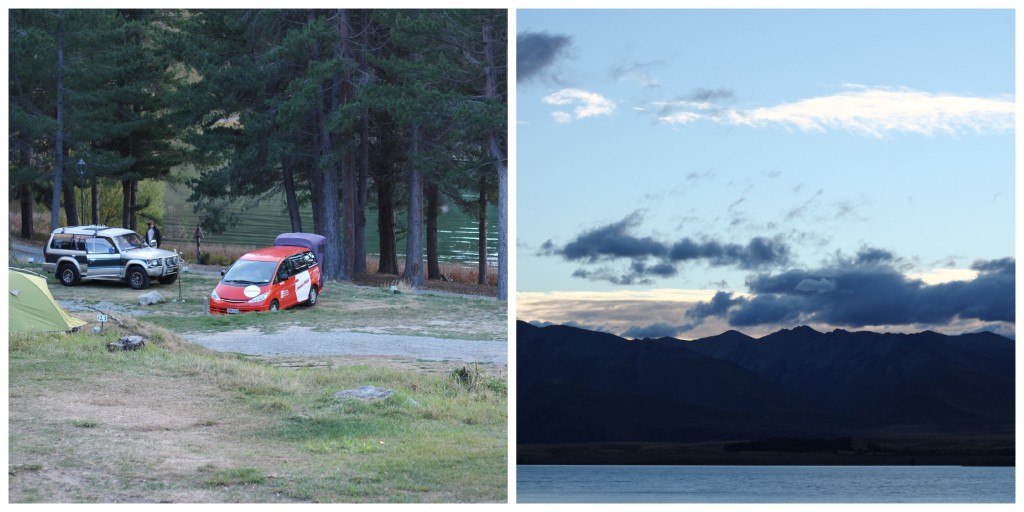 In hindsight, it was f-ing balmy.
Lake Tekapo Motels & Holiday Park was also my first introduction to campsites, and I approved! The public space was clean, fellow campers were friendly, and if you picked the right campsite, the views were gorgeous. I didn't like that the shower was coin-operated. But this ended up being the only site to charge for such madness.
The next day, we made our way over to the lake to explore: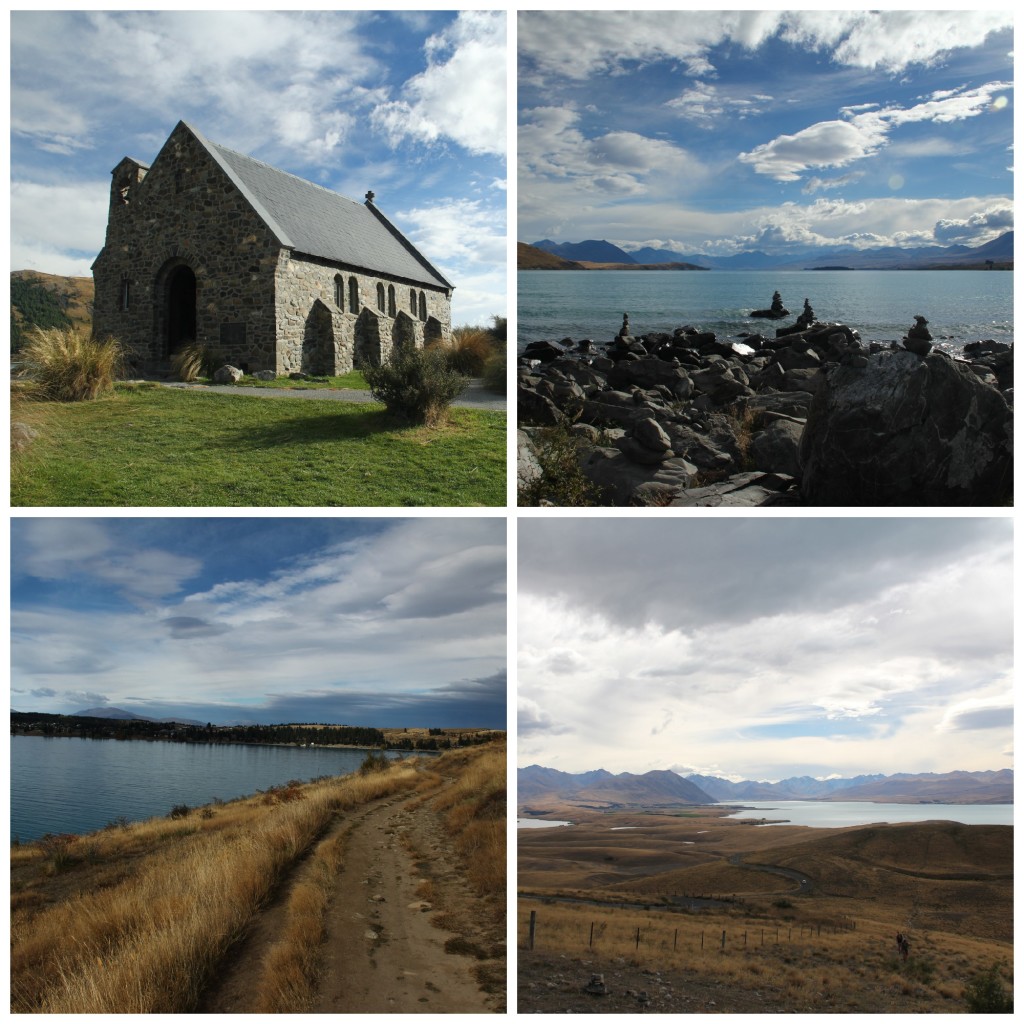 Clockwise from top left:
The most photographed church in NZ, Lake Tekapo from ground level, views from the Lake as we made our way up the trail, and views from the Mount John Observatory.
Cha, yeah. Perfect.
Glentanner & Mount Cook
Just when I thought it couldn't get much better, we found Glentanner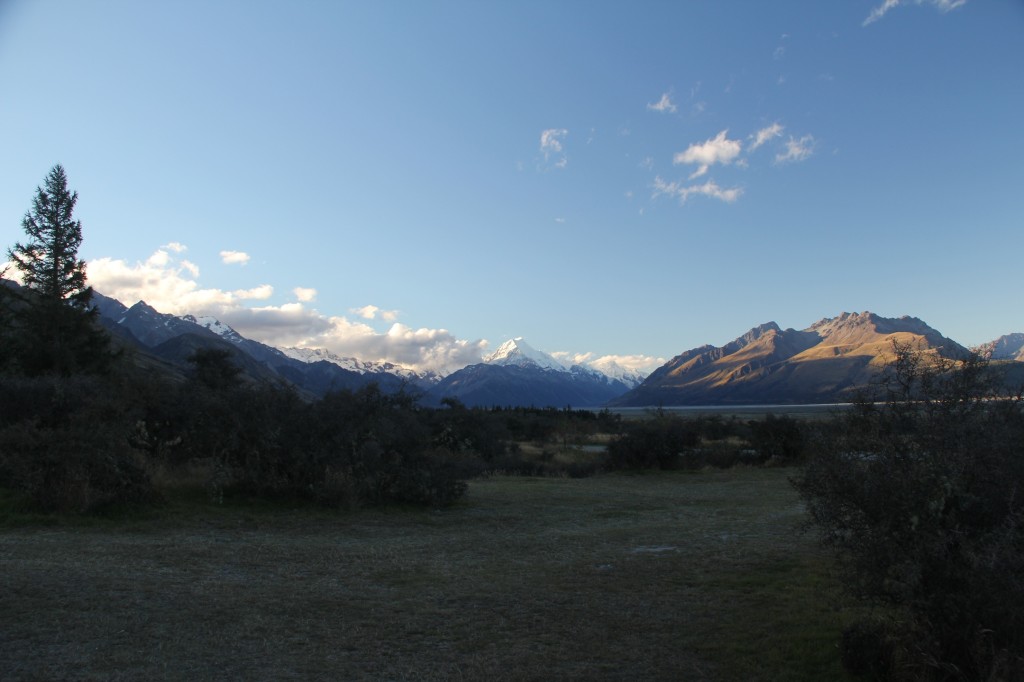 Glentanner Park Centre
There were very few fellow campers at the Glentanner Park Centre, and we were able to get one of the best spots on the lot. Along with killer views, a giant BBQ center, and perfect weather, there was this girl: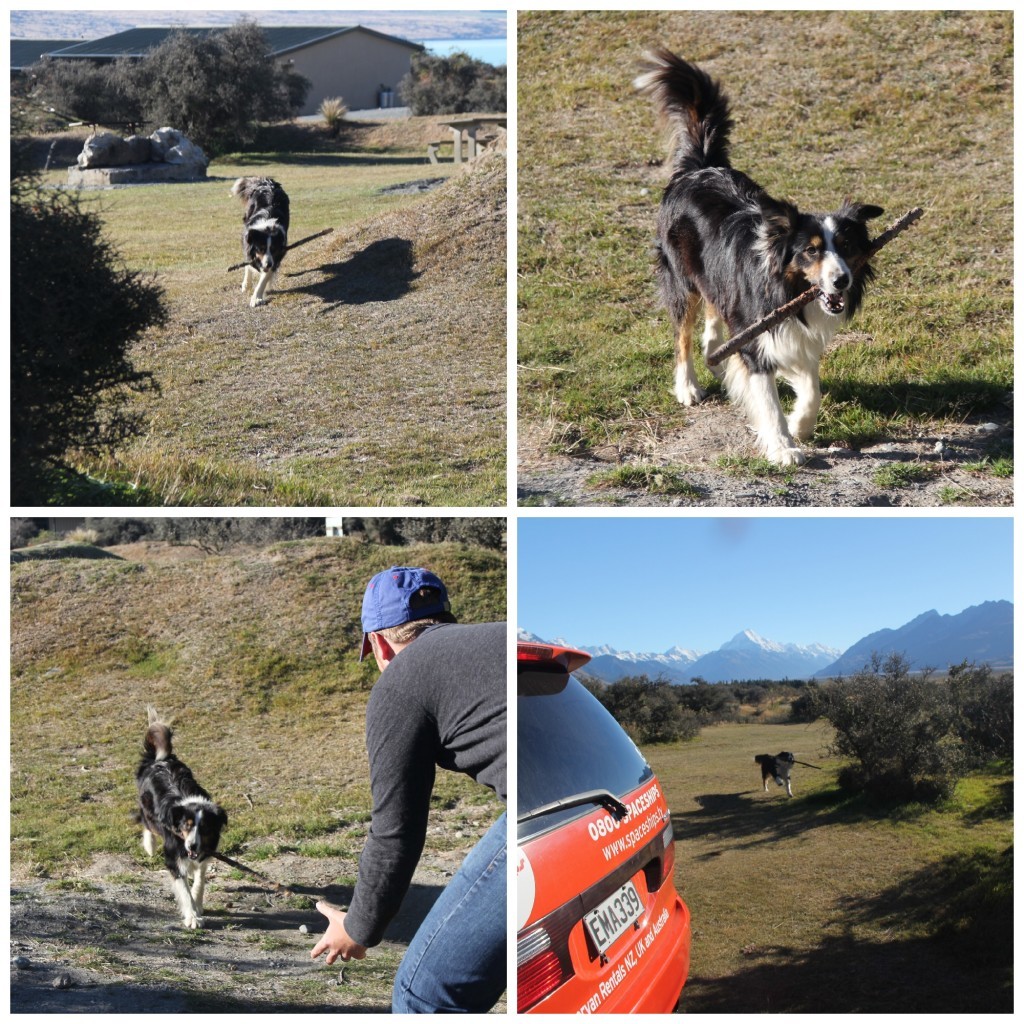 Meet Whit!
We pretty much fell in love with her, and she spent most of her time with us once we settled in. She was always ready to play fetch, and was particularly interested in the morning when we'd make breakfast and prep our lunch. After our first day, you can see why we were in no hurry to leave.
Then came the hike and the perfection continued: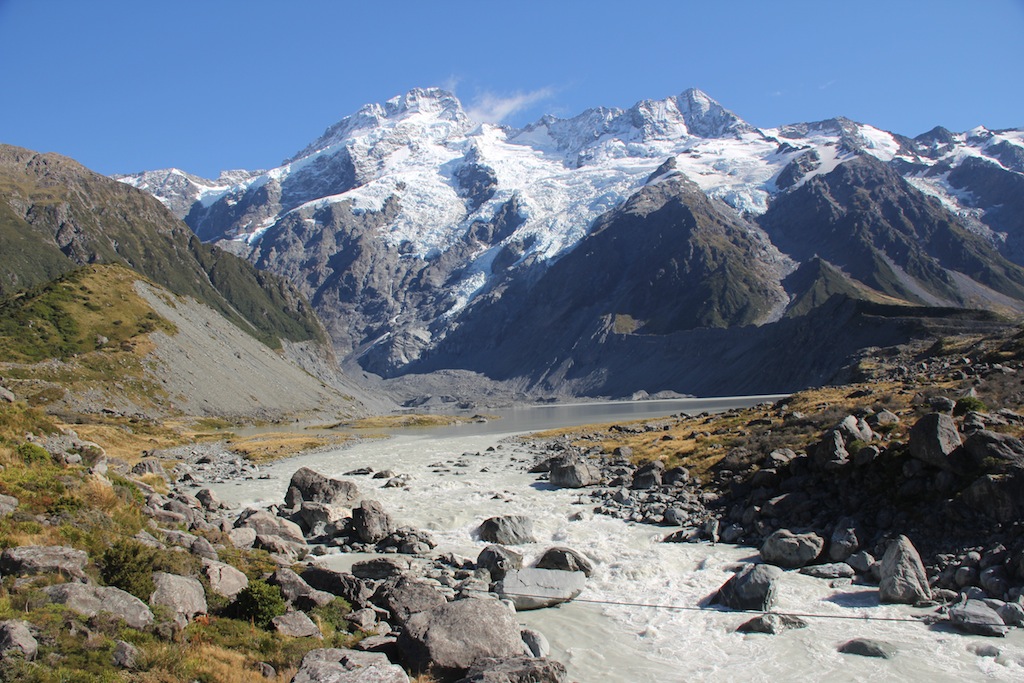 After our second night at Glentanner, we decided to detour down to Dunedin, which wasn't in our original plan. We had heard mixed reviews on the city itself, but it was the closest Apple reseller, and I still had high hopes that everything on my crisped little hard drive would be salvageable (hello naivety, nice to meet you!).
En route, we stopped by to visit with the Moeraki Boulders for a mini photo shoot:
Dunedin 
Unfortunately, the sales associate at the approved Apple reseller in Dunedin was a huge—pardon my language—douche canoe. After the hubs had to hold me back from pummeling the guy during his useless "you should have backed up" lecture, we tried to salvage the day. We ended up touring the Speight's Brewery, which we really enjoyed. It warrants a separate post, but is worth it if you find yourself in Dunedin.
We spent the night at the Dunedin Holiday Park, which I could have done without. It was my least favorite, but a necessary stop for our quick detour.
Te Anau 
As is often the case, I totally hyped Te Anau and Milford Sound up in my head. I had read so many things about how visiting either Milford or Doubtful Sound was everyone's favorite view in the South Island.
I'm sure you can guess… I wasn't that into it. Don't get me wrong, it was beautiful. But we couldn't drive our campervan there so we had to join a tour, and unfortunately, this tour epitomized everything I hate about such tours. Our guide was a total snooze, no one in our crew was very social, and we kept stopping for photo opps of the DUMBEST THINGS.
When the hubs's iPhone hit capacity and he had to use the iPad for photos of these dumb things… well, it was just one of those days: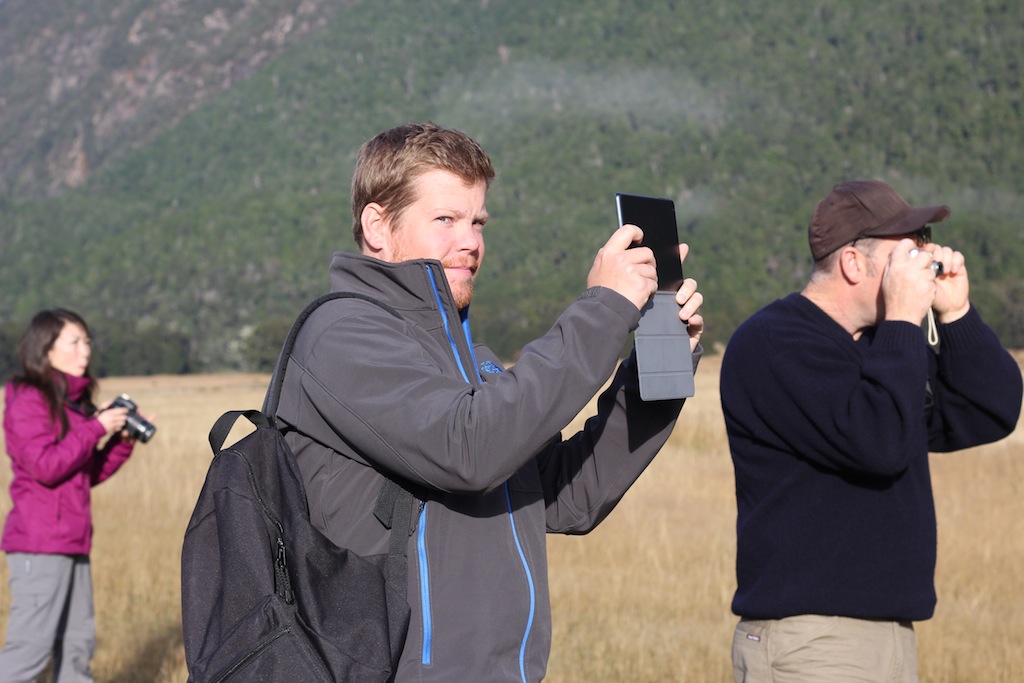 If this photo doesn't explain how we felt about the day, then I will never really be able to find the words.
I missed the freedom of making our own choices, and would advise doing your research on the best way to see the sound. Like I said, it really was beautiful: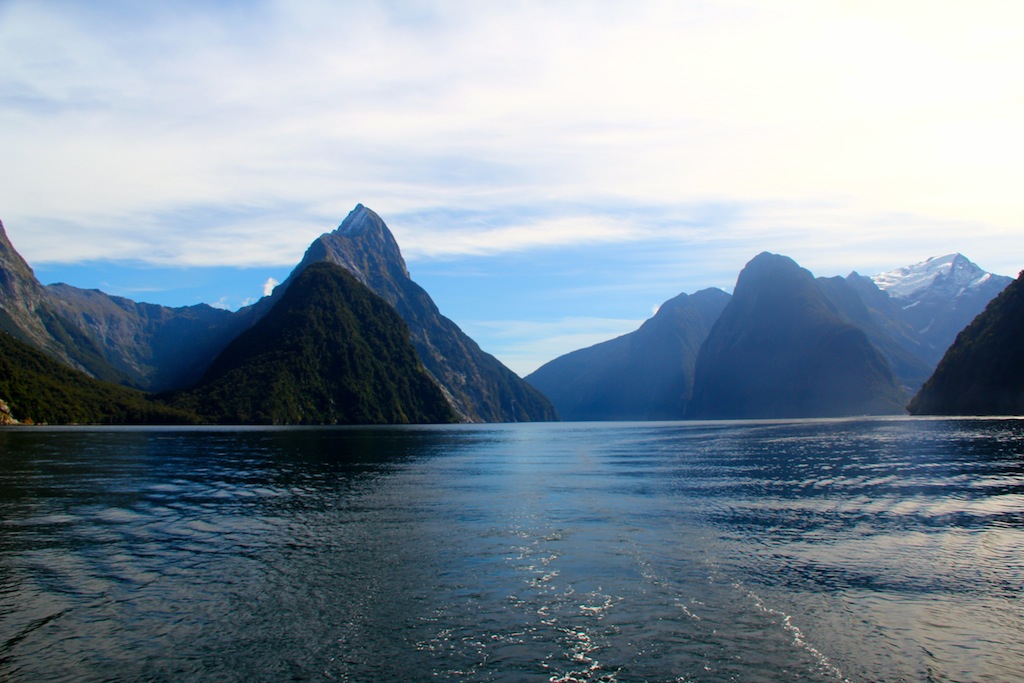 We crashed at Te Anau Lakeview Kiwi Holiday Park & Motels, and it was ok. Clearly, this whole leg was a little "meh" for me, but the next part made up for it fo' sho.
Queenstown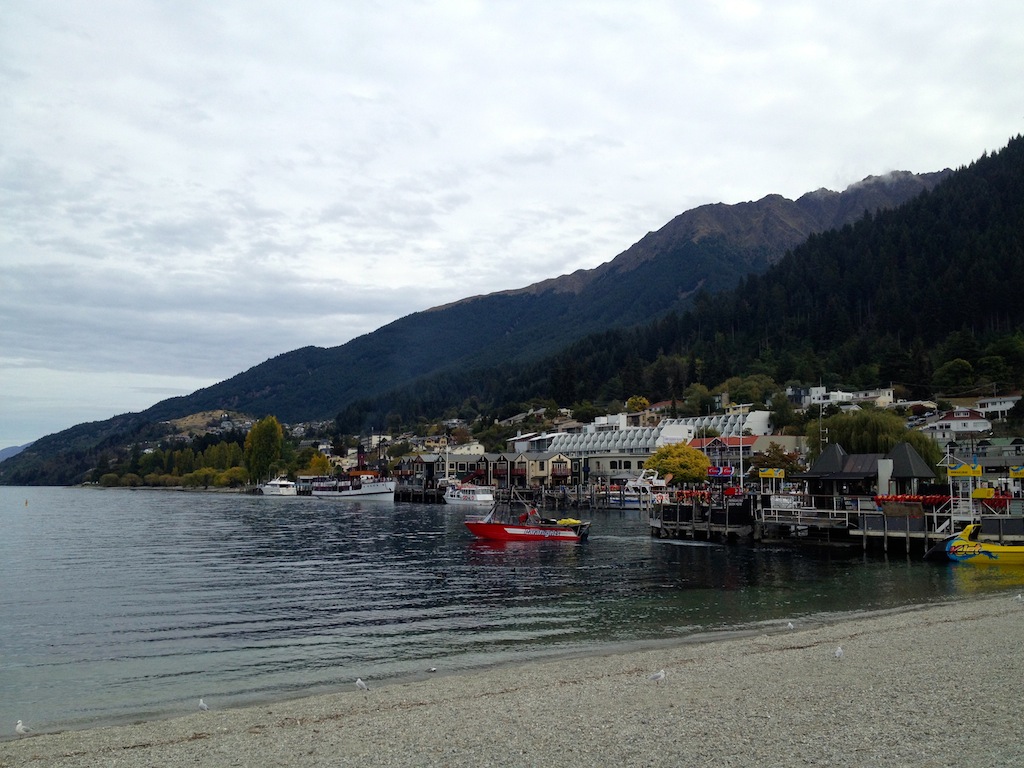 Unlike Te Anau, Queenstown totally lived up to expectations. We saved on food so we could splurge here, and I'm soo glad we did. For one, Ferburger: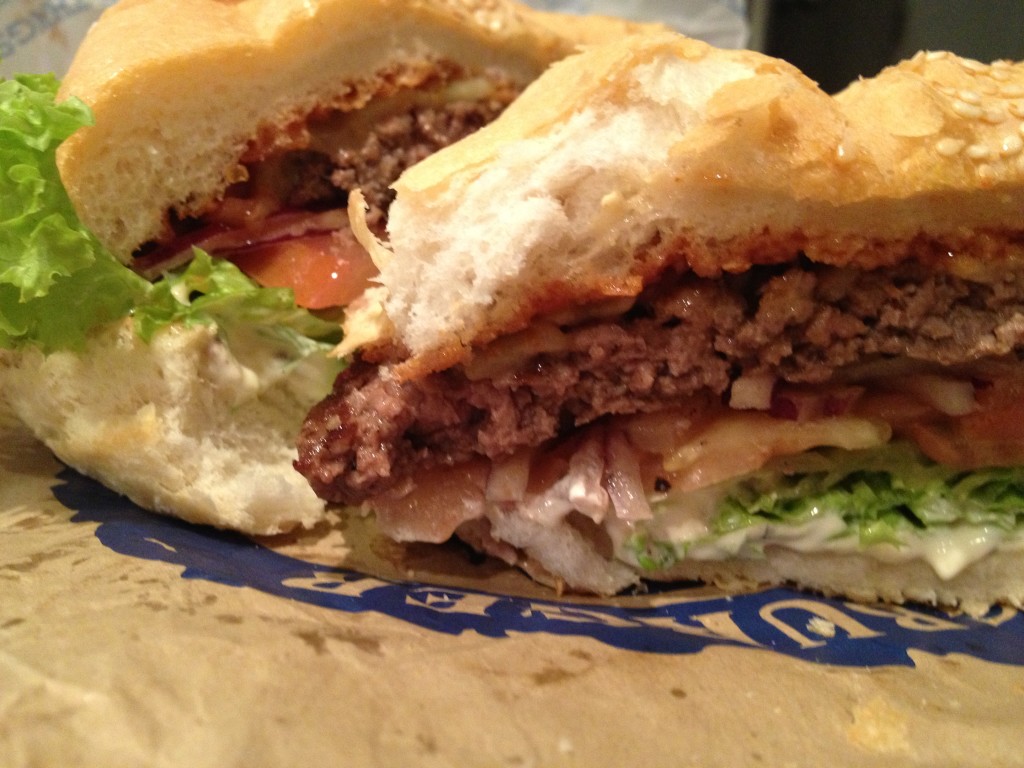 It's a bit of a Queenstown staple, and was completely packed every time we walked by. Though I skipped the infamous Mr. Big Stuff burger, the original was big enough to do its job. It reminded me a lot of Rick's in Dublin, and had been months since a proper burger, so I was into it.
We're also on a worldwide pizza challenge. We've since found a country with better pizza, but Fat Badgers in Queenstown was in the lead for awhile: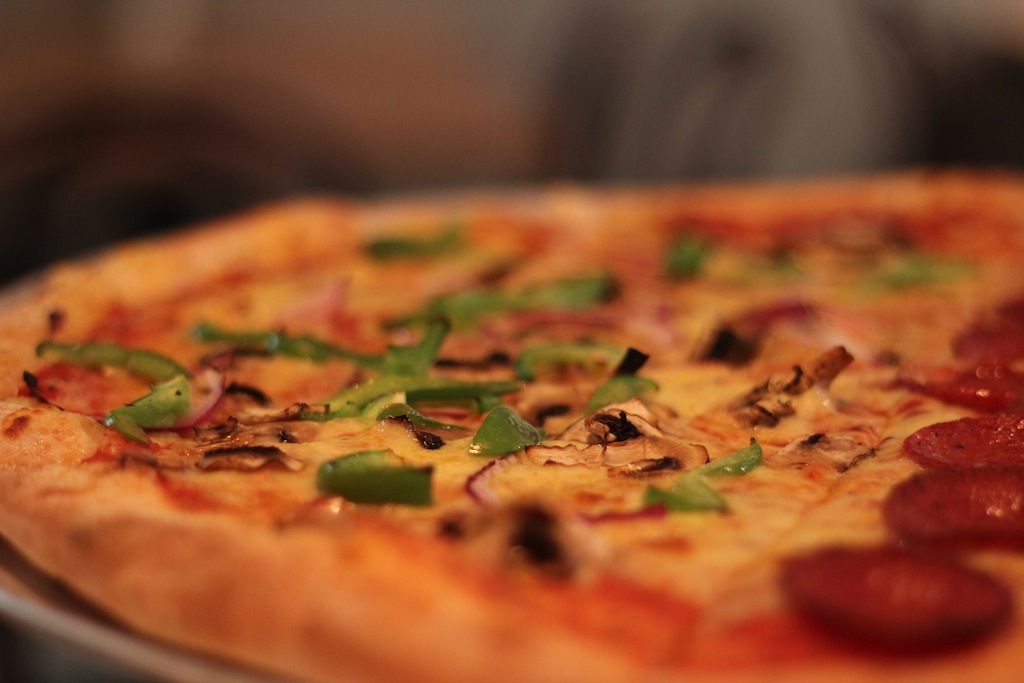 Aside from strolling around the town and shoving our faces, the hubs also faced everyone's fears and bungy jumped at AJ Hackett. I refuuuuused. But he was a superstar: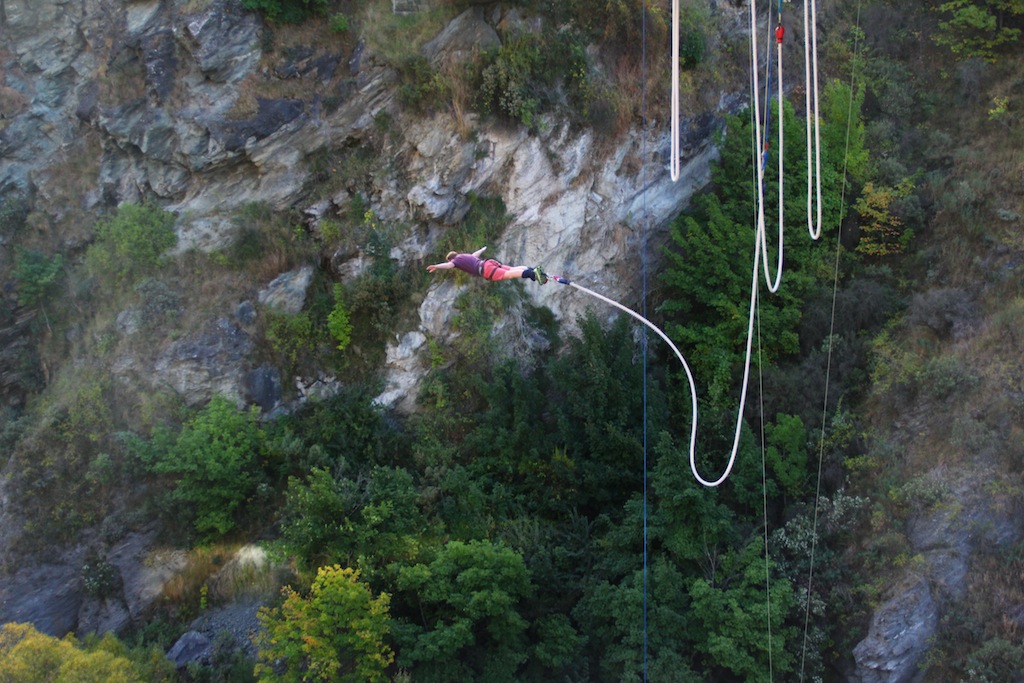 It was horrifying.
We spent two nights at the Queenstown Lakeview Holiday Park, which wasn't great. The campsites were REALLY close to each other, and we were all packed in like sardines. The site itself was clean, and since there aren't many options in the area, it was fine.
Central Otago
We were starting to miss our wine tours, and were excited to find out we were close to one of NZ's best regions for Pinot Noir. Turns out, I can't recommend this region enough. I think it was my favorite in New Zealand, and definitely one of the most beautiful parts of the country:
Haast
We realized in Queenstown that our ambling down the east coast was cutting our time up the west coast short. It was here that we made an executive decision: head to Blenheim. This meant an insane amount of driving over two days, but we really wanted time to explore Marlborough's wine region, and sometimes you have to make sacrifices.
Haast was our best option on the west coast, so we drove straight from Queenstown, not passing go, no $200. This stretch is a big blur of Mumford and Sons and moody weather, and for some reason, I didn't take any pictures.
People in Queenstown had told us to skip Haast, and there really wasn't anything to do in the area. The Haast River Top 10 Holiday Park, however, ended up being one of my favorite places we stayed. A repurposed airplane hanger housed the bathrooms and kitchen, which were impeccably maintained. This is also where things started to get really cold, and let me tell you what: you have not lived until you've put on clothes fresh from the dryer as you settle in for a night of sleep in near-freezing temperatures. Heaven, I tell you.
Blenheim
By the time we made it to Blenheim, we were so ready for wine. It was a long two days on the road, but definitely worth it: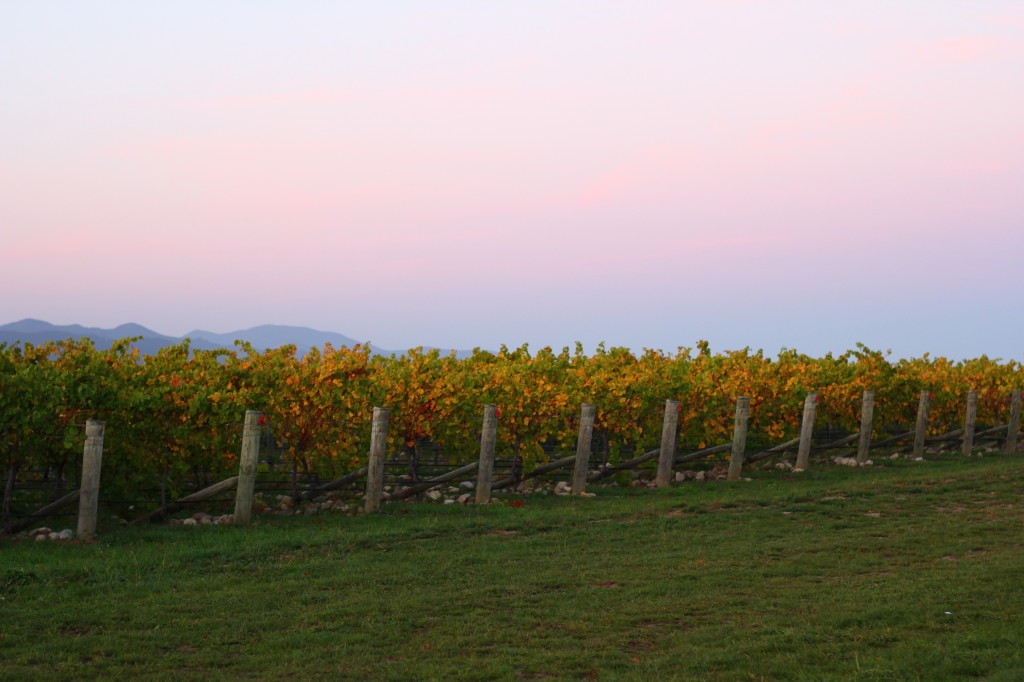 We stayed at the Blenheim Top 10 Holiday Park which was fine. We had already learned that any sites near cities were kind of trashy. The ones out in the middle of nowhere had less people and more natural beauty. It was sad to know our best sites were behind us, but there was wine to be had!
Despite the meh-ness of the site itself, we had a great time tasting the wines of Marlborough, which is famous for it's Sauvignon Blanc. We're not huge white wine drinkers unless it's the height of summer, but Sauv Blanc is one of our favorites. We were willing to take one for the team on this.
We also decided not to do any organized tours this time, and instead drove from vineyard to vineyard. I wasn't about to make the hubs be the sole DD. Instead, we split most of the flights to prolong the day, and we made use of our spittoons if we really didn't love the wine. It all felt very mature, this whole business of not drinking to get drunk. Plus, doesn't Draco look so cute surrounded by vines?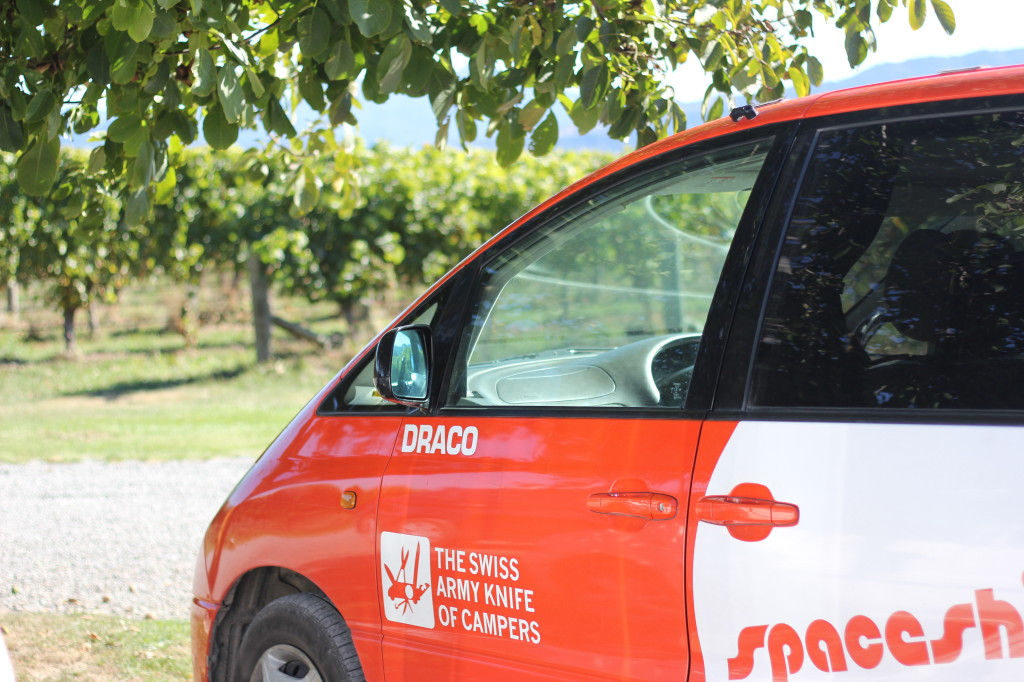 After we left Blenheim, we were advised to head to Kaikoura for the seal nursery.
HOLY crap, best advice ever: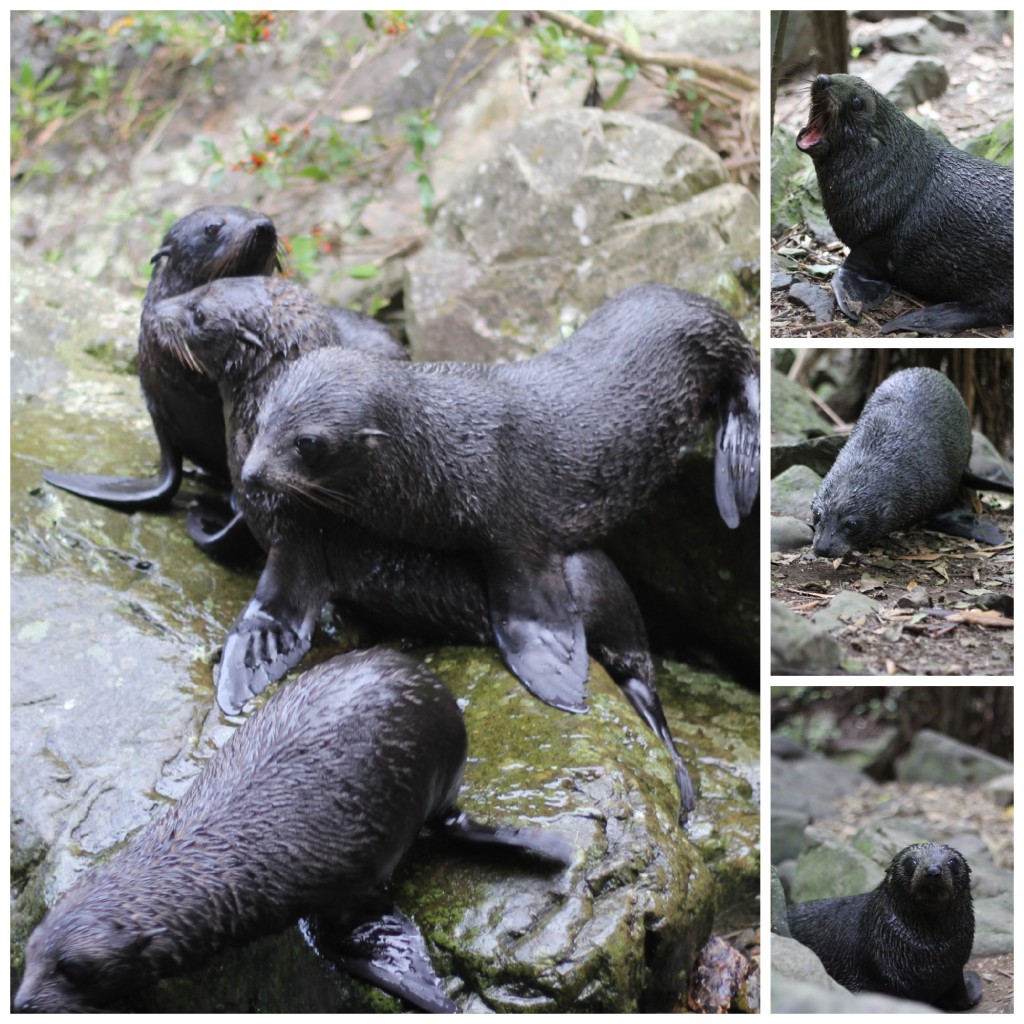 These little baby seals regularly make their way to the same spot and run around, playing and sleeping and snoozing until they decide they want to head back to their parents. It did feel a little invasive, and I'm concerned that it's going to get worse as more tourists head here, but for the most part, people were respectful. One guy was flashing his camera away right in the face of a baby seal, which as usual, bummed me out. Can everyone agree that flash photography and animals—especially wild animals—do not mix?! Please??!
Christchurch
After 12 days on the road, we made it back to Christchurch. Because we stopped for baby seals, like you do, we got there on the later side and again… didn't see much of the city. Clearly still kicking myself, but! We did get to meet up with Kate of RTW Travel Guide and Bethaney of Flashpacker Family, which was so nice.
The Christchurch Top 10 Holiday Park was the epitome of a letdown for our last night, but it was fine. It gave us an excuse to hang out with Draco and not feel guilty for another Walking Dead marathon.
So, would I camp again?
100% yes. I would spring for a larger van, just because quarters were close, but I think this was one of the best ways you can see New Zealand. We felt like we were having the quintessential Kiwi travel experience, because most of the other cars we saw were also campers. We also LOVED the freedom of being able to change plans at literally the last second.
Keep Spaceship in mind if you're considering camping in New Zealand (or Australia!), and feel free to get in touch if you have any other logistical questions.
xo!
the romantic