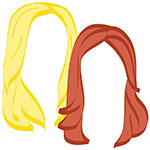 Now that friendsgiving has come and gone (and we can't WAIT to tell you all about it!), we are officially in full on holiday mode: Christmas movies, music, cookies, and decorations are taking over our lives. Most important? Buying up gifts for our nearest and dearests! Naturally, we've assembled our second annual holiday gift guide, chock full of things we adore.
The very best part? This year, we're giving away some of our faves, including a winter wonderland weekend getaway! But let's not get ahead of ourselves just yet. At the end of this post, we'll tell you all about how you can win one of four fabulous prizes.
Without further ado, here are the things we're loving, needing, giving, and… getting? Who knows, we've been pretty good this year!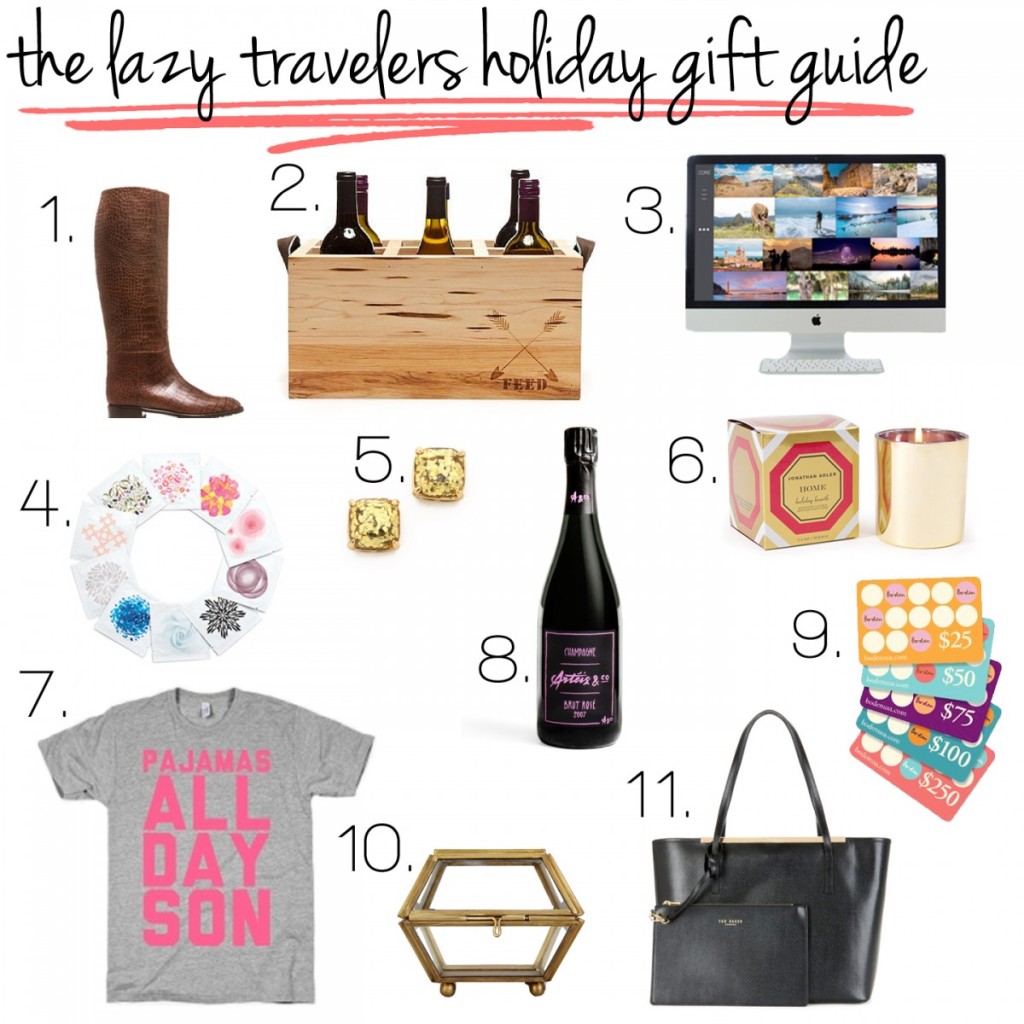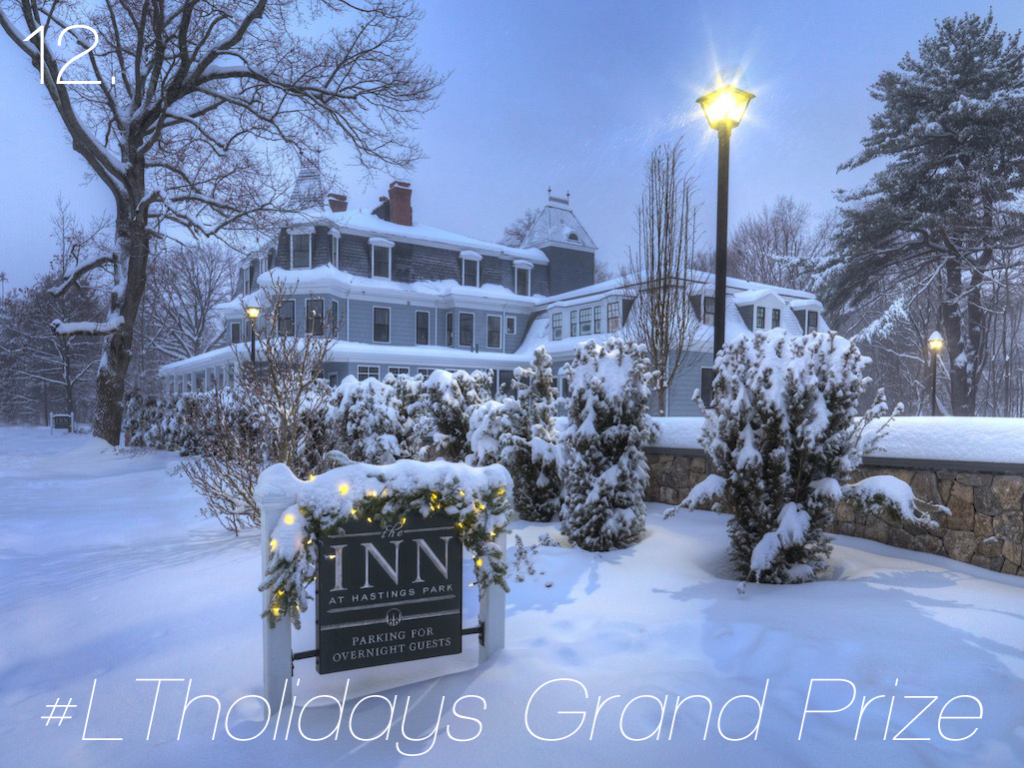 1. Stuart Weitzman Equine Boots, $750 // Let's be honest, here: no winter is complete without a new pair of brown riding boots. They're perfect to dress up or down, and are regularly toted around with us on our travels. This also means that we need a new pair almost every year. This season, we've got our eyes on these babies from Stuart Weitzman (insert tongue-wagging emojii here). And! Lucky for Santa, Stuart Weitzman's Fall/Winter sale begins today!

2. FEED x West Elm Wine Crate, $99 // Now that we've settled into our newest apartments, we're pretty obsessed with decorating. Mainly, where on earth do we keep the wine?! We're long-time fans of both West Elm and Lauren Bush Lauren's social business, FEED. So when we learned that they paired up to create this beauty, we were sold.
The very, very best part?? One wine crate purchase provides 47 meals to Americans in need. FEED has put together a little gift guide of their own, complete with more FEED + west elm items, so be sure to check it out.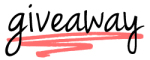 3. 1-Year Gift of SmugMug, $40/year // Recently, the romantic was invited to a photography workshop hosted by Nikon and SmugMug. Along with taking some fancy snaps of the holiday decor on Regent Street, she also learned about SmugMug's photosharing services. We are both now, obviously, completely obsessed.
We have since put together our own site. We're excited to continue to upload our favorite travel photos all to one, easily shareable place. Starting at only $40/year for unlimited storage, it's the perfect gift for the photographer in your family. Plus, it's an instant cure for the constant "can you send me those photos???" question.
++ One reader will win the Gift of SmugMug, and receive one free yearlong subscription. ++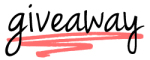 4. Pinrose Petal Packs, $20 // We first heard of Pinrose from our friend Francesca at The Working Mom's Travels, and have since spotted our new must-have travel item in Martha Stewart Living and on Refinery 29. If you're like us, packing can be a real freaking nightmare. Adding a delicate bottle of perfume is a disaster waiting to happen. Pinrose's petal packs are easily packable (and we know this for a fact, because the wino packed 'em for #LTlondontown!) and allow you to bring multiple scents on one trip. Or, if you're not afraid to commit to just one bottle, you can take their online test! It's an easy way to find out which scent matches your personality best. We both got Merry Maker, in case you were wondering, and this weekend, the romantic successfully sported Sugar Bandit. Success all around!
++ Three lovely readers will win a Sample Starter Kit, featuring 7 of Pinrose's scents! ++

5. kate spade new york Boxed Glitter Stud Earrings, $38 // Gold glitter earrings? Sign us up. These are sure to glisten like the new-fallen snow, and give the luster of mid-day to your champagne below. …See what we did there?
6. Jonathan Adler Holiday Hearth Candle, $38 // We're not lying when we say that this is, hands down, the very best scented Christmas candle out there and perfectly festive in red and gold. Perfect for stuffing stockings.
7. Pajamas All Day Son T-Shirt, $44 // When you're too lazy to even tell people how lazy you're feeling. Need we say more?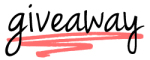 8. Arteis & Co. Brut Rosé 2007, $62.50 // There's nothing we'd rather see under the tree more than a bottle of bubbles, and after the romantic was introduced to this label during her year in France, this one would make us happier than all the rest. Though it's perfect for toasting on New Year's, we recommend leaving it for Santa, along with some freshly baked cookies. Because seriously guys, milk is overrated.
++ Because we love you almost as we love champagne, one lucky reader will win a bottle of Artéis & Co! Please note that the winner of this item must be 21 or older, and reside in Europe or select states in the USA. Due to shipping limitations, residents of Alabama, Arkansas, Delaware, Kentucky, Massachusetts, Maryland, Maine, Montana, New Hampshire, Nevada, Oklahoma, Pennsylvania, Puerto Rico, South Dakota, Tennessee, Texas, Utah, Vermont, and West Virginia are not eligible. ++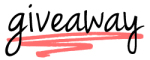 9. A Boden Shopping Spree, $25+ // Often, we hear misguided advice that giving gift cards isn't personal, but we disagree! As two girls who love to shop (um, clearly), we adore when we're given the gift of a guiltless splurge — especially to a store that we're known for loving! Lately, we've had our eye on the winter line at Boden, possibly because of their British roots and our growing love for all things England. Ok, fine, definitely because of those things. Drop a $25 into his or her stocking, or watch their face light up with $250! But don't get mad if you're suddenly ignored while your lucky little shopper gets sucked into the  how-to videos and other goodies on the Boden.com site…
++ One lucky winner will win a $100 gift card to a Boden shopping spree of their own! Pay it forward or splurge on yourself, we approve either way. Please note that the winner of this item must reside in the United States. ++
10. #thewino's pick :: Faceted Glass Vanity Box, $14 // With her past professional life devoted to accessories, the wino has an absurd amount of bangles, baubles, and trinkets lying around her apartment. It'd be impossible to find a way to organize them all, but storing her jewelry in glass containers like this would make finding the right piece a whole lot easier in the morning!
11. #theromantic's pick :: Ted Baker ISBELL Crosshatch shopper, $250 // This might be a little bit more of a splurge item, but now that she's an honorary Londoner, the romantic is officially in love with all things Ted Baker. Plus, the good old Longchamp is looking a little tired after a year of zipping around Europe, so this is the perfect occasional stand-in.
12. A Night at the Inn at Hastings Park, $255/night for a deluxe room // It wouldn't be a Lazy Travelers' holiday without the gift of travel! We loved our stay at the Inn at Hastings Park so much that it was our inaugural #LTSelects feature. Though we visited Lexington during the summer, we would adore a return to scenic New England this winter, where you can cozy up next to the fireplace in the Inn's guest rooms and dine on local seasonal delicacies at Artistry on the Green.
++ One reader will be treated by our friends at the Inn to one complimentary overnight stay (breakfast included). And, because it's the season of giving, they're offering ALL of our readers a 15% discount off rooms booked from January 1st through February 28th, 2015 (excluding Valentine's Day weekend). Use code LT-HOL when booking. ++
Now, the important stuff!

PLEASE NOTE THIS GIVEAWAY IS NOW CLOSED. WINNERS CAN BE FOUND HERE.
HOW TO ENTER: Leave a comment below naming which gift you would most love to give or receive this season.
FOR EXTRA ENTRIES!: Share this post on Twitter or a pic of your favorite item on Instagram, and use the hashtag #LTholidays. We'll keep tabs, and all shares will count as one extra entry in the giveaway. And don't forget to follow & tag @lazytravelers!
Winners will be selected randomly, announced on our Facebook page on December 15, and contacted directly.
xo!
the romantic & the wino
Save