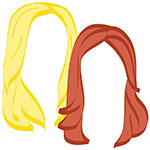 ***This holiday gift guide giveaway is now closed. Congratulations to our winners!***
It's that time of year again! That wonderful, wonderful time when cookie calories don't count. When the air feels crisp and cool and smells slightly of ember! Best of all, this is when it's perfectly acceptable social behavior to lock yourself inside, pile on the blankets, and then watch The Grinch Who Stole Christmas on repeat. ALL WHILE YOU READ our 2016 holiday gift guide, but of course!
(We're ignoring America's actual Grinch(es), and focusing only on the good we and those around us are doing. In the spirit of the holidays, we strongly recommend you do the same.)
SO, because it's important to reward good behavior, we're rounding up a list of things we're giving to our nearest and dearest this holiday season.
And, yes, as always, keep on reading, because we're giving away a few of our faves!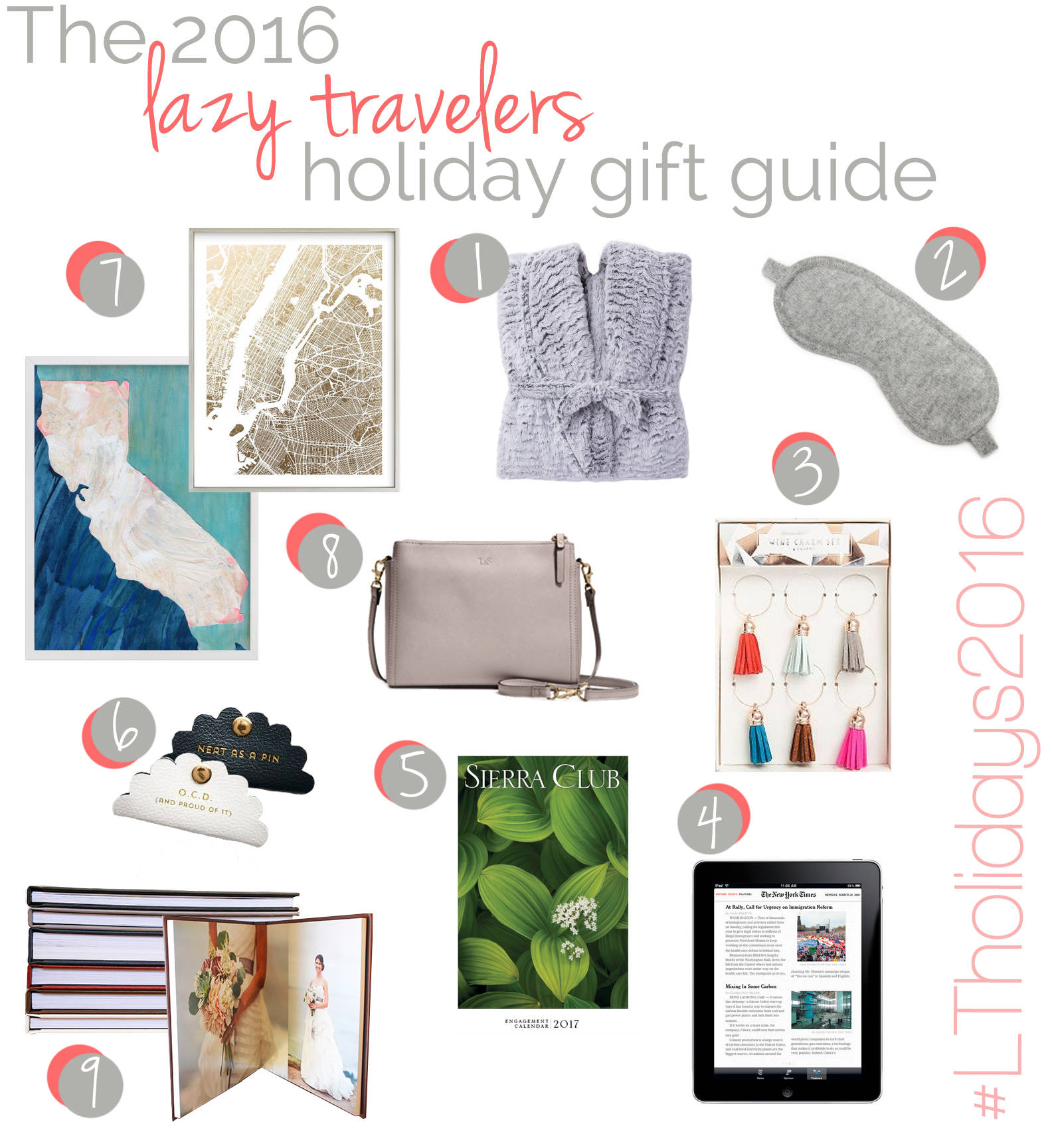 1. for the couch potato // Luxe Marble Long Robe, $99, Soma Intimates – We don't know about you, but one of our favorite things to do while traveling is lounge around our hotel rooms in a big, plush robe. Why not bring that feeling home with an oversize robe, which practically screams "I'd rather be in a hotel spa"?
2. for the dreamer // White + Warren Cashmere Eye Mask, $85, Shopbop – Whether on a long-haul flight or sleeping in on the weekend, we've become a big fan of eye masks. How else do you expect us to wake up looking so refreshed after a red eye? We're currently lusting after this luxe cashmere mask from White + Warren, but for those that may not take their naps as seriously as we do, we're also loving this budget friendly version from Banana Republic.
3. for the hostess with the actual mostess / Tassel Wine Charms, $12.95, Paper Source – Host and hostess gifts normally feel a bit uninspired. Wine? Been there, done that. Homemade cookies? Join the club. This year, stand out among your fellow party guests by bringing along these adorable wine glass tassels. Help the host or hostess differentiate their guests' glasses during the party!
For other host and hostess gift ideas, we love these mulled wine spices and these neat wine cooling beads that cool down your glass of wine without diluting it, both from Terrain. Anyone notice a theme here?
4. for the well-informed reader // Subscriptions to The New York Times, The Washington Post, or Newsweek, because now, more than ever, it's important to both support high-quality journalism AND make sure others (ahem) know that these industry staples are vital and thriving. Also, digital subscriptions are possible and encouraged, but gifting the actual iPad is up to you. (Do it.)
5. for the nasty women (and bad hombres) // As promised, we're making good on our decision to donate to the causes that matter most. Since November, we've individually pledged donations to Planned Parenthood, the ACLU, and the Human Rights Campaign.
Now, in honor of the future trips we hope to take to visit our national parks, we're showing our support for the the Sierra Club, with a donation on behalf of all of our readers! If you're doing the same, we kinda love the idea of giving something tangible, and including their 2017 Engagement Calendar.
6. for the techie // Scalloped Cord Keepers, $8.95, Paper Source – Opening our carry-ons after a flight and spotting a tangled mess of cords, chargers, and wires is enough to make us totally bonkers. No matter how we divide and store our tech accessories, they just end up in one big, jumbled pile after a long travel day. We're hoping these cord keepers help to keep us and our bags organized and tidy. Plus, they're freaking adorable.
If you're looking for additional cords to keep organized, we're kind of obsessed with these rose gold earbuds from Urban Outfitters.
AND NOW!

The items we're loving so much, we're giving them right back to you…

7. for the home decorator // Minted.com, prices vary – We've long loved Minted's stationary, but we've recently been introduced to their home decor section… and now we're straight up obsessed. We're in love with, well, pretty much everything, but what would be better than adorning our friends' walls with one of Alex Elko's foil-stamped city maps or an abstract state painting by Denise Wong?
TO ENTER: Minted has kindly offered TWO of our readers $125 gift cards! This one is a little bit different than past contests, so pay attention! Are you ready?? Just…  go here and enter your first name, last name and email address. That's it! This link + three little boxes and you're entered. BON CHANCE!
8. for the style spotter // Lo & Sons Pearl Crossbody, $248 – You may remember from our trip to Portugal that we were totally obsessed with the Lo & Sons Pearl crossbody this summer. So much so that we didn't even mind carrying it at the same time. Well, guess what, fashionistas? Not only are we sharing our pro styling tips, but we're giving away a Pearl to one lucky reader!
9. for the memory keeper // Nations Photo Lab Album99, prices vary – One of our favorite gifts to give AND receive is a photo. Whether it's a framed print or a glossy album, we love looking back at our memories throughout the year with our loved ones. Nations Photo Lab offers a variety of print options, but our favorite is the fully customizable Album99, which is about half the price of other professional quality photo albums.
If you're eyeing up Album99, too, then act fast! The order deadline for Christmas deliveries is December 7th… but we're also big fans of printing out a cute IOU, and maybe even working on the book together? Who doesn't love the gift of spending time with us?
The Official Giveaway** Rules
HOW TO ENTER: For your official contest entry to win either a Lo & Sons Pearl Crossbody OR a Nations Photo Lab Album99, leave a comment below naming which of our giveaway items you would most love to give or receive this season.
To submit your official contest entry to win one of two Minted gift cards, go here and fill out the easy, breezy form.
FOR EXTRA ENTRIES!: And lastly, for THREE (!) extra entries for the Lo & Sons Crossbody or Album99, pop on over to Instagram and post a photo of your favorite holiday decorations around the globe! But don't forge! To qualify, be sure you're following @lazytravelers, and tag your photo with #LTholidays2016 in your caption so we can see it. We'll be re-gramming our favorites over the next few weeks!

Winners will be selected randomly and contacted directly, so don't forget to keep an eye on your inboxes!
merry merry!
the romantic & the wino
– Thank you to our giveaway partners for joining us for our #LTholidays2016 gift guide! All giveaway items are 100% approved for lazy travelers.

Save
Save
Save
Save
Save
Save
Save
Save
Save
Save
Save
Save
Save
Save
Save
Save
Save
Save
Save
Save
Save
Save
Save
Save
Save
Save
Save
Save
Save
Save
Save