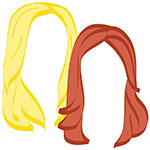 Something we're often asked about is our travel day essentials. Figuring out what to pack for an entire trip can be hard! But knowing what to bring along the day you're traveling… and especially for a long-haul flight?
We have that part down pat.
This is particularly timely over here, because wheels up, lovelies. It's travel day! Assuming all is going according to plan, the romantic is en route from London to Philadelphia, where she and Jeff will meet the wino and Sean for our epic weekend journey to San Francisco.
So, here's what's coming with us this time.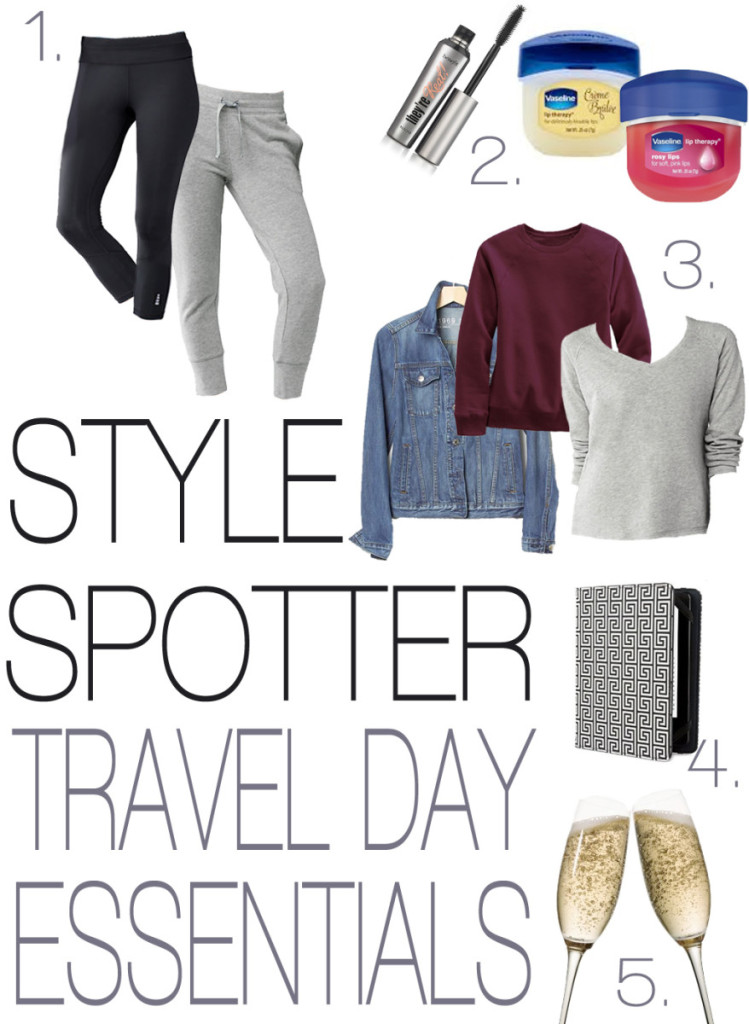 #1. Comfy Pants
We wish we could have lasted during the Golden Age of Travel. It's glam to picture women teetering down the aisles in sky high stilettos and perfectly coiffed hair. But we also realize just how RIDICULOUS THAT IS. Comfort is our number one priority one hundred percent of the time, whether or not it's a travel day. The last time we wore anything BUT comfy pants on a flight was… ???? Trick question: never.
Any type of elastic waistband will work, but we're partial to the stretchiest and the comfiest. Whether it's jeggings, black leggings, or sporty sweats, we're golden. Really, as long as we can sit comfortably in our plane seats, we're happy.
Special shout-out to latest from the Lands' End Activewear Collection, because high quality fabrics and flattering shapes means with the right accessories, we can pull together a more cohesive look. You know, pieces that say we're wearing our pajamas in public on purpose.
#2. Beauty must-haves
We largely go make-up free when traveling to help prevent breakouts. But… we're too vain to go totally bare. Instead, we punch up our natural beauty (just go with it, guys). We have two beauty must-haves that we bring along on every trip: mascara and a good chapstick.
To prevent our lips from drying out in the stale airplane air, we make sure to apply a good lip treatment. There are plenty of fancy options out there, but sometimes, it really is best to go back to basics. We load up on Vaseline® Lip Therapy® before and during our flight, and because it costs basically nothing, we can afford to. The small packable containers are perfect to throw in your carry on, and they come in a variety of different flavors and scents like Cocoa Butter and Crème Brûlée. For those that like a more polished look while flying, there's a rose-tinted variety as well.  Stock up, travelers!
When it comes to mascara, we've tried… pretty much every brand on the market. While Diorshow was her old go-to, the romantic now swears by They're Real! by Benefit. Don't let the name throw you, we're aware that it's literally the worst.
Shop our picks // Vaseline® Lip Therapy®, Walgreen's, $1.79 / They're Real! Mascara, Ulta Beauty, $24
#3. Layers (and layers and layers)
There's nothing more uncomfortable than sitting on a long flight and being too hot or too cold, which is why we're big advocates of layers on travel day.
For this trip, where we're flying from one frigidly cold coast to a much warmer one, we're opting for warm but lightweight sweatshirts from Lands' End. For an extra layer of warmth in-flight, a light jacket or a large wool scarf or wrap always does the trick. Plus, remember that thing about adding accessories to tie a look together? Layers are key, friends. Layers. are. key.
Shop our picks // Women's Crew Sweatshirt, Lands' End, $25.00 / 1969 Denim Jacket, GAP, $69.95
#4. Entertainment
We'd be perfectly content chatting up each other and our husbands for the entire flight, but out of respect for all the other passengers that aren't clued in to our inside jokes and questionable humor, it's good to have an entertainment backup.
We always pack our kindles (we're both currently reading this, inspired by our girl Empress Sisi), complete with cute Kindle covers, of course. While this may seem slightly indulgent, it does serve a real purpose. Much like a flashy passport cover, a bold print or bright color ensures we'll be able to find our devices… even if they're buried way at the bottom of our bags.
Shop our picks // Amazon Kindle, Amazon.com, $59.00 / Jonathan Adler Kindle Cover, Amazon.com, $29.99
#5. Treat yo'self 
Let's face it, traveling can be stressful. Flight delays, take-off and landing jitters, turbulence, uncomfortable seats, and obnoxious fellow passengers are just a few of things that give us travel day rage. It's important to take care of yourself when traveling,  and that can mean splurging on a good pre-flight meal or a glass of bubbly in the air.
With our bags packed and our travel day essentials ready to go, all we have left to do is enjoy a drink from the airport bar. We're coming for you, San Francisco!
xo!
the romantic & the wino
– This post was written in partnership with Lands' End and Vaseline® Lip Therapy®, and contains affiliate links. Though we may receive a small commission should you purchase some of the above items, all opinions, including those focused on extremely comfy waistlines, are our own.