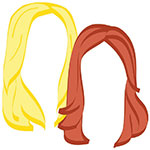 One of our favorite parts of traveling is eating… obviously. I mean, doesn't that go for everyone?
Prior to our trip, we had a pretty good idea of what to expect: cheese, chocolate, more cheese, maybe some more chocolate, definitely more cheese. Though we certainly got our fill of both, we happily made a few additions to our list of Swiss staples–they can eat, that's for sure.
Raclette and Fondue!
We were told by B&K that we had to try raclette long before we touched down in Switzerland. Before dining at Le Caveau in Verbier, all we knew was that raclette involved cheese and possibly potatoes, which was enough to sell us on the idea that raclette had to be our first official Swiss dish (and maybe every Swiss dish thereafter).
After après ski and a very cold–but very charming–walking tour of Verbier, we were assured that Le Caveau was the place for raclette. We happily agreed to try the truffle fondue along with the raclette, but were somewhat puzzled when we were handed a plate of melted cheese, a side of sliced beef, and a basket of boiled potatoes. Not knowing the proper raclette etiquette, we started by dipping the boiled potatoes in the melted cheese. So simple, and yet so…absolutely delicious? When the raclette man (is there an official name for this, Swiss food connoisseurs?) came over to take our plate for seconds, we asked his advice on the proper and more ladylike way to eat raclette (there isn't).
Cameras in hand, we then asked if he could demonstrate how they made the raclette, and he happily obliged: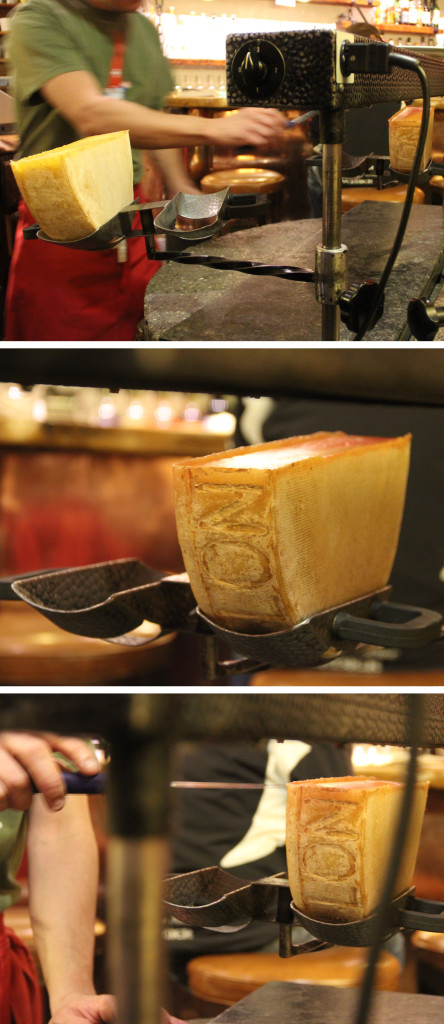 After warming the cheese under a flame, they then scrape the top bubbling layer onto a plate.
And thus, our dream of owning a raclette machine of our very own was born.
Between three plates of raclette and a huge bubbling pot of literally THE MOST DELICIOUS fondue we've ever eaten, we reluctantly put a stop to the never-ending plates of cheese. We were told by our new friend that the average diner ate around 7 plates (like, how? we had THREE!) and the record at Le Caveau was 37. Ce n'est pas possible!
Final verdict: More, please.
– Here is where we note that we were guests of Verbier Tourism, and our dinner at Le Caveau was included in our grand tour. We can assure you that opinions are 100% our own, and we would dine again at Le Caveau without batting an eye. Do note that we could be considered slightly biased, but only because we have a strong and unhealthy adoration for cheese.
Rosti
We did pretty well parlez-ing the francais for most of our trip, but when we had lunch at Brasserie Bavaria in Lausanne, we were a little thrown off by the German/French mash-up of words. We couldn't quite decipher everything on the menu so we went with what we knew–chevre chaud (hot goat cheese, ahthankyou) and soupe de pommes de terre (potato soup, mmmmk).
Though our lunch was delicious, right as we were finishing, the women next to us were handed two heaping plates of what looked like potatoes with cheese and fried eggs on top. For research's sake (and, fine, for our tummies' sake, too) we had to ask what they were eating. Rosti!
Apparently Rosti is considered a national dish of Switzerland, and is commonly made up of grated potatoes, much like the American hashbrown, though entirely more delicious-looking. After our lunch in Lausanne, we went on a hunt for rosti everywhere. And failed.
Final verdict: MUST TRY THIS. Does anyone know of a restaurant in NYC that serves rosti?
Coffee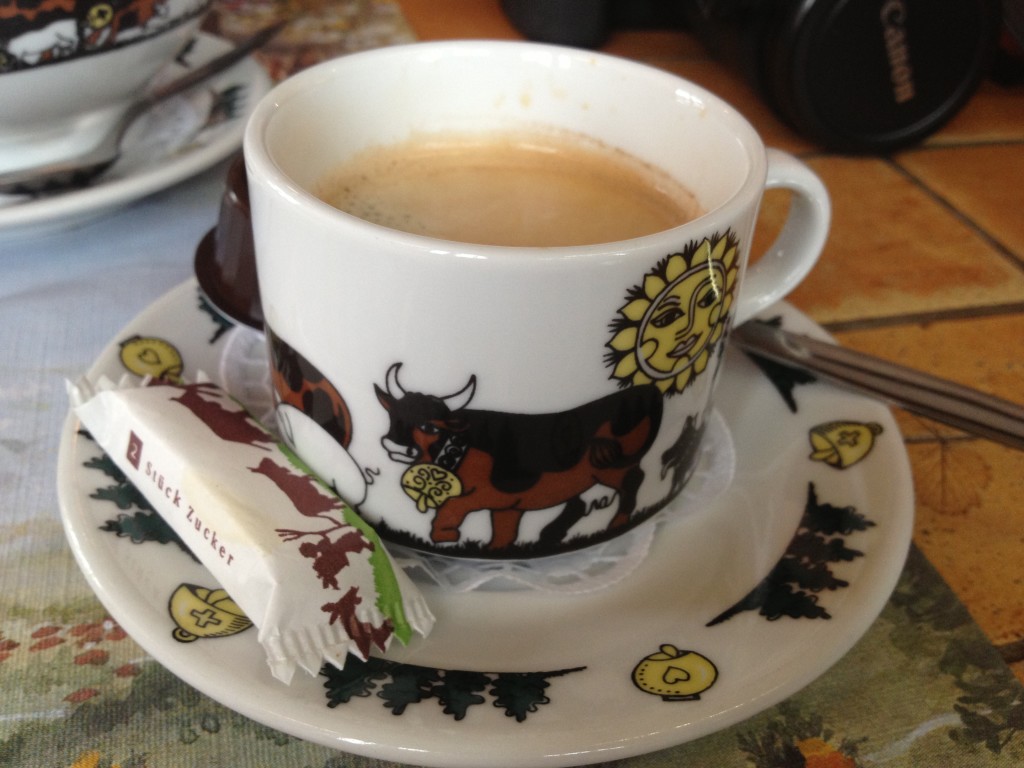 Not to sound pretentious, but no one serves coffee better than the Europeans. Though the romantic only drinks coffee from time to time, the wino regularly starts her day with 3-4 cups of joe. Upon our arrival in Geneva, both of us grabbed a coffee before getting on the train to Verbier, and nothing, nothing, nothing could have been a better indication that we had finally touched back down in Europe.
Final verdict: We'll miss you European coffee. Very, very much. Back to our regularly scheduled New York variation.
Relais de l'Entrecôte
One of the romantic and the hub's favorite spots in Paris is the famous Relais de l'Entrecôte, which they happened upon somewhat mistakenly when staying in St.-Germain-des-Prés. When we noticed a Relais in Geneva on our first night, it was no contest on where we were stopping for dinner. We arrived about twenty minutes after they opened and the line was already out the door. After waiting (somewhat patiently) until we could finally snag a tiny table, we sat down, told our server how we like our steak cooked, and waited for their signature steak frites to start rolling in.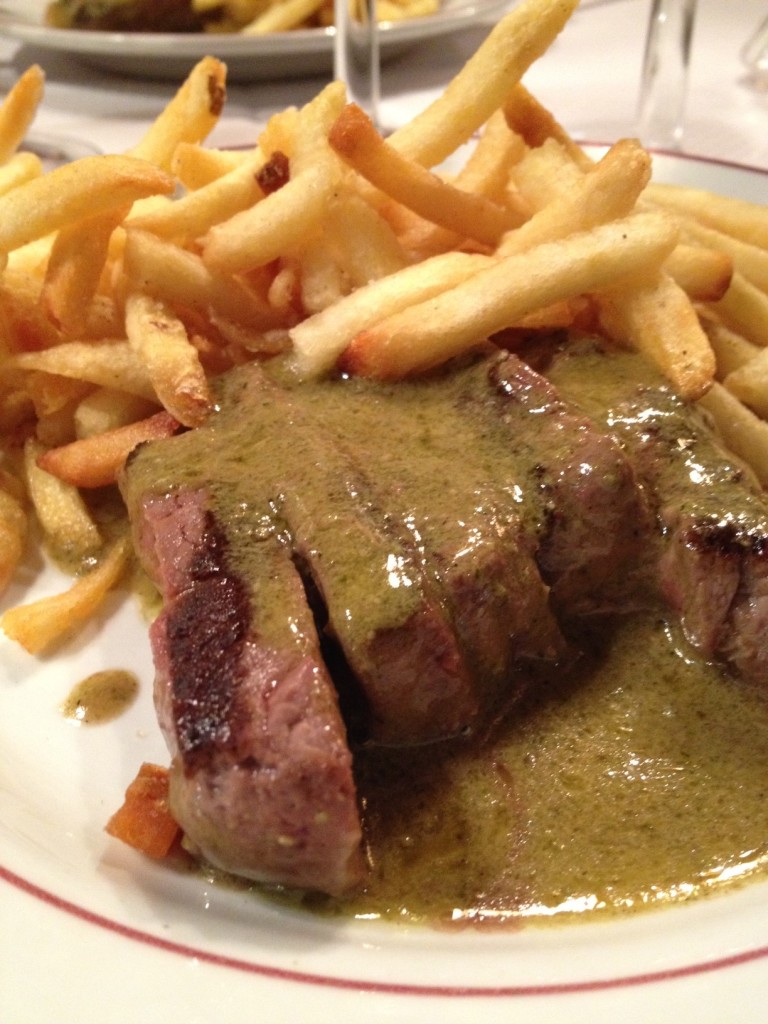 Best news: they keep refilling your plates until you tell them otherwise.
Final verdict: Don't expect smiles or stellar service from the staff (we were shamed for ordering a second bottle of wine), but do expect all you can eat frites and perfectly cooked steak.
Meusli
Along with coffee, Europeans just have a better grasp on breakfast. While we're used to shooting out of bed, grabbing something on the go (if we even have breakfast at all), and sitting down at work just in the nick of time, Europeans seem to cherish their mornings. Take, for instance, our breakfast at BnB Lausanne: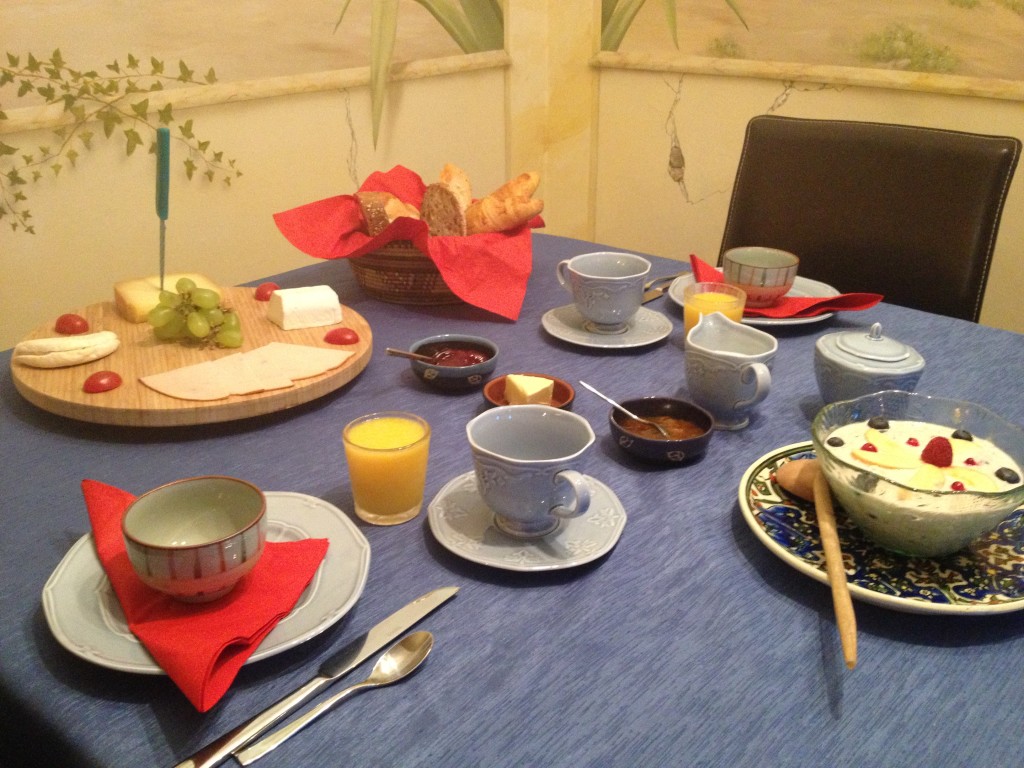 Breakfast for two: fresh bread, cheese, fruit, orange juice… and muesli!
Our host explained that muesli is made up of oats, yogurt, and fresh fruit, was developed by a Swiss nutritionist in the early 1900's and has, over time, become a staple. Though it was the perfect breakfast food, she noted that most families always keep muesli on hand and will have it as a light snack or lunch–especially in the summer. We have yet to make muesli at home (yeah, we fell back into old morning habits real fast upon return), but we swear that someday we'll make it a staple in our homes, too.
Along with plus de croissants, pain au chocolat, a mug or two of hot chocolate, and cheese in various other forms, we left Switzerland with pants that fit a little tighter… but it was worth it.
xo!
the romantic & the wino