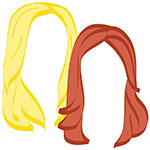 If you're curious why we've taken so long to start writing about our #LTsouthafrica trip, we have two very legitimate excuses:
1. Our lives have been a bit topsy turvy the past few weeks… read: very, very busy.
2. More importantly, every time we think back on our week in South Africa, we get such a strong pang of nostalgia that it physically HURTS us not to be there.
It was, for so many reasons, an absolutely unforgettable trip, and starting today (finally!), we've made a pact to push past all those wanderlusty twinges of nostalgia and start to share our stories.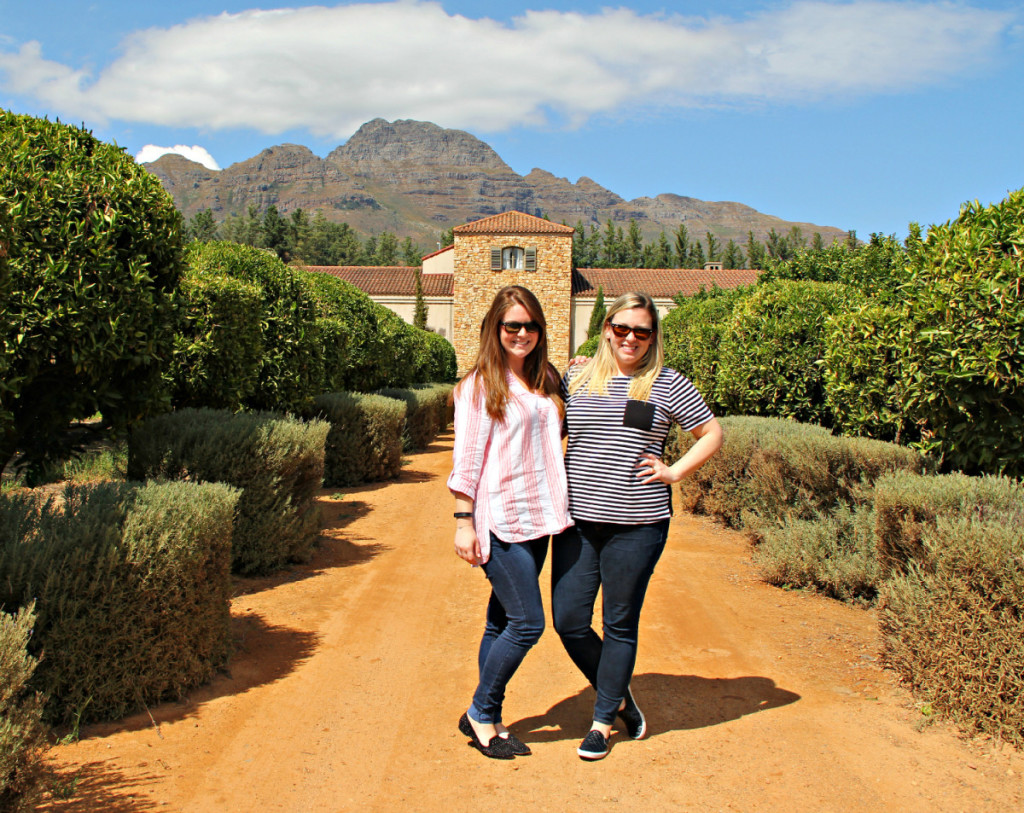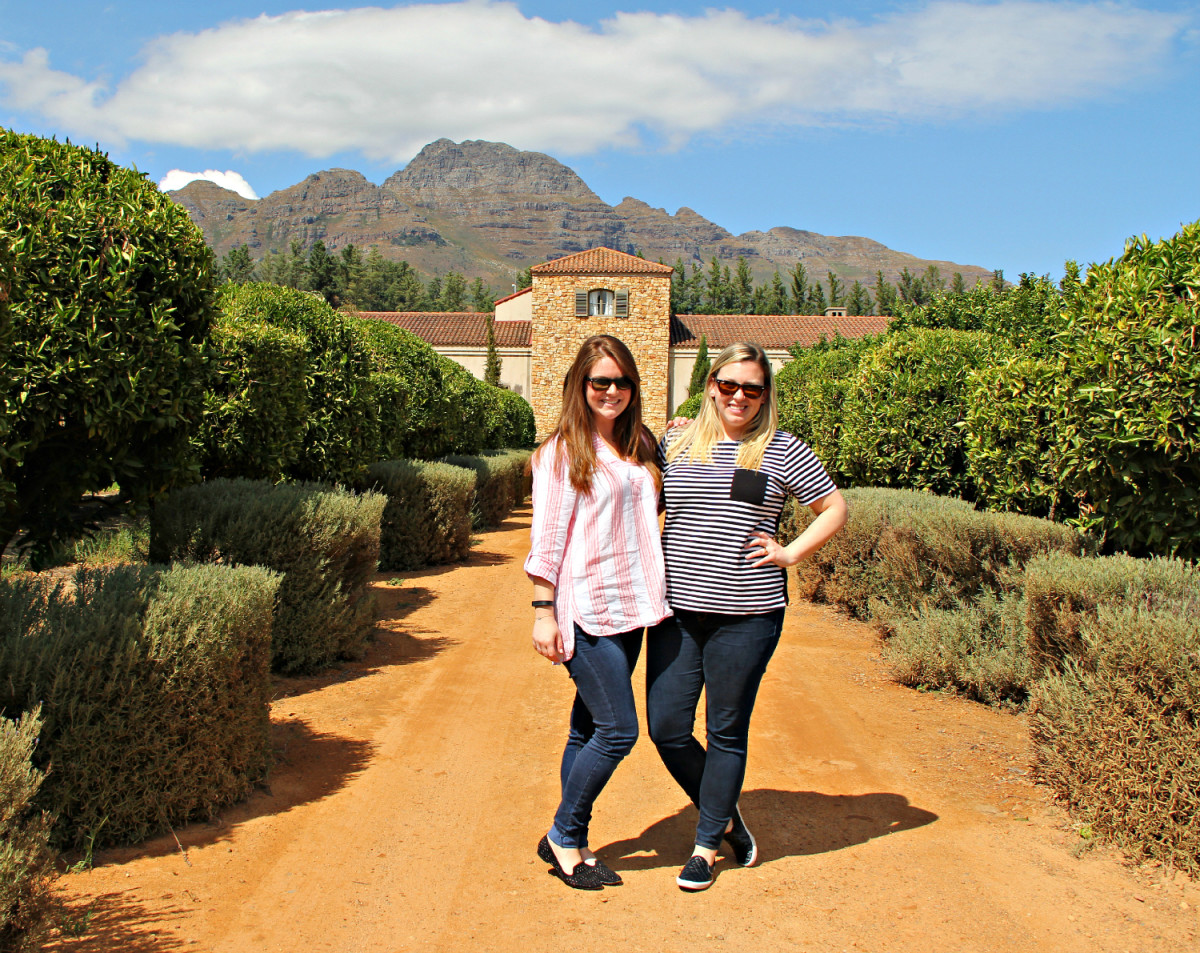 We can't think of a more perfect place to start our story-telling than with our 24-hour adventure through the Western Cape's wine region. If you remember, we had just visited another world-famous wine region at the beginning of the month, and we were ready to put our new-found wine knowledge to the test (…though seriously, still, wtf are tannins??). Having never been to South Africa, coupled with the fact that like, we're pretty lazy and tend not to do too much advance planning, we relied on the help of luxury travel and voluntourism company, Hands Up Holidays, to create a tailor-made itinerary for us.
After an almost 12-hour overnight flight from London (tacked on to a 7-hour flight from Philadelphia for the wino), we landed in Cape Town bright and early on Saturday morning. Met at the airport by our Hands Up Holidays tour guide, Janise, along with Hilda and Michael from Newkidz on the Block, we set off to get our first glimpse of Cape Town and the surrounding wine region.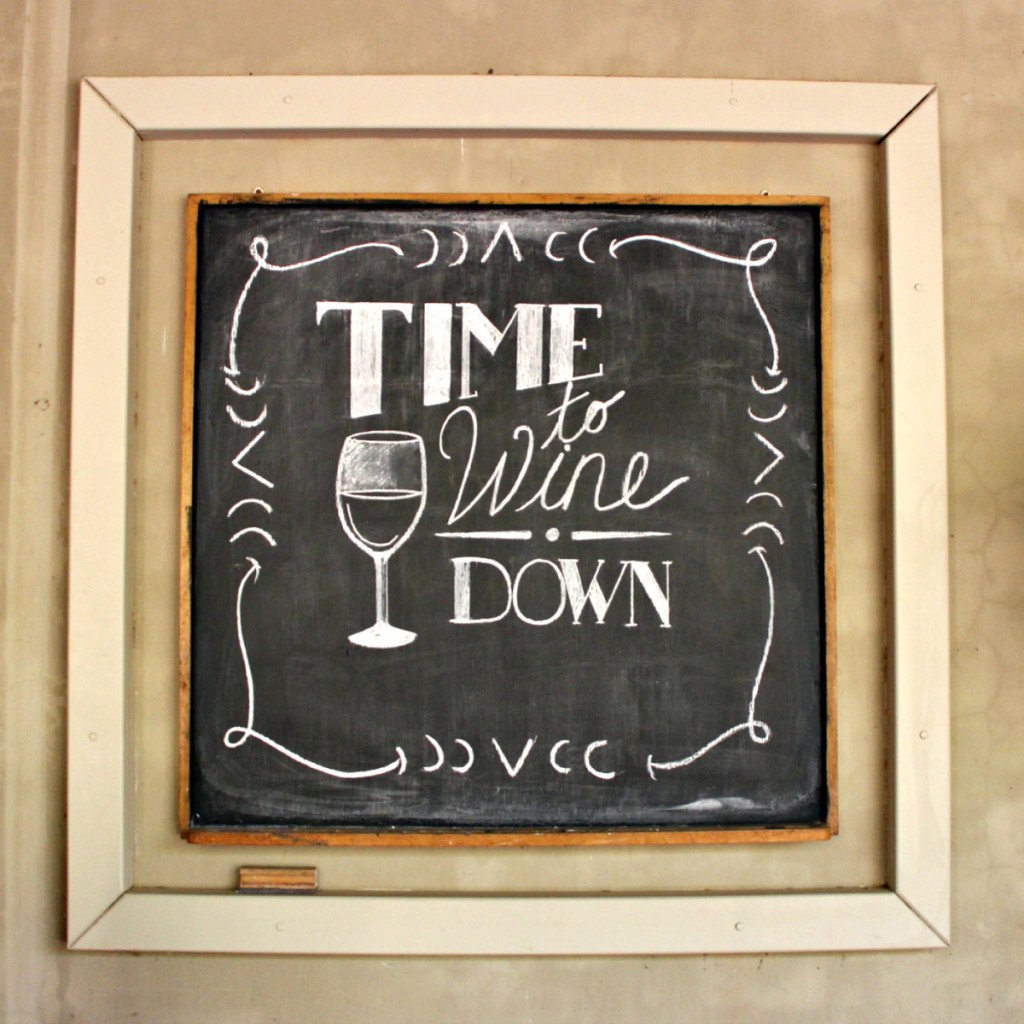 Before starting our day of wine drinking our way around the Western Cape, Janise very responsibly suggested we go out to breakfast and fuel up on much needed coffee and breakfast. The short drive from the airport into the center of Cape Town, with the sparkling ocean to our right and Table Mountain to our left, was the ideal first peek of this new-to-us city. After a quick driving tour, we parked along a street filled with Cape Town's well-known brightly-colored houses and found a breakfast spot where we could sit outside and enjoy the warm breeze. After stuffing ourselves with french toast, eggs, and copious caffeine, we hopped back in Janise's car for the one-hour drive out to Stellenbosch, one of the Cape's most popular wine regions.
Waterford Estate // Stellenbosch | During our scenic drive, Janise provided insight into the history of the region and its colonial past. After a quick tour of the historic town of Stellenbosch and its surrounding vineyards, we made our way to our first tasting of the day. Turning the corner onto the Waterford Estate, we were reminded of Tuscany or Southern France, and yet still, there was something distinctly different from any other place we had visited before.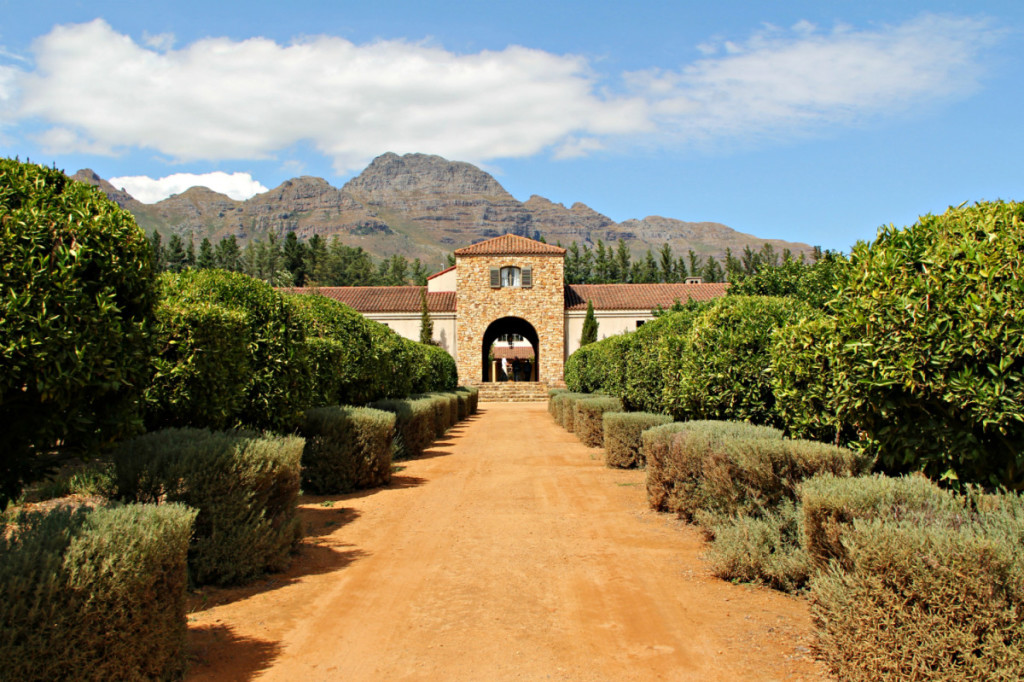 Rows of citrus trees lined the long driveway to the massive terracotta and stone winery. No amount of jetlag could deter our excitement as we took in the surrounding lavender fields and mountain ranges. We were IN AFRICA, YOU GUYS.
Because it was early in the day (no shame), the winery wasn't too hectic and we settled right down for our tasting in the interior courtyard. Hands Up Holidays arranged for us to experience Waterford's signature Chocolate and Wine pairing, which won us over tout de suite!  Our server brought us three glasses of wine — a Shiraz, a Cabernet Sauvignon, and a Natural Sweet — accompanied by three custom made chocolates, dreamed up by Waterford owner Kevin Arnold and Chocolatier Richard von Geusau. After briefly explaining each pour, he left us to savor the pairing and enjoy the beautiful setting on our own, which was very appreciated by four tired and jetlagged girls.
Also worth noting, every single staff member at Waterford was more attractive than the next. Assuming that it has something to do with drinking so much of their wine, we may or may not have all purchased bottles to bring home for ourselves.
Delaire Graff // Stellenbosch | Our day of wine hopping started off strong, and we didn't think the scenery could get any prettier until we drove up the winding drive to Delaire Graff. We urged Janise to pull over halfway up the drive so we could jump out and get pictures of the stunning Stellenbosch Valley.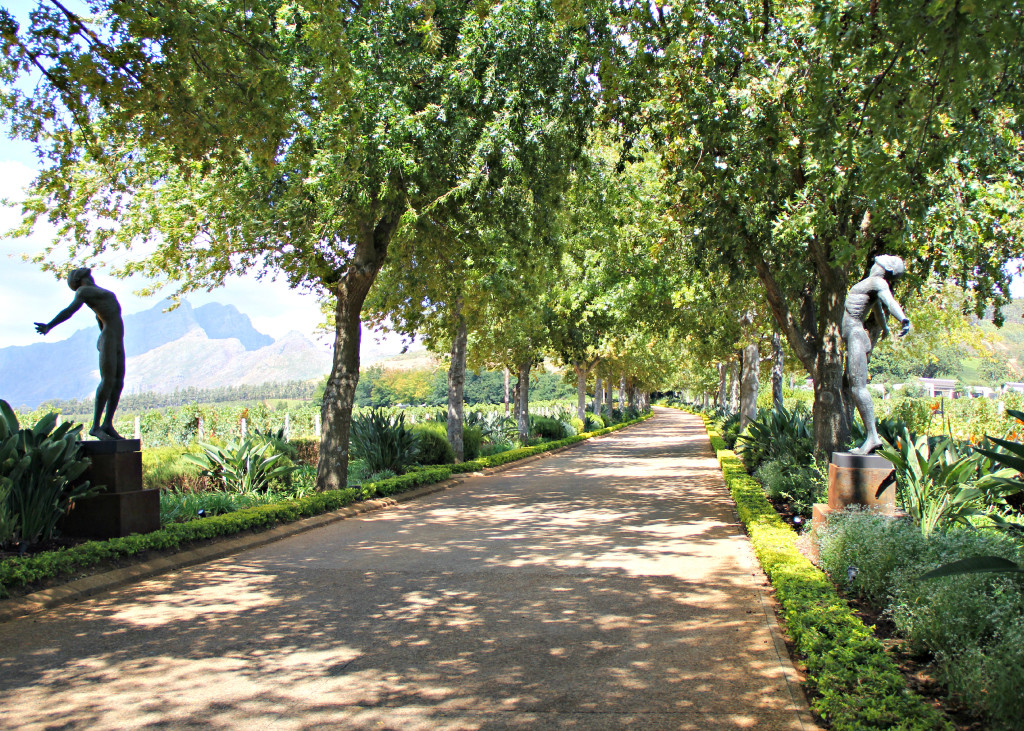 Nestled between mountains, the quiet, secluded, Delaire Graff overlooks acres of the lush valley, which was green with blooming vines and olive groves. If there's one place in the world to kick you feet up with a glass of wine, this is it.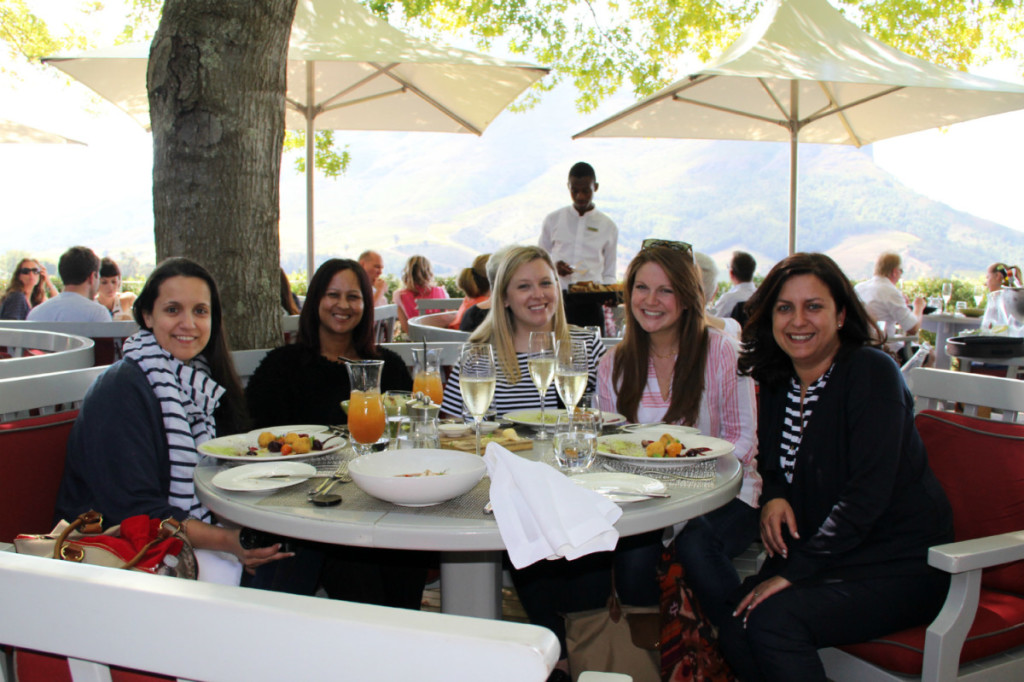 In need of some sustenance after our drive and wine pairing, we opted for lunch on the terrace of Delaire Graff Restaurant. Here, we sipped on their sparkling Sunrise Brut MCC and homemade iced tea while trying out some of their signature dishes.
Môreson // Franschhoek | Stuffed from our delicious lunch at Delaire Graff, it was on to our next and final tasting at Môreson in the neighboring region of Franschhoek. Smaller than both Waterford and Delaire, Môreson's family run history is evident in its warm and friendly atmosphere. We sat a quiet table in the shade while Janise arranged for a tasting. Our server at Môreson talked to us like old friends while he poured us overflowing glasses of wine, perfectly exemplifying the cozy family atmosphere of the farm.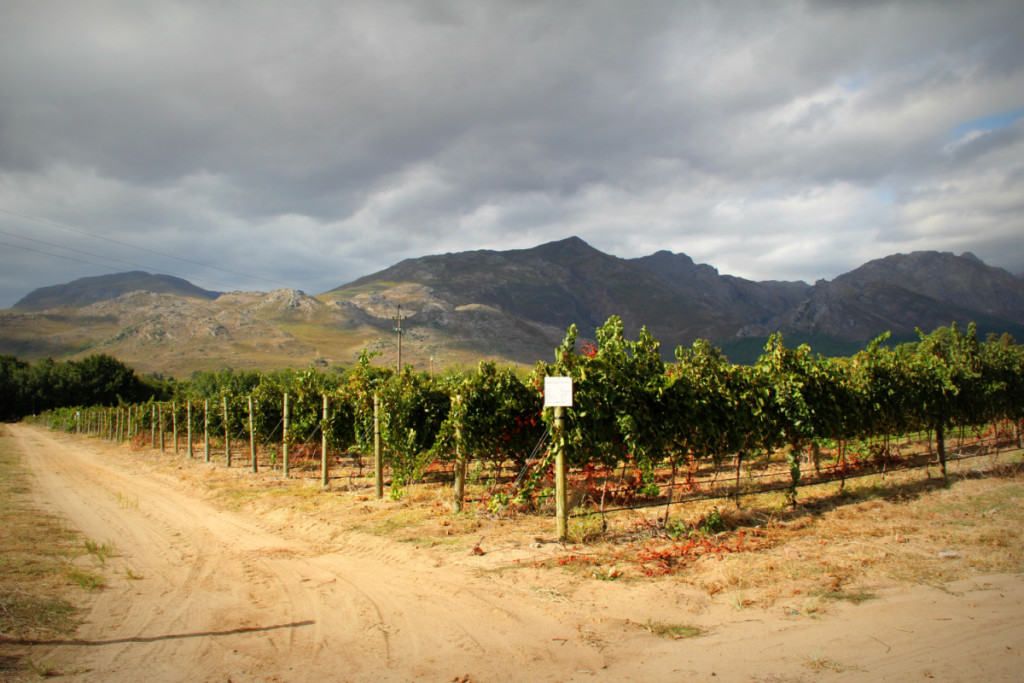 Sitting in the warm sun, with jetlag and hours of wine tasting taking their toll, we decided it was time we sadly bid our adieus to our day of exploring the wine region and have Janise drop us off in the tiny town of Franschhoek, where we would be staying the night at La Clé des Montagnes.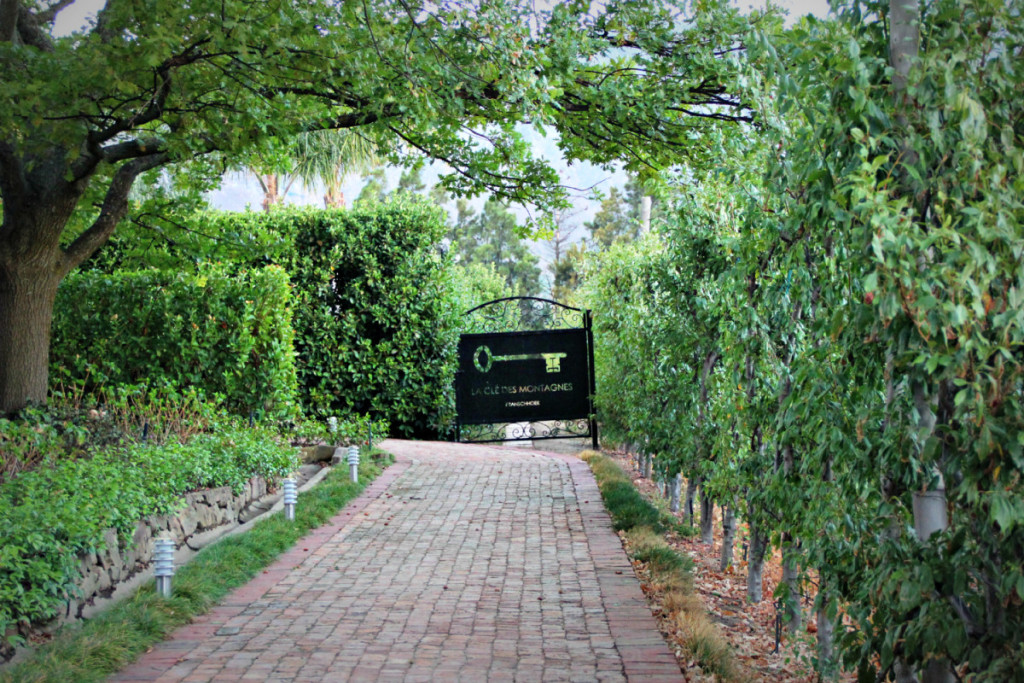 This was one of our favorite stays of the trip, and we were SO, so sad that we only had one night. But more on this later, because naturally, we have a lot of gushing to do.
The Tasting Room // Franschhoek | For our first night in South Africa, Hands Up had arranged an 8-course gastronomic experience at The Tasting Room, attached to Le Quartier Français. Both menus have been created by executive chef Margot Janse, with the latter serving more traditional South African fare. The first, however, is totally off the wall and, for lack of a better phrase, straight up bonkers. For eight courses, we watched our waiter fill up our glasses with wines and beers we've never heard of, drizzle liquids over solids that turned everything into powders, and take hammers to edible glass bubbles so we could eat what was inside.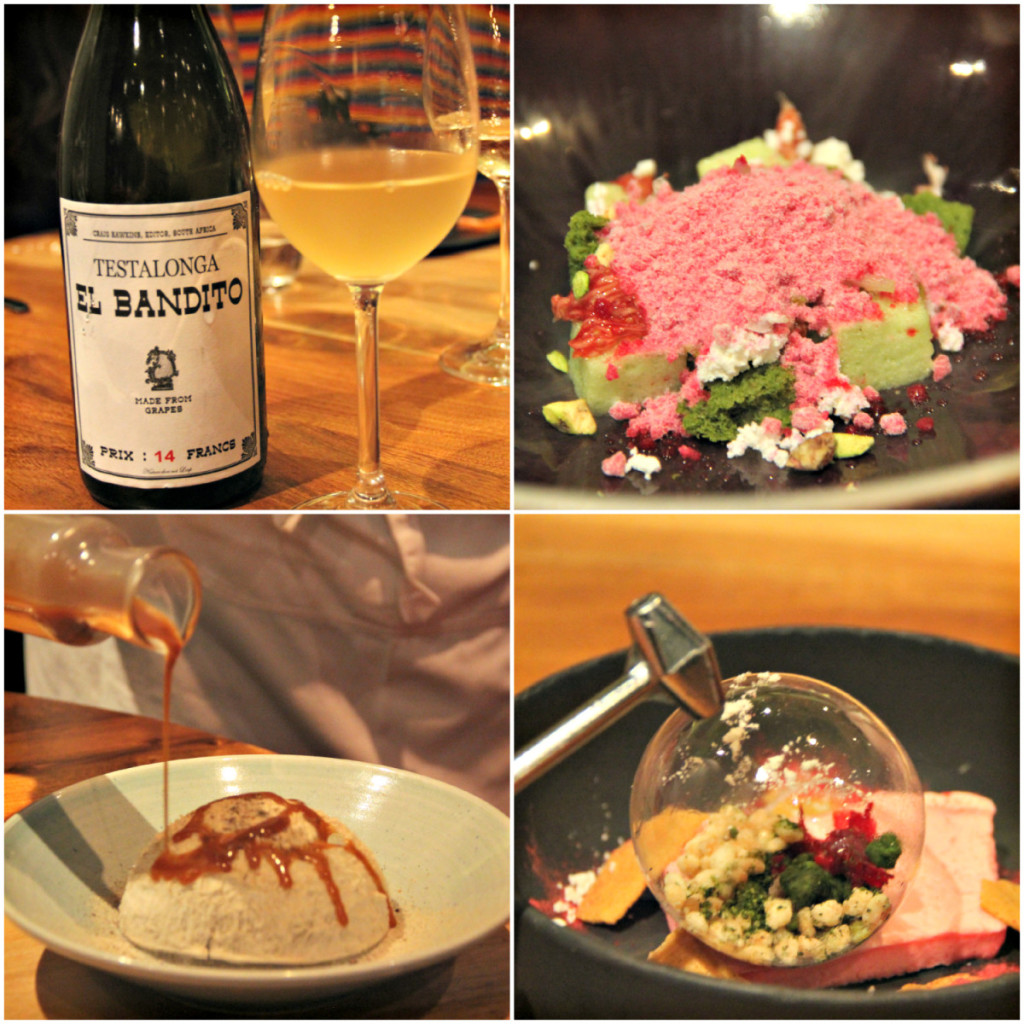 Named one of the World's 50 Best Restaurants in 2013, it was certainly the most inventive we've visited. Unfortunately, after a sleepless night on an airplane and a long, long day of sightseeing… we're not sure we'd recommend this as the ideal way to kick off your week. By the fourth course, we were falling asleep in our springbok, and by the eighth course, we just wanted to be home and in our beautiful, comfy beds.
Once our meal finally wrapped, we nearly raced toward the doors. The major upside? The Tasting Room and the rest of downtown Franschhoek is an easy walk from La Clé. Whether you opt to test your own tastebuds or try one of the other restaurants in town, it's a worthy stroll. Personally, we'll always wish we had stayed in and had one of the famous barbecues we heard La Clé does so well.
That night, however, after a bit more wine and catching up, we happily drifted off to sleep and prepared for our next day of exploring the Western Cape. Stay tuned!
xo!
the romantic & the wino
– Our South Africa itinerary was the result of a partnership with Hands up Holidays. As always, all opinions are our own.