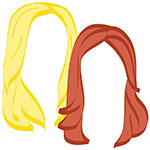 It's hard to believe, but less than a month ago, we were reunited in Spain, lounging poolside and munching on manchego. We're not exactly sure where the time has gone, but we do know this much: it was exactly what we needed.
Though our recent joint travels have been amazing — honestly, each more exciting than the last — they've also been a little nutso! We tore through San Francisco and Napa Valley in a way-too-short long weekend and our week in South Africa, though it was everything we dreamed it would be, wasn't planned by us, which meant it also wasn't at our usual, laid-back pace. This isn't to say we're ungrateful, but we know our strengths. Our best asset is our ability to be lazy as hell.
Enter: one week in a private villa, in partnership with Flipkey.
We loved so much about our week of maxing and relaxing, but lest you think we were totally useless, we also learned a few things! May we present to you:
the lazy girls' guide to villa living
[on a budget]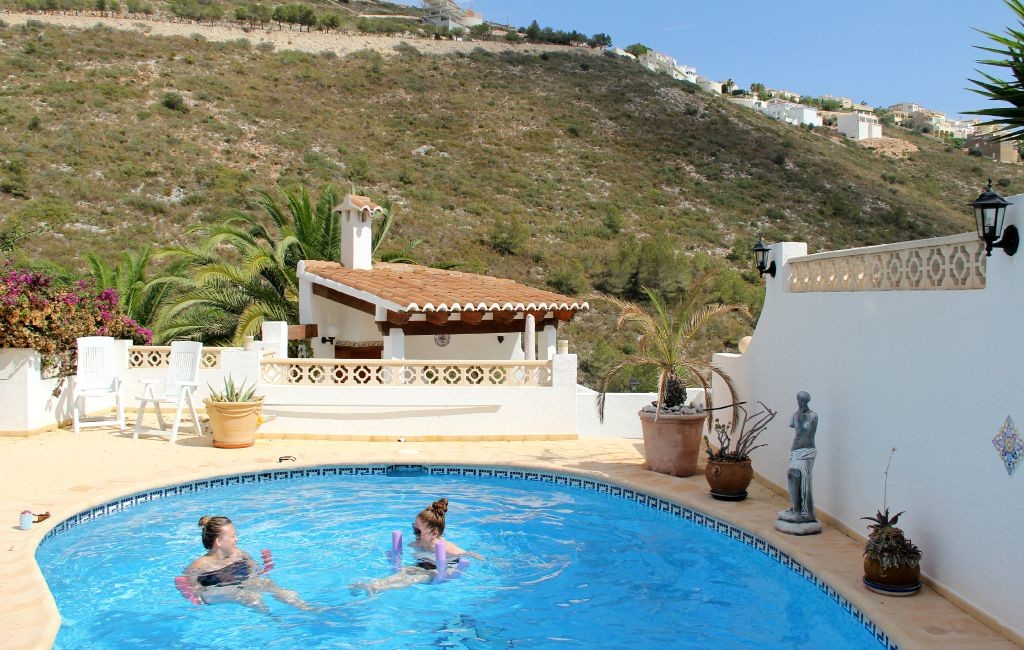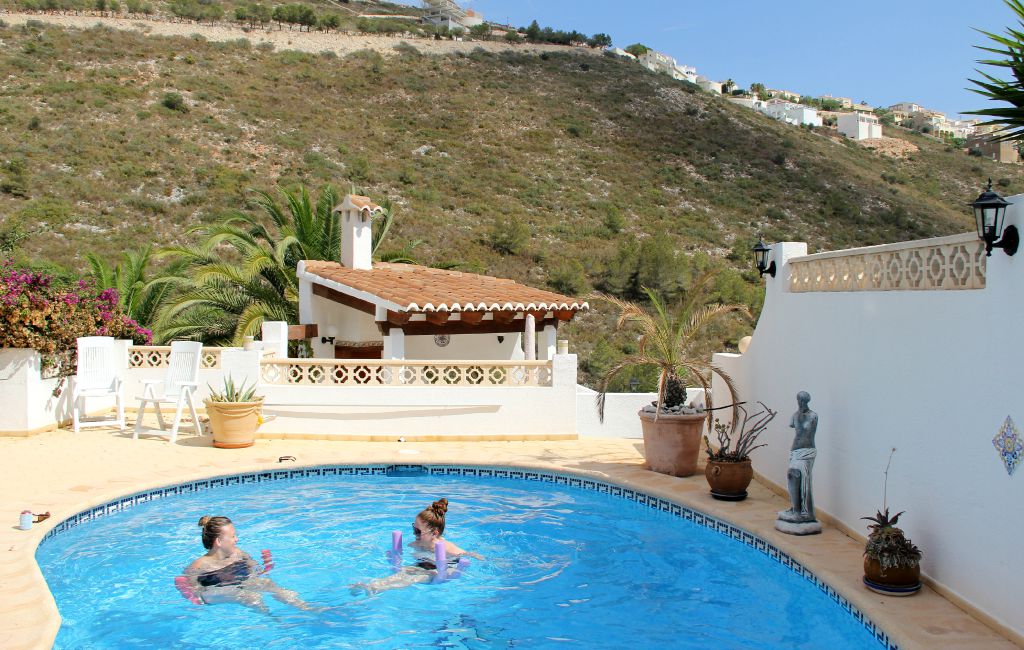 (This is what it looks like when you're the hubs and you're not invited to the cool kids pool party.)
Renting a villa on a budget doesn't sound like something all that possible — especially  during peak tourist season — but we are here to officially tell you that, with the help of Flipkey, it IS!
Full disclosure: we didn't even start planning this trip until, like, May, so time was not on our side… but we still managed to make it happen!
Tip 1: Pick your destination // We've heard rumblings that the Costa Blanca on the southern coast of Spain is shockingly cheap. This is how, after lots of hemming and hawing and WhatsApping over airfare, we found ourselves booking late-August flights to Alicante, by way of Madrid. A quick stopover made it cheaper AND we could fly Iberia, which means extra tier points & Avios, now that we're both proud BA members!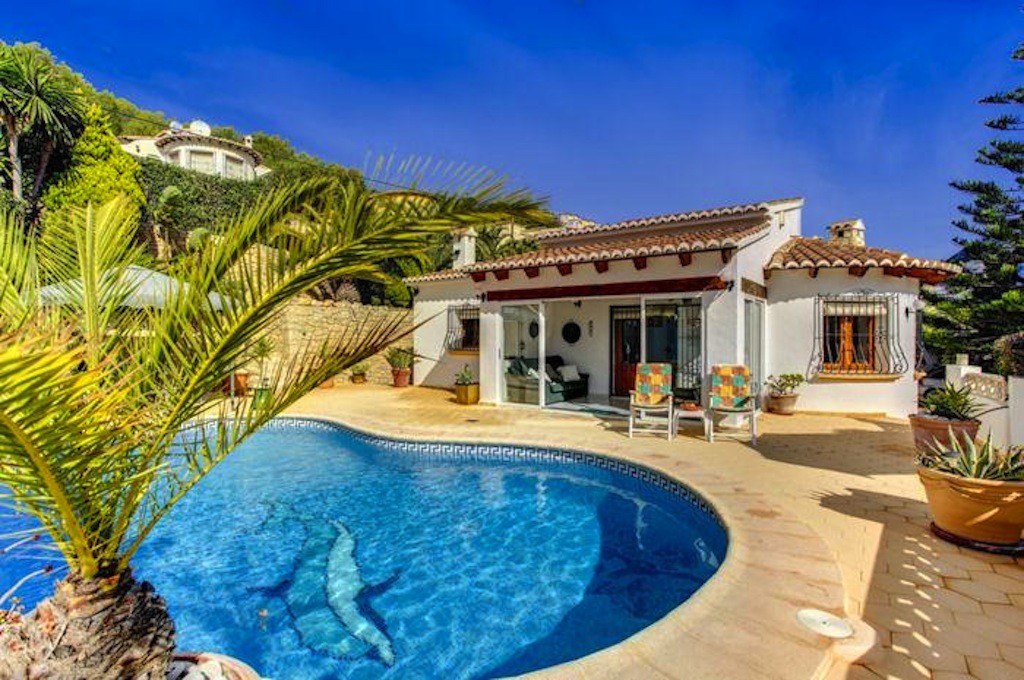 image via Flipkey
Once our destination was secured, we turned to Flipkey to find the perfect place to stay. With only 7 nights, we knew we wanted to keep it around $1,750 /£1,100 for our week — very low when you consider we needed at least 2 bedrooms. We poured over their search functions, but we were feeling overwhelmed… and hungry. And tired.
Tip 2: Set your priorities // Listen, when you're working on a budget, there must be sacrifices. As city dwellers used to property hunting on a budget, we know the rule: between location, space and price, you have to pick two. It's unlikely that you'll find a massive villa in the best neighborhood for less than your budget, so a sacrifice must be made. Do you care more about the location, or more about the space?
via instagram | @lazytravelers
In a place like the Costa Blanca, fortunately, location isn't that important. We knew we'd need to rent a car, so as long as we could drive to a beach, a market and a town within a reasonable amount of time (<15 minutes), we'd be happy. As for space, two bedrooms and a pool/outdoor area was all we really cared about, with a fully outfitted kitchen being a close second. Everything else would be just fine.
In the end, we went with the place that had the best pool for our buck… and even a tiny little sliver of sea views, if you tilted your head the right way!
Tip 3: Don't expect a red carpet // Remember all the things you had to give up to accommodate your funds? The number one thing you probably won't find on a budget is amazing customer service. Though Flipkey was wonderful from start to finish, they're a listing agent — like other rental sites, they're the middleman between the traveler and the homeowner. Though they're there for anything you need (within reason), they're not your man on the ground.
Unfortunately, our place had a few snafus — none of which ruined our trip, all of which would have been easily fixable… had we been able to get a hold of our local contact, Pearl.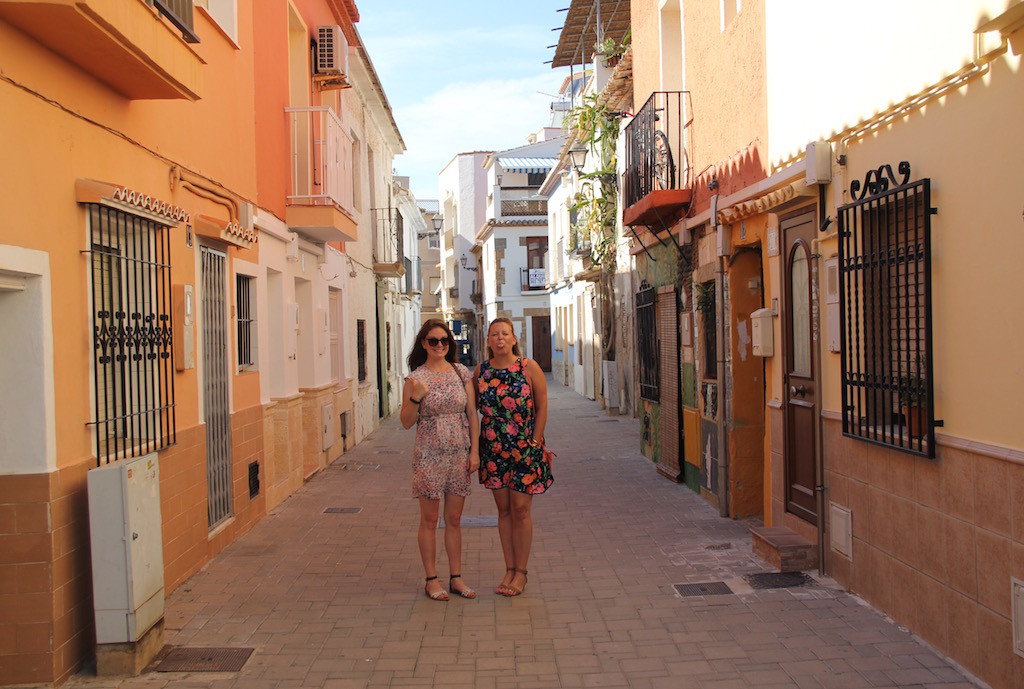 Since we didn't take a pic of our busted air con, here's a snap of us looking sassy instead.
She conveniently went MIA and never got in touch with us during our week, despite a few phone calls and voicemails. We won't call the company out, because our booking agent was actually quite helpful, but this is just something you need to expect if you're on a budget.
Tip 4: Make use of the facilities // In the end, our villa was around $1,800 / £1200 for the week. It was exactly in line with our budget, and because we got what we wanted most — an amazing terrace, pool, and functional kitchen with all the necessities — we decided to make use! We set a few meals where we knew we had to eat out (paella in Valencia, for one!), and the rest of the time, we enjoyed exploring the offerings of our local supermercado.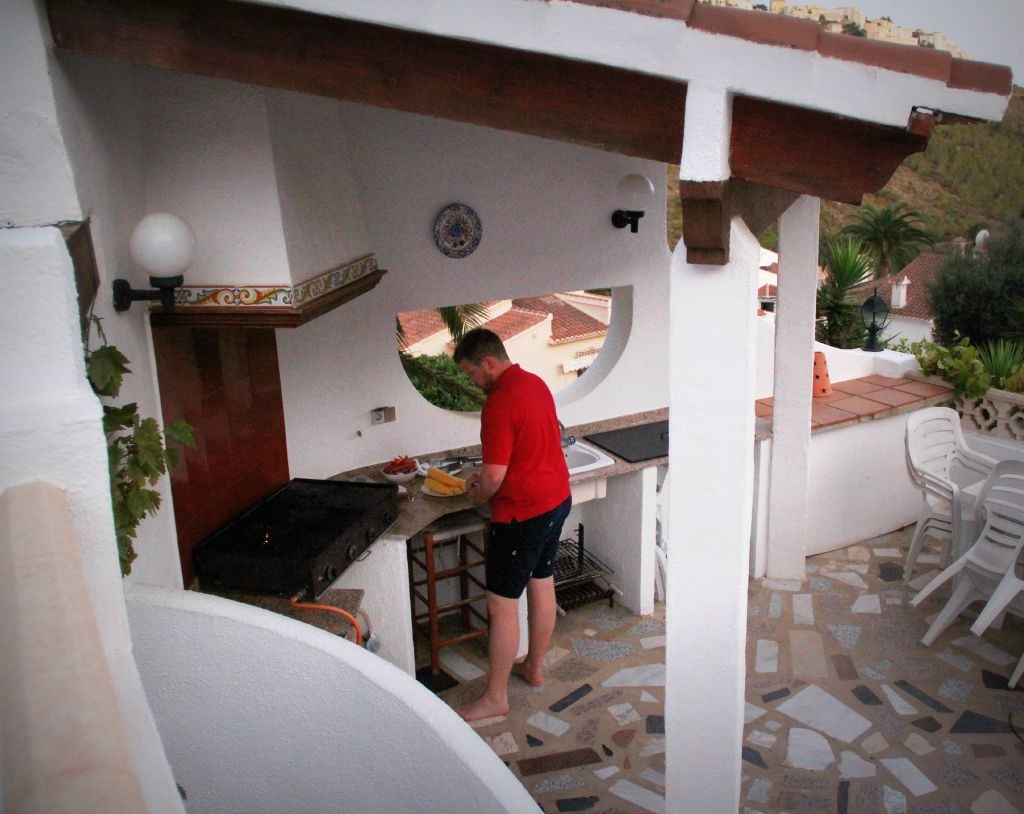 This was especially perfect because an unexpected perk of our villa was an outdoor grilling station perfect for the hubs to work his magic!
Tip 5: Explore…but not too much // When you're some place new, we understand that it's tempting to load up your itinerary with days upon days of exploration. But after a very busy year, a loaded itinerary just wasn't what we had in mind. We booked our villa, equipped with our lovely pool, so that we could ENJOY it. That meant even on the days we wandered to nearby towns and beaches, we were back at the villa and poolside by early afternoon, lounging in the sun and enjoying the peace and quiet.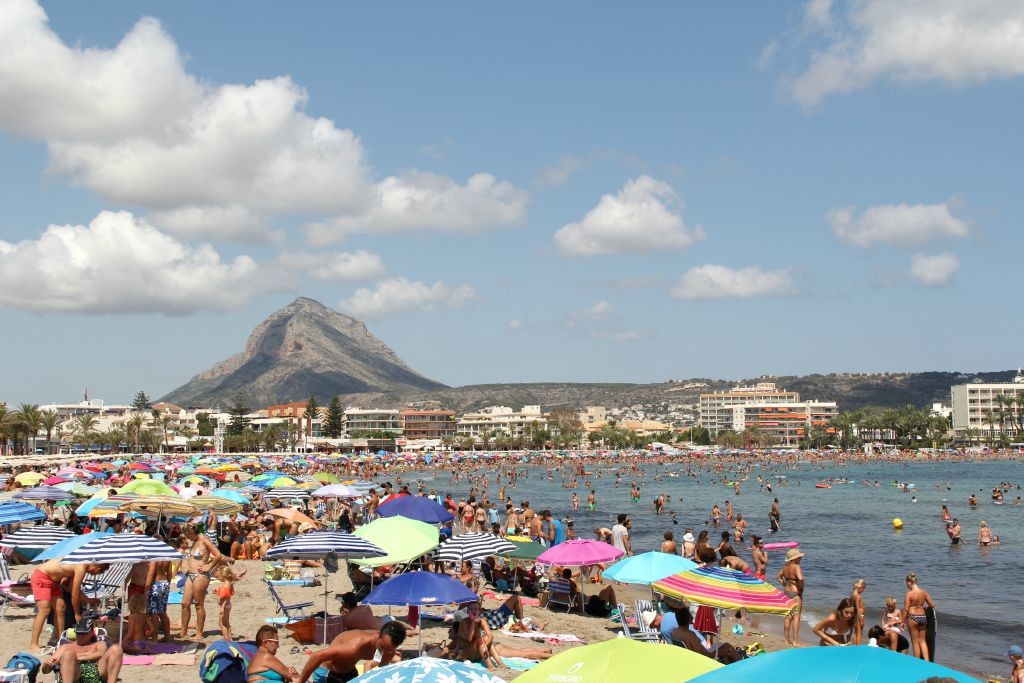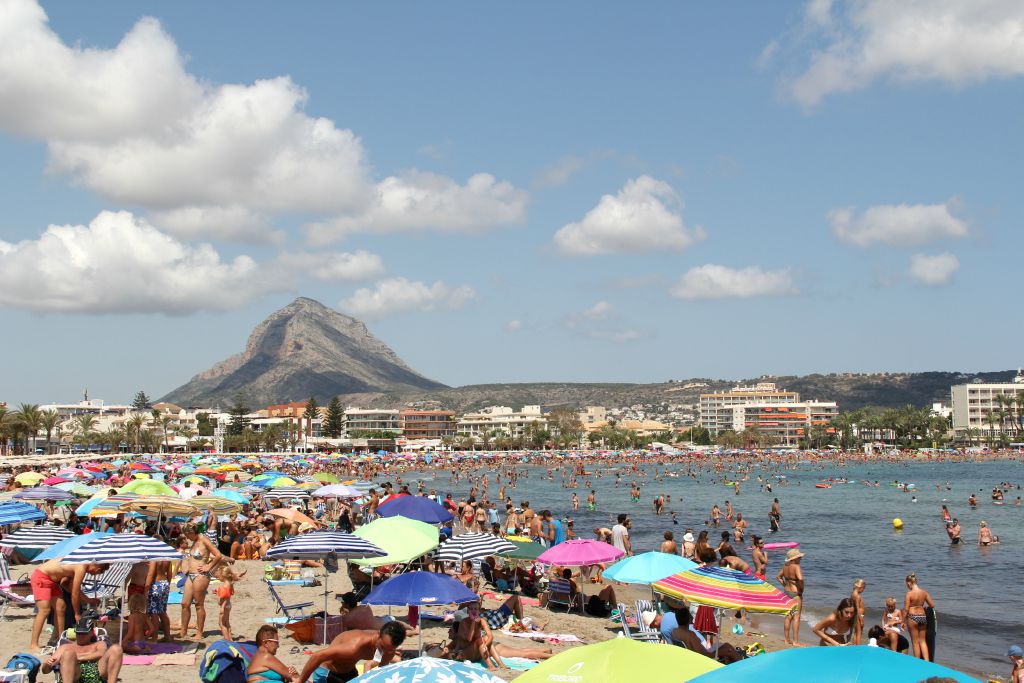 This beach in Jávea had us pretty much running back home.
Renting a villa for the full week turned out to be one of our favorite — and definitely most relaxing — trips we've ever had together. So much so that we're already looking for places for next summer.
Ideas, anyone?
xo!
the romantic & the wino
– This stay was in partnership with Flipkey. All opinions are, as always, our own.