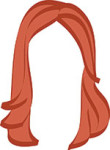 Did you know that it has been one full month + four days since the hubs and the pug and I boarded a flight to France? And did you know that it has been one full month + three days since the hubs and the pug and I departed said flight, drove to our new-to-us cottage, and the pug promptly pooped on the floor of our new-to-us kitchen?
Well, it has and yes, unfortunately, he did (whatever, he'd had a long day and our gravelly front yard confused him) (yeah, I make excuses for my furbaby).
Annnnywho, the quick passing of this month is why I feel it's important to take a moment from my RTW recapping and our #LTeuropa re-living to give you a very important update:
I love living in France.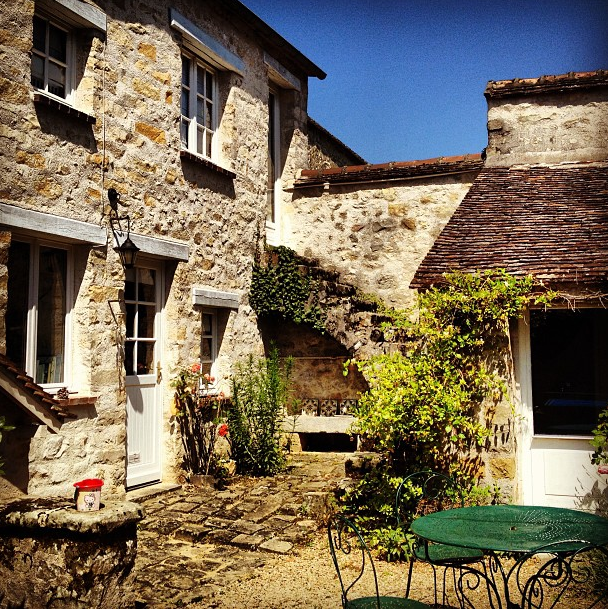 The surprising part? …I kinda really love living in the countryside.
For one, my French is vastly improving! I have now learned that "bonne journée" does not, in fact, mean "have a nice trip" and it is not, in fact, a cheeky way for our grocer to let me know that she knows that I'm not from here. It actually means "have a nice day" and is said to, well, almost everyone. And so, dear grocer, I apologize for sulking out the door each time you wished me a good day. You understand where this might have confused me, yes? And today! Today our mail lady had a full conversation with me in French! I don't know what happened in half of the conversation, but it seems that she has a very important package waiting at la poste…for which I may not sign. I don't know, but she smiled the whole time and never switched to English (it might be because she doesn't speak English?) and I'm just counting it as a win, ok? High school French was just so long ago. But now! Daily interaction has forced me to get comfortable speaking in a foreign tongue!
I also eat baguettes twice a day and drink Bordeaux on the reg and I still feel like I'm playing house. Mostly because now I have a house! A house that is nothing like our old apartment! I don't have to have awkward conversation with a doorman who thinks that I'm someone else (yes, this was a major issue in our last apartment but the girl he was confusing me with seemed to be a key player in Obama's mid-Atlantic campaign for reelection so who am I to correct the guy?)!
So yes, I live in a house in the middle of the French countryside with limited daily interaction with other English-speaking humans. It is all very glamorous and exciting.
However, one of the parts that is extra glamorous and extra exciting is this: I am now a 51-minute train ride away from the heart of Paris! From a six and a half hour flight to a 51-minute train ride? I may love my current stint as a country housewife, but the fact that there's a city reprieve just around the corner is really lightening the load.
All this really means is that it took me .02 seconds to head into the city for a weekend getaway with my first two visitors: B&K, of Mexico/Jetsetter/general life partner fame.
What does one (or three?) do with a weekend in Paris? Let us review!
A Weekend in Paris
Where to stay: A La Carte Paris // As I've mentioned before, during our RTW trip, I fell in love with apartment stays. Like, head over heels in love. Yes, hotels are lovely. I love a cushy robe and people cleaning up after me and fancy soaps. I do. But your very own space, with multiple rooms and sometimes (and in this very particular case) laundry? I don't know, perhaps it's the same part of me that can't help but peek in the windows of apartments as I pass by? You know, in that "what exactly does the kitchen of an Upper East Side brownstone look like?" sort of way? Well, apartment stays cater to this. They also cater to my love of delusion. What? I don't live in an amazing apartment in Le Marais?
Au contraire!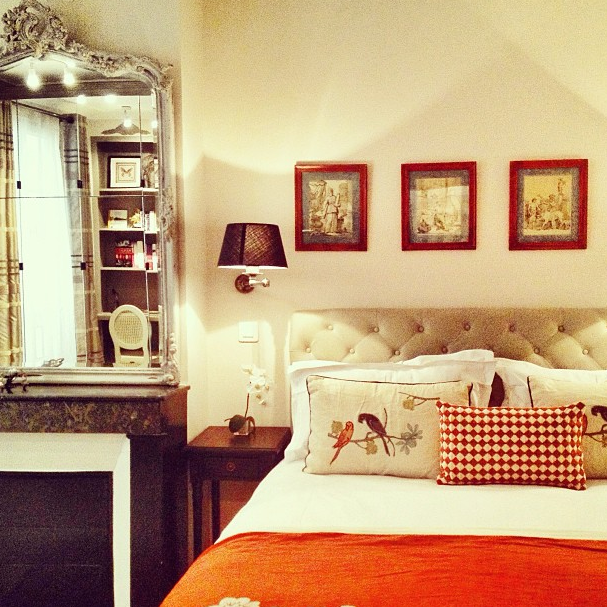 Cha, welcome to my boudoir.
When we first started looking for a place to crash for a few nights, I envisioned St. Germain des Pres… mainly because that's where we always stay and it's pretty much where the Parisian part of my heart resides. Then, A La Carte Paris re-directed my gaze and I'm sorry, St. Germain: I'm cheating. This apartment was literally in the perfect location and the décor could not have been more adorable. We kicked off our first morning together with breakfast as we looked out into our Parisian courtyard and all was right with the world: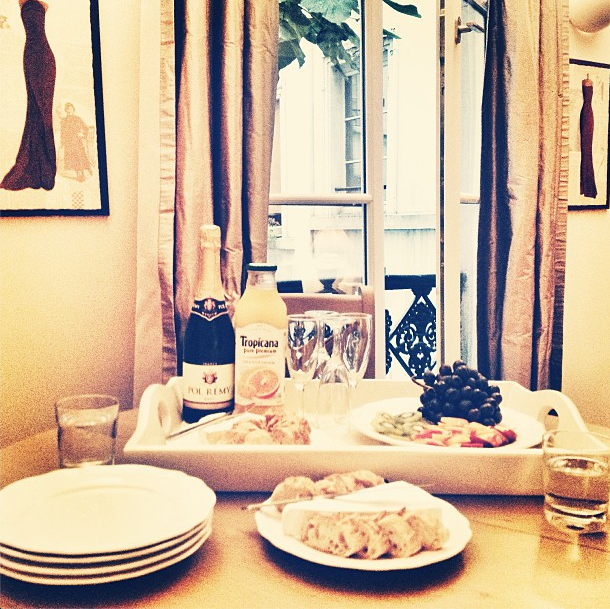 A La Carte Paris has tons of gorgeous apartment options all over the city, and our entire experience was seamless. Another thing I loved?
Because all of the apartments are in buildings otherwise occupied by actual Parisians, A La Carte Paris offers a handy guide on how to be a polite and accommodating tenant… i.e. don't clomp around like an elephant in stilettos, don't roll your loud suitcase through the courtyard, don't open all your windows and then yell and scream for all the world to hear. Standard practice really, but I completely understand how this might not be the norm for people who don't regularly experience apartment life (personally, I clomp around our house all the time now that there's no one miserable living below me). They also included an amazingly useful binder full of tips and recommendations for the neighborhood, and basically, I'm not sure how I'll ever stay in a hotel again?
Where to wander: Pont des Arts & Pont de l'Archevêché // Because they had visited Paris once before, B&K didn't have me on the usual tourist schedule. No one needed to see any Eiffel Towers or Mona Lisas–we all were just excited to have a few days to stroll around before heading out to the countryside. However, we did have one very important mission to accomplish: love locks!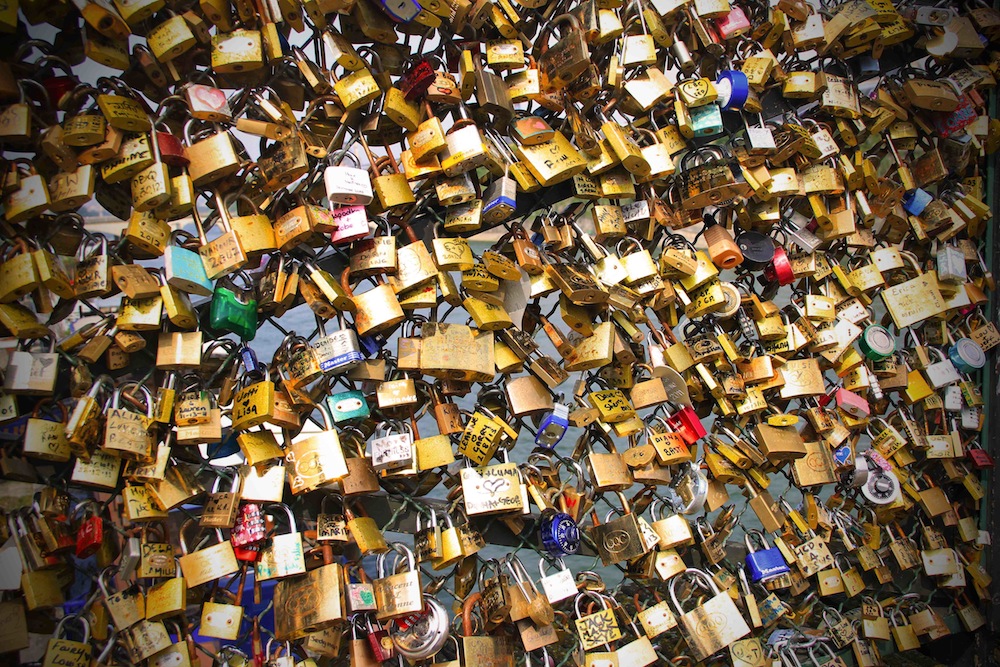 It's a tradition recent to Paris but quickly climbing the ranks as something all couples visiting the City of Light must do: declare your love by locking a padlock to either the Pont des Arts or the Pont de l'Archevêché and throw the key into the Seine below so that your bond can never break. Legend does warn that the Pont des Arts is for committed, while the Pont de l'Archevêché is for lovers, so take heed.
…or or OR: lock one to each! Who says your lover and your committed love need to be mutually exclusive? And so it came to pass that, in celebration of their recent engagement, the hubs and I gifted the boys with two small golden locks (and later, a Sharpie), advising them to write their own message and lock one to each bridge.
The next day, we set out on our mission. We made our way toward Pont des Arts first, strolled up along the Seine to the Eiffel Tower, got lost, ended up on the roof of Galleries Lafayette, did a full circle in the revolving doors at Hôtel Plaza Athénée, and then somehow found the Pont de l'Archevêché right next to Notre Dame (like, where we started).
IT ALL WENT ACCORDING TO PLAN.
Where to wine: Ô Chateau // Way back in February 2011, the hubs and I took a wine class at Ô Chateau, and it was the perfect way to spend a cold and snowy afternoon. It's also the best intro to French wine there is, and I knew the boys would appreciate the experience as well.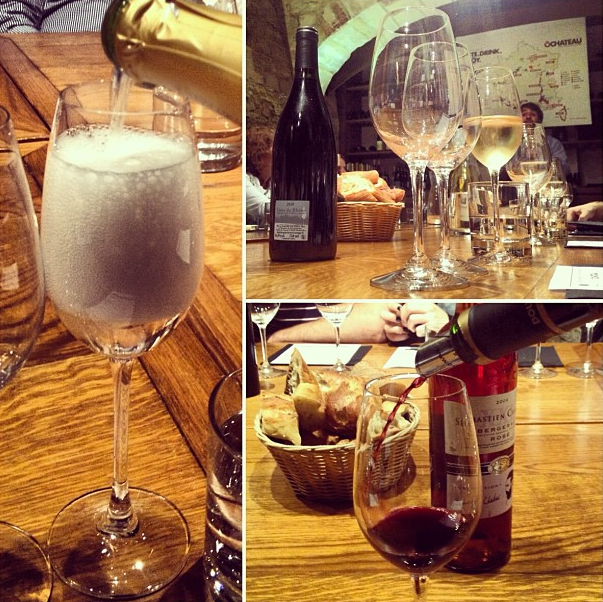 The class, led by Guillaume, was much larger this time and a little less intimate, BUT was held in La Cave–a limestone wine vault in the cellar of the restaurant & bar that dates back to the 17th century. French courtesans almost definitely hung out here, so it was like returning to a past life, really.
I did prefer my first experience with a smaller group, but the wine wasn't any less delicious and the content wasn't any less informative. We were offered six glasses over the course of two hours–all from varying regions of France–and worked our way from champagne to white to red, north to south.
And we left… wanting more wine. French wine! So, success.
Where to dine: Pain, Vin, Fromage // Oh, I'm sorry, the name isn't enough? You need more reasons? Yeah, I don't have any other reasons. At all. Bread. Wine. Cheese. It's in the name.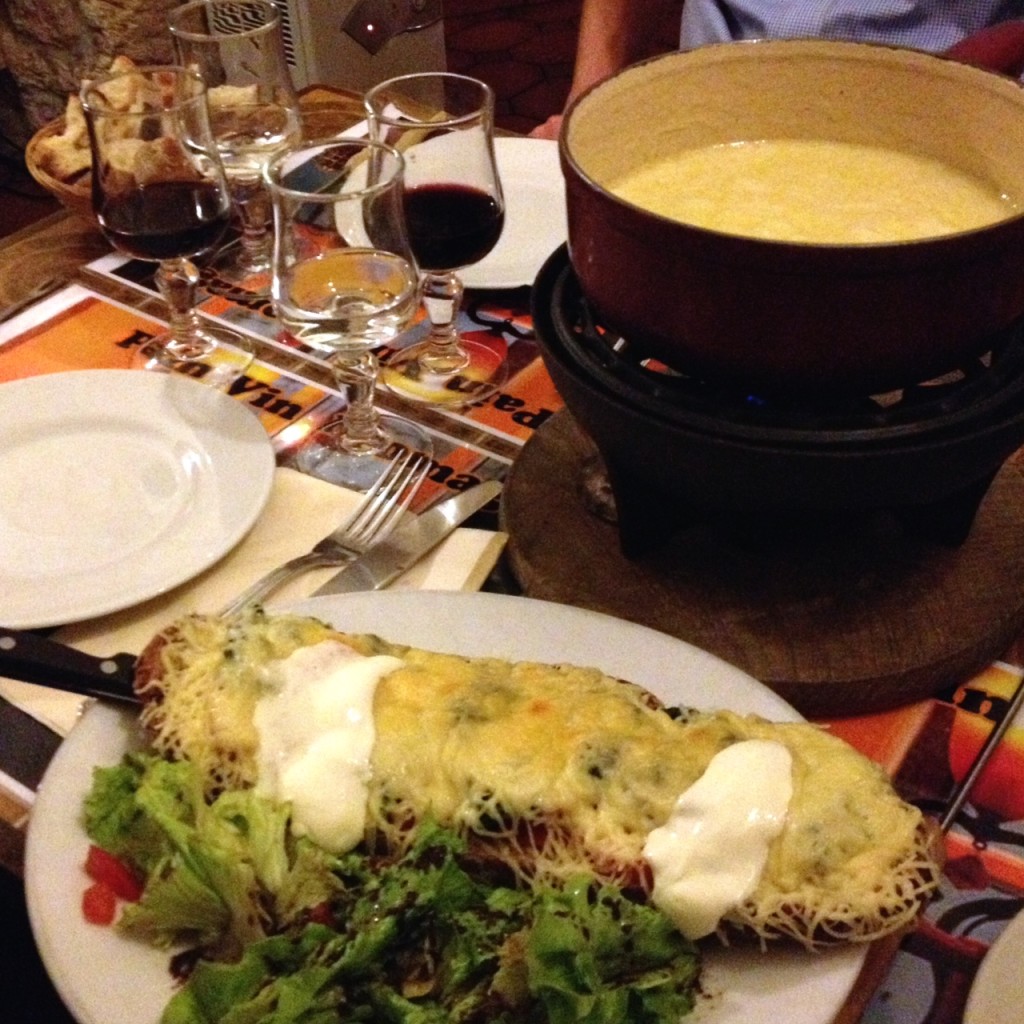 But seriously, this is my new go-to for guests. It was all deliciously cheesy French staples (fondue! raclette!) and absolutely perfect for groups. Call ahead, make a reservation, and asked to be seated downstairs. You are welcome.
And so, mes amies, I give you: the perfect guide for your weekend in Paris. The rest of your time should be spent drinking too much wine and being aggressively sarcastic. I mean, if you want to follow in our shoes.
With that, now I reveal another perk to living in France! The hubs and I celebrated our third year of marriage earlier this week, and decided we needed a getaway to properly celebrate. Paired with the swiftly dropping temperatures and last week's jetsetter, Whitney, we made a last minute travel decision!
[drumroll, please]
Tomorrow, we head to Les Calanques and Marseille! You may follow along dutifully via Instagram @_theromantic, and I will happily report back with my findings. Just right after I finish recapping our RTW, which I will get back to next week. We need to talk Vietnam!
Adieu lovers, and xo!
the romantic
– Big thank you to A La Carte Paris for hosting us for three glorious nights at Le Marais Charm, and to Ô Chateau for allowing me to return and drink all your wine. I'll shall be back–and this is how you know all opinions are my own.