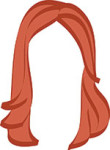 Once upon a time, in a small town in Pennsylvania, there was a 15 year old girl who met a 16 year old boy and they decided they liked each other. A lot. They spent an absurd amount of time together, and even though they knew they probably weren't going to be together forever (they were overly logical 15 & 16 year olds), they still talked about how much fun it would be if they did maybe someday live together. The ultimate dream? A life in NYC. But with college plans and talks about the future and all the other fish in the sea, it seemed silly to dwell on these ideas.
Fast forward ten and a half years, and that overly logical pair of teens is now an overly logical pair of married twenty somethings who are about to move into their fourth NYC apartment together. FOUR. If I could go back to the bright eyed and bushy tailed version of myself and the hubs, there are a few things I would tell them. I mean, us? I don't know, this is getting confusing now.
ANYWAY.
Go to college somewhere else. In high school, there was no doubt in my mind that I would someday live in New York. It was my dream, and there was no talking me out of it. The hubs ended up in Washington, DC for four years, and I'm not saying that I wish I had gone to DC (long distance was a bitch but it was good for us to go through), but I'm coming up on year eight of living in NYC and that is just too much time in one place. The wino has managed to live, in like, 30 cities during that time. And here I am, the jaded, angry New Yorker who yells at new moms for not pushing their strollers straight (but, like, really? Is it so hard to steer a baby on wheels?).
Study abroad. I know. It's one of those things that everyone says you'll regret not doing, but I had so many other things going on and my school wasn't a huge proponent of studying abroad. And yes, shame on them for not pushing it more, but shame on me for not realizing the value and making it happen.
Never perfectly furnish a new apartment. We're downsizing, which means I'm now in the process of trying to sell furniture that we probably never should have bought in the first place. Apartment life is short lived, and though a one year lease sounds insanely long when you first sign your name on the dotted line, it goes fast. And then you're the asshole who has two dressers and a baker's rack going into your new alcove studio. 
I know that hindsight is always 20/20, and everything really does happen for a reason, so truthfully, I can't regret these years living in Manhattan. But with this new apartment comes the beginning of the end of our time living here, and I can't say I'll be sad to see us go.
xo!
the romantic